Clayton Arms, Quoiting Square, Marlow, Buckinghamshire
Marlow pub history index
Directory of Pubs in the UK, historical public houses, Taverns, Inns, Beer Houses and Hotels in Buckinghamshire. The Buckinghamshire listing uses information from census, Trade Directories and History to add licensees, bar staff, Lodgers and Visitors.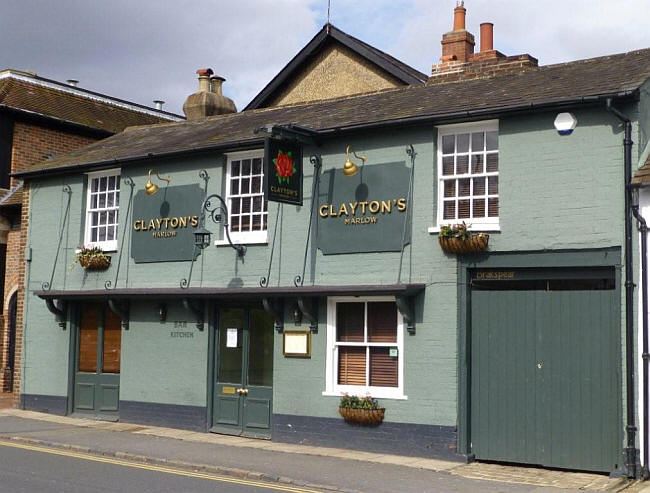 Clayton Arms, Quoiting Square, Marlow - in April 2013
Kindly provided by Stephen Harris
Year/Publican or other Resident/Relationship to Head and or Occupation/Age/Where Born/Source.
1839/J Tyler/../../../Robsons Directory ***

1852/Joseph Tyler/../../../Slaters Directory ***

1863/Thomas Hall/../../../Duttons Directory ***

1864/Thomas Hall / & Carrier /../../Post Office Directory **

1869/Thomas Hall/& licensed to let horses & carriages for hire/../../Post Office Directory ****

1871/Thomas Hall/Publican/31/Farringdon, Berkshire/Census ****
1871/Sarah Hall/Wife/29/Crowell, Oxfordshire/Census
1871/Thomas Hall/Uncle/37/Lechlade, Gloucestershire/Census
1871/Mary A Hall/Aunt/50/Manniongs, Sussex/Census

1877/Robert Hall/../../../Post Office Directory ****

1881/Charles Bird/Chair Maker/41/Great Marlow, Buckinghamshire/Census ****
1881/Mary A Bird/Wife/40/West Wycombe, Buckinghamshire/Census
1881/Ellen Bird/Daughter/12/Lane End, Buckinghamshire/Census
1881/Charles Bird/Son/10/Lane End, Buckinghamshire/Census
1881/Rosa Bird/Daughter/7/Lane End, Buckinghamshire/Census
1881/Thomas Bird/Son/5/Lane End, Buckinghamshire/Census
1881/Thomas Maunders/Lodger, General Labourer/38/West Wycombe, Buckinghamshire/Census

1883/William Clifford/../../../Kelly's Directory of Buckinghamshire **

1891/Fred Moss/Publican & Dairyman/30/Oare, Buckinghamshire/Census ****
1891/Sarah Jane Moss/Wife/30/Nailsworth, Gloucestershire/Census
1891/Henry Roblett/Boarder, Butcher/27/Buntingford, Hertfordshire/Census
1891/Ellen Roblett/Boarder/27/Great Marlow, Buckinghamshire/Census
1891/Elsie Roblett/Boarder/3/Great Marlow, Buckinghamshire/Census
1891/Fanny Roblett/Boarder/2/Great Marlow, Buckinghamshire/Census
1891/Thomas Manders/Lodger, General Labourer/50/Lane End, Buckinghamshire/Census

1899/Frederick Wm Lester/../../../Kellys Directory ***

1903/Frederick William Lester/../../../Kelly's Directory **

1907/William J Steel/../../../Kellys Directory ****

1911/Arthur William Towers/../../../Kelly's Directory of Buckinghamshire **

1911/William Oakley/Publican/46/Prees, Salop/Census ****
1911/Mary Ann Charlotte Oakley/Wife/38/Barnsbury, Middlesex/Census
1911/Dorothy Oakley/Daughter/12/Hemel Hempstead, Hertfordshire/Census
1911/Jack Oakley/Son/7/Longparish, Hampshire/Census
1911/William Oakley/Son/5/Longparish, Hampshire/Census
1911/Herbert Oakley/Son/4/Longparish, Hampshire/Census
1911/George Oakley/Son/2/Longparish, Hampshire/Census

1915/Francis T White/../../../Kellys Directory ****

1924/Walter A Sadgrove/../../../Kellys Directory ****

1928/Mrs Bertha C Sadgrove/../../../Kellys Directory ****

1931/Wm Christopher Tilbury/../../../Kellys Directory ****

1935/Wm Christopher Tilbury/../../../Kellys Directory ****



** Provided By Stephen Harris

*** Provided By Colin Ager

**** Provided By Kevan