Ship Inn, West Street, Marlow, Buckinghamshire
Old Ship in 1839 ***
Marlow pub history index
Directory of Pubs in the UK, historical public houses, Taverns, Inns, Beer Houses and Hotels in Buckinghamshire. The Buckinghamshire listing uses information from census, Trade Directories and History to add licensees, bar staff, Lodgers and Visitors.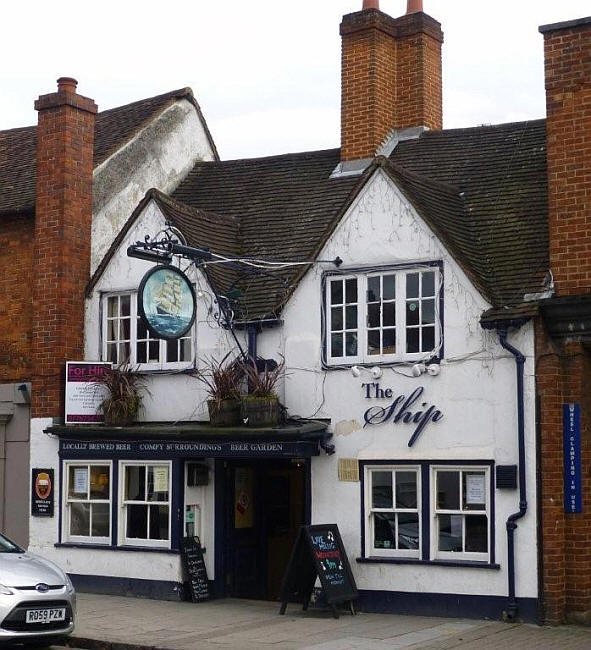 Ship Inn, West Street, Marlow - in April 2013
Kindly provided by Stephen Harris
Year/Publican or other Resident/Relationship to Head and or Occupation/Age/Where Born/Source.
1830/George Dorell/../../../Pigots Directory ***

1839/Wm Sawyer/../../../Robsons Directory ***

1841/William Sawyer/Victualler/40/Buckinghamshire/Census ****
1841/Susannah Sawyer/../35/../Census
1841/Ann Sawyer/../5/Buckinghamshire/Census

1851/Richard Reeves/Publican/60/Grays, Oxfordshire/Census ****
1851/G Reeves/Wife/56/Seymer, Yorkshire/Census

1852/Richard Reeves/../../../Slaters Directory ***

1861/Mary Dwyer/Head/30/Ireland/Census ****
1861/John Dwyer/Son/2/Ashington, Middlesex/Census

1863/Mrs Jane Reeves/../../../Duttons Directory ***

1864/Mrs Jane Reeves/../../../Post Office Directory **

1871/Sarah Reeves/Publican, Widow/49/Great Marlow, Buckinghamshire/Census ****
1871/Jane Reeves/Daughter/19/Great Marlow, Buckinghamshire/Census
1871/Fanny Reeves/Daughter, School Teacher/17/Great Marlow, Buckinghamshire/Census
1871/Richard Reeves/Son, Errand Boy/14/Great Marlow, Buckinghamshire/Census
1871/Lousia Reeves/Daughter/11/Great Marlow, Buckinghamshire/Census
1871/John Thomkinson/Lodger, Tailor/35/../Census
1871/Samuel Cox/Lodger, Hawker/72/Winscombe, Gloucestershire/Census

1877/Jessie McIntosh/../../../Post Office Directory ****

1881/James Rimell/Gardener & Publican/50/Great Marlow, Buckinghamshire/Census ****
1881/Hannah Rimell/Wife/46/Great Marlow, Buckinghamshire/Census
1881/Harriet Rimell/Daughter, Domestic Servant/21/Great Marlow, Buckinghamshire/Census
1881/Emily Rimell/Daughter, Domestic Servant/19/Great Marlow, Buckinghamshire/Census
1881/Ellen Rimell/Daughter/16/Great Marlow, Buckinghamshire/Census
1881/William Rimell/Son, Paper Makers Labourer/14/Great Marlow, Buckinghamshire/Census
1881/John Rimell/Son/12/Great Marlow, Buckinghamshire/Census
1881/Alice Rimell/Daughter/10/Great Marlow, Buckinghamshire/Census
1881/Henry Rimell/Son/5/Great Marlow, Buckinghamshire/Census
1881/Hannah Rimell/Daughter/7 months/Great Marlow, Buckinghamshire/Census

1883/James Rimmell/../../../Kelly's Directory of Buckinghamshire **

1891/Thomas Richards/Licensed Victualler, Widow/62/Bemstead, Kent/Census ****
1891/Ada J Richards/Daughter/21/London, Middlesex/Census
1891/Bertha Richards/Daughter/16/Wandsworth, Surrey/Census

1899/William Watson/../../../Kellys Directory ***

1903/Albert E Bull/../../../Kelly's Directory **

1911/Charles P Joy/../../../Kelly's Directory of Buckinghamshire **

1915/Charles P Joy/../../../Kellys Directory ****

1924/James George Palmer/../../../Kellys Directory ****

1928/Chas Lester/../../../Kellys Directory ****

1931/Chas Lester/../../../Kellys Directory ****

1935/Maj Ward West/../../../Kellys Directory ****



** Provided By Stephen Harris

*** Provided By Colin Ager

**** Provided By Kevan