Search London wiki and Pub wiki history sites
All public house, restaurants, bars etc closed for the forseeable future from 20th March 2020, but this is a pub history site.
Bull, Stoke Mandeville, Aylesbury, Buckinghamshire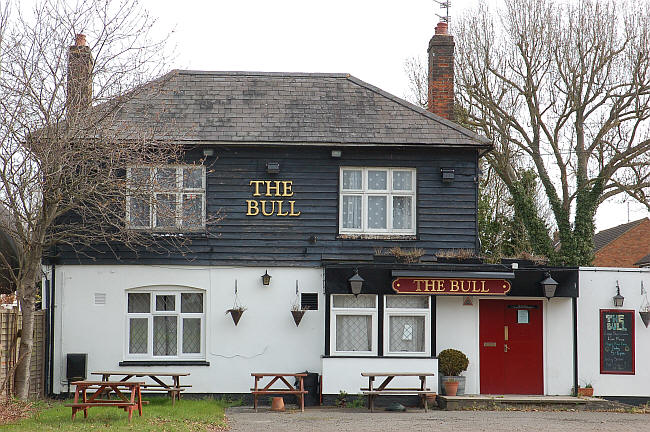 Bull, Stoke Mandeville - in April 2012
Kindly provided by Bernard Lamb
Stoke Mandevill index
Directory of Pubs in the UK, historical public houses, Taverns, Inns, Beer Houses and Hotels in Buckinghamshire. The Buckinghamshire listing uses information from census, Trade Directories and History to add licensees, bar staff, Lodgers and Visitors.
The following entries are in this format:
Year/Publican or other Resident/Relationship to Head and or Occupation/Age/Where Born/Source.
1851/Sarah Edwards/Publican, Widow/30/Stoke Mandeville, Buckinghamshire/Census ****
1851/Emanuel Edwards/Brother, Shoemaker/36/Weston Turville, Buckinghamshire/Census
1851/Sarah Ann Edwards/Daughter/11/Stoke Mandeville, Buckinghamshire/Census
1851/Fanny Fleet Edwards/Daughter/9/Stoke Mandeville, Buckinghamshire/Census
1851/Elizabeth Edwards/Daughter/8/Stoke Mandeville, Buckinghamshire/Census
1851/Tomos Edwards/Son/6/Stoke Mandeville, Buckinghamshire/Census
1851/Maria Edwards/Daughter/4/Stoke Mandeville, Buckinghamshire/Census
1851/Mary Edwards/Daughter/2/Stoke Mandeville, Buckinghamshire/Census

1861/George Holloway/Wheelwright/34/Whitchurch, Buckinghamshire/Census ****
1861/Patience Holloway/Wife/30/Waddesdon, Buckinghamshire/Census
1861/Louisa Annie Holloway/Daughter/6/Stoke Mandeville, Buckinghamshire/Census
1861/Edith Ella Holloway/Daughter/5/Stoke Mandeville, Buckinghamshire/Census
1861/Lucy Ann Holloway/Daughter/3/Stoke Mandeville, Buckinghamshire/Census
1861/Fanny Ester Holloway/Daughter/1/Stoke Mandeville, Buckinghamshire/Census

1863/George Holloway/../../../Duttons Directory ***

1871/Ebenezer Eldridge/Bricklayer/26/Buckinghamshire/Census ****
1871/Margaret Eldridge/Wife/24/Westmoreland/Census
1871/Mary J Eldridge/Daughter/2/Great Kimble/Census
1871/George W Eldridge/Son/3 months/Stoke/Census

1881/William Barrett/Publican Formerly Soldier/41/Uxbridge, Middlesex/Census ****
1881/Agnes Barrett/Wife/32/Thorney, Buckinghamshire/Census
1881/Charles Barrett/Son/8/Mutlee, East Indies/Census
1881/William Barrett/Son/1/Quainton, Buckinghamshire/Census

1891/William Barrett/Inn Keeper & Army Pensioner/51/Uxbridge, Middlesex/Census ****
1891/Agnes A Barrett/Wife/42/Iver, Buckinghamshire/Census
1891/Horace Barrett/Son/9/Stoke Mandeville, Buckinghamshire/Census
1891/Ernest Barrett/Son/6/Stoke Mandeville, Buckinghamshire/Census

1899/William Barrett/../../../Kellys Directory ***

1901/Edwin Law/Boot Maker/68/Northampton/Census ****
1901/Mary Ann Law/Wife/67/Kettering/Census

1907/George Remnant/../../../Kellys Directory ****

1915/Mrs Sarah Remnant/../../../Kellys Directory ****

1924/Stephen Penney/../../../Kellys Directory ****

1928/Harry B Smith/../../../Kellys Directory ****

1931/Herbert Chennells/../../../Kellys Directory ****

1935/Herbert Chennells/../../../Kellys Directory ****



*** Provided By Colin Ager

**** Provided By Kevan