Coopers, Abbess Roding CM5
Abbess Roding pub history index
A listing of historical public houses, Taverns, Inns, Beer Houses and Hotels in Essex. The Essex listing uses information from census, Trade Directories and History to add licensees, bar staff, Lodgers and Visitors.
This beer house was The Cooper's. In the 1901 census it certainly looks like Compere, but definitely The Cooper's. John Blowes' youngest son, Francis Arthur (known as Dick), married my dad's sister. *** Clearly named the Cooper in the 1881 census, and alongside Wicks Farm, and then the schoolhouse in the census enumaration. At about the same spot near to Wicks Farm, in the 1851 and 1861 census, Charles Bentley is listed as a cooper, as he is again in 1881.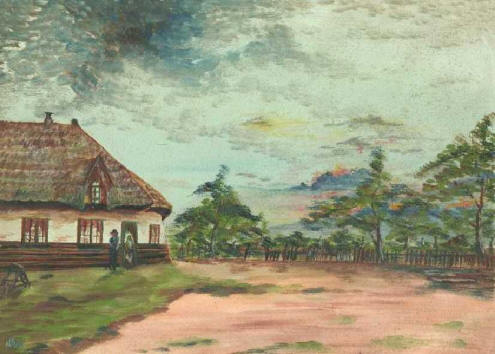 Coopers, Abbess Roding - painting in 1830 by one of my ancestors
Kindly provided by John Dawson
The main photo shows my Great grandparents, John & Ada Blowes, and also my Grandmother Julia Neville. The painting (I have it myself and indeed made the scan now on the website) is undated but signed "J.W." which I feel certain is Jane Whitbread, Ada's grandmother. She was a teacher at Abbess one time. Born circa 1805. *

Jane's daughter Ada, and her husband, died suddenly and young about 1856 leaving Jane to care for her grand-daughter baby Ada Maria – the Ada Maria Blowes in the photo. The figures in the picture are very probably Jane's own parents; Joseph and Sarah ASSER, at the Coopers.
There is also an Ambrotype showing a very elderly woman's hand holding a tiny baby. I suspect that this was Jane and her grand daughter Ada Maria Barker. The date was probably 1856 or so – as Ambrotypes were not in use for long.
Speculation here, it's as if Jane Whitbread (nee Asser) was trying to put down some sort of record, with her daughter and son-in-law suddenly dead. Anyway the painting and Ambrotype and another copy of the Coopers photo have come down to me.
I know there was another picture, in chalk this time, in the family. I recall a young woman. It was years ago. I didn't make a note if it was another JW, but possibly it was of her daughter Ada, who was Ada Maria's mother. It was in the possession of Ken & Betty Bass. Betty was the daughter of Grace, another Blowes daughter, sister of Julia, Margaret, Lucy (Sis) , Eleanor and all the boys whose names I don't recall now. *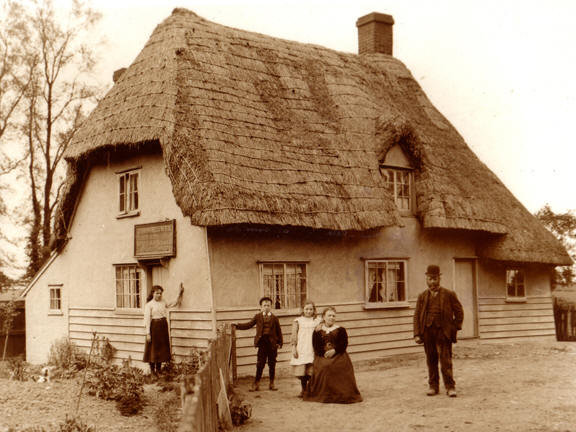 The Coopers at Abbess Roding. The people in the photograph are John Blowes, his wife, Ada, and three of their children - (left to right) Julia, Francis (known as Dick), and Margaret. You can just make out the name John Blowes on the board on the end of the building.
Picture supplied by Betty Clarke, a granddaughter of John Blowes. **
Residents at this address
1851/Charles Bentley/Cooper/43/Takely, Essex/Census
1851/Louisa Bentley/Wife/36/Good Easter, Essex/Census
1851/Alfred Bentley/Son/11/Abbotts Roothing, Essex/Census
1851/Sarah Bentley/Daughter/9/Abbotts Roothing, Essex/Census
1851/Mary Bentley/Daughter/7/Abbotts Roothing, Essex/Census
1851/Martha Bentley/Daughter/5/Abbotts Roothing, Essex/Census
1851/Emily Bentley/Daughter/2/Abbotts Roothing, Essex/Census
1851/James Bentley/Lodger, Journeyman Cooper/48/Takely, Essex/Census

1861/Charles Bentley/Cooper/53/Canfield/Census
1861/Louisa Bentley/Wife/46/Good Easter/Census
1861/Martha Bentley/Daughter/15/Abbotts Roothing/Census
1861/Emily Bentley/Daughter/12/Abbotts Roothing/Census
1861/Charles Bentley/Son/9/Abbotts Roothing/Census
1861/Alice Bentley/Daughter/6/Abbotts Roothing/Census

1871/Charles Bentley/cooper and publican/63/Great Canfield, Essex/Census **
1871/Louisa Bentley/wife/66/Good Easter, Essex/Census
1871/James Bentley/brother,coopers man/68/ blind in one eye/ Great Canfield, Essex/Census
1871/Emily S Puffett/grandaughter/03/scholar/Wanstead, Essex/Census
1871/Ada Bentley/grandaughter/09/scholar/West Ham, Essex/Census

1881/Henry Whitbread/Agricultural Labourer, Widow/42/Beauchamp Roothing, Essex/Census
1881/Clara Manning/Niece/18/Westminster, London/Census
1881/Clara Monck/Niece/5/Ongar, Essex/Census

1886/John Blowes/Beer Retailer/../../Kelly's

1890/John Blowes/Beer Retailer & Carrier/../../Kelly's

1895/John Blowes/Beer Retailer & Carrier/../../Kelly's

1899/John Blowes/Beer Retailer & Carrier/../../Kelly's

1891/John Blowes/beer retailer and carrier/35/Beauchamp Roothing, Essex/Census **
1891/Ada M Blowes/wife/35/Beauchamp Roothing, Essex/Census
1891/Jane Blowes/daughter/12/Beauchamp Roothing, Essex/Census
1891/William B Blowes/son/11/Beauchamp Roothing, Essex/Census
1891/Eleanor C Blowes/daughter/09/Beauchamp Roothing, Essex/Census
1891/Percy J Blowes/son/07/Abbotts Roothing, Essex/Census
1891/Alfred H Blowes/son/05/Abbotts Roothing, Essex/Census
1891/Leonard Blowes/son/03/Abbotts Roothing, Essex/Census
1891/Lucy Blowes/daughter/01/Abbotts Roothing, Essex/Census


1901/John Blowes/Beer Retailer/45/Beauchamp Roding, Essex/Census
1901/Ada M. Blowes/Wife/45/Beauchamp Roding, Essex/Census
1901/Eleanor C. Blowes/Daughter/19/Beauchamp Roding, Essex/Census
1901/Percy J. Blowes/Son, Grocers Porter/17/Abbotts Roding, Essex/Census
1901/Alfred H. Blowes/Son, Coal Carman/15/Abbotts Roding, Essex/Census
1901/Lucy Blowes/Daughter/11/Abbotts Roding, Essex/Census
1901/Julia Blowes/Daughter/8/Abbotts Roding, Essex/Census
1901/Grace Blowes/Daughter/2/Abbotts Roding, Essex/Census
1901/Francis A. Blowes/Son/8m/Abbotts Roding, Essex/Census
1901/Henry Beard/Boarder, Farm Labourer/67/Great Henny, Essex/Census

1902/John Blowes/Beer Retailer & Carrier/../../Kelly's

1906/John Blowes/Beer Retailer & Carrier/../../Kelly's

1908/John Blowes/Beer Retailer & Carrier/../../Kelly's

1910/John Blowes/Beer Retailer & Carrier/../../Kelly's

1911/John Blowes/Carrier/55/Beauchamp Roding/Census
1911/Ada Maria Blowes/Wife/55/Beauchamp Roding/Census
1911/Ada Maria Blowes/Son, Gardner/27/Abbess Roding/Census
1911/Mabel Anne Blowes/Daughter in Law/26/Abbess Roding/Census
1911/Grace Blowes/Daughter/12/Abbess Roding/Census
1911/Francis Arthur Blowes/Son/10/Abbess Roding/Census
1911/Margaret Ann Blowes/Daughter/8/Abbess Roding/Census

1912/John Blowes/Beer Retailer & Carrier/../../Kelly's

1914/John Blowes/Beer Retailer & Carrier/../../Kelly's

1917/John Blowes/Beer Retailer & Carrier/../../Kelly's

1922/John Blowes/Beer Retailer & Carrier/../../Kelly's

1925-6/John Blowes/Beer Retailer & Carrier/../../Kelly's

1929/John Blowes/Beer Retailer/../../Kelly's

Note: Premises only named in 1901



* Provided by Roland Neville

** Provided by John Mead

*** Provided by Jane Lindsay