Pub history and pub wiki
Red Lion, The Street, Ardleigh
A listing of historical public houses, Taverns, Inns, Beer Houses and Hotels in Essex. The Essex listing uses information from census, Trade Directories and History to add licensees, bar staff, Lodgers and Visitors.
Also known as the Lion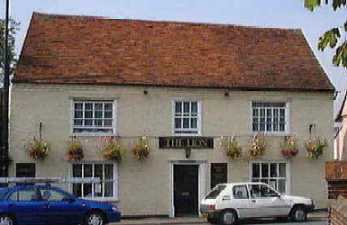 25th August 1999
Taken by Ian Rose. His Essex Churches web pages are HERE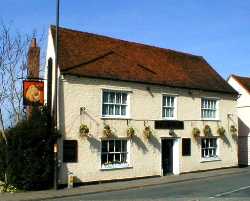 19th March 2000
Built in the 14th century
Known Residents
The following entries are in this format:
Year/Publican or other Resident/Relationship to Head and or Occupation/Age/Where Born/Source.
1811/Widow Vince/Publican/../../Census**

1821/Widow Vince/Innkeeper/../../Census**

1839/Mary Vince/Postmistress/../../Pigot's

1841/Mary Vince/../60/Essex/Census ****
1841/John Vince/Butcher/35/Essex/Census
1841/Henry Vince/Millher/30/Essex/Census
1841/Amelia Vince/Millher/30/Essex/Census
1841/Sarah Starling/../14/Essex/Census
1841/William Downes/Male servant/20/Essex/Census

1845/Mrs. Mary Vince/Postmistress/../../Post Office

1848/Mary Vince/Postmistress/../../White's

1851/Mrs. Mary Vince/Postmistress/../../Post Office

1851/Mary Vince/widow, post mistress/70/Ardleigh, Essex/Census ***
1851/Robert Lambert/grandson, letter carrier/19/Ardleigh, Essex/Census ***

1855/C. Bacon/../../../Kelly's*

1861/Charles Bacon/Innkeeper/41/Ardleigh, Essex/Census ****
1861/Elizabeth Bacon/Wife/37/London, Middx/Census
1861/Elizabeth Bacon/Daughter/10/Ardleigh, Essex/Census
1861/Julia Bacon/Daughter/6/Ardleigh, Essex/Census
1861/Henrietta Bacon/Daughter/4/Ardleigh, Essex/Census
1861/Joseph Bacon/Son/3/Ardleigh, Essex/Census
1861/James Upcroft/Boarder/55/Winstead, Suffolk/Census
1861/William Clements/Lodger, agr Labourer/41/Ardleigh, Essex/Census
1861/William Young/Lodger, agr Labourer/18/Ardleigh, Essex/Census
1861/James Cook/Lodger, agr Labourer/30/Shottenham, Suffolk/Census
1861/James Young/Lodger, agr Labourer/32/Ardleigh, Essex/Census
1861/Walter Gull/Lodger, Groom/21/Layer-de-le-Haye, Essex/Census

1862/Charles Bacon/../../../Kelly's

1870/Mrs. Elizabeth Mary Bacon/../../../Kelly's

1871/Elizabeth Bacon/Innkeeper /47 ?/Knightsbridge, Middx/Census ****
1871/Julia Bacon/Daughter/15/Ardleigh, Essex/Census
1871/Josiah Bacon/Son/12/Ardleigh, Essex/Census
1871/Charlotte Bacon/Daughter/9/Ardleigh, Essex/Census
1871/Alice Bacon/Daughter/7/Ardleigh, Essex/Census
1871/William Young/Lodger, agr Labourer/28/Ardleigh, Essex/Census
1871/William Lewis/Lodger, agr Labourer/16/Ardleigh, Essex/Census

1871/Mrs. Elizabeth Mary Bacon/../../../Post Office

1874/James Bradley/../../../Kelly's

1878/James Bradley/../../../Kelly's

1881/James Bradley/Licensed Victualler/50/Olestone, Kent/Census
1881/Lucy Bradley/Wife/53/Holton St. Mary, Suffolk/Census
1881/James Bradley/Father/80/Barham, Kent/Census
1881/Mary Bradley/Mother/75/Newington, Surrey/Census

Note: Premises not named in 1881

1882/James Bradley/../../../ Kelly's

1886/Charles Bradley/../../../Kelly's

1890/Charles Bradley/../../../Kelly's

1891/Charles Bradley/Licensed Victualler/50/Goldstone, Kent/Census
1891/Harriet Bradley/Wife/48/? Kent/Census
1891/Edith Barfee(?)/Visitor, Dressmaker/24/? Kent/Census
1891/Letitia Ship/Domestic Servant/15/Clapham, Surrey/Census

1894/Charles Bradley/../../../ Kelly's

1895/Charles Bradley/../../../ Kelly's

1898/Charles Bradley/../../../ Kelly's

1899/Charles Bradley/../../../ Kelly's

1902/Charles Boggis/../../../Kelly's

1906/Charles Boggis/../../../Kelly's

1908/Ernest E. Carter/./../../Kelly's

1910/Ernest E. Carter/../../../Kelly's

1911/Ernest Carter/Licensed Victualler/31/Alresford, Essex/Census ****
1911/Gertrude Carter/Wife, Assistant/34/Ipswich, Suffolk/Census
1911/Ernest Carter/Son/3/Ardleigh, Essex/Census
1911/Edith Lovet/Sister, Assistant/31/Ipswich, Suffolk/Census

1912/Ernest E. Carter/./../../Kelly's

1914/Ernest E. Carter/../../../Kelly's

1917/Ernest E. Carter/./../../Kelly's

1922/Ernest E. Carter/../../../Kelly's

1925/Ernest E. Carter/./../../Kelly's

1929/Ernest E. Carter/../../../Kelly's

1933/Ernest E. Carter/./../../Kelly's

1937/Ernest E. Carter/../../../Kelly's



* Provided by the Pubs, Inns and Taverns Index for England, 1801-1900

** Provided by Ardleigh's Past

*** Provided by John Mead

**** Provided by Kevan & Ardleigh's Past
Search for a pub, an address or person
And Last updated on: Wednesday, 03-Jul-2019 18:24:02 BST