Pub history, pubwiki and London
Brewery Tap / Kings Lounge, 2 Linton Road, Barking IG11 8HG
Barking pub history index
A listing of historical public houses, Taverns, Inns, Beer Houses and Hotels in Essex. The Essex listing uses information from census, Trade Directories and History to add licensees, bar staff, Lodgers and Visitors.
This pub was rebuilt in 1894 on the opposite side of the road to the earlier pub. It is now renamed the Barking Tap (2009). ** More recently renamed Kings. In 2019, it is now the Kings Lounge.
Also known as the Anchor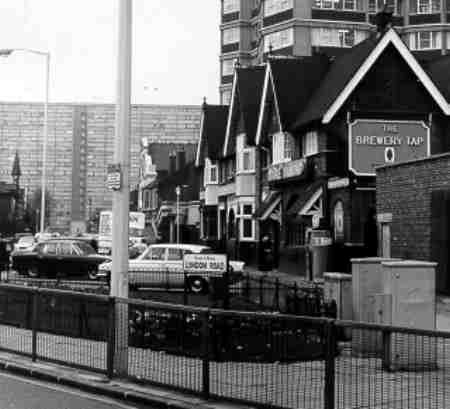 Taken from a Photograph supplied by The Department of Education, Arts & Libraries, London Borough of Barking & Dagenham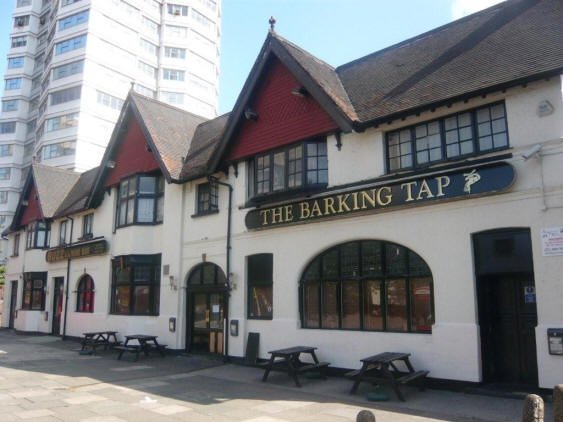 Brewery Tap, 2 Linton Road, Barking - in July 2009
Kindly provided by Stephen Harris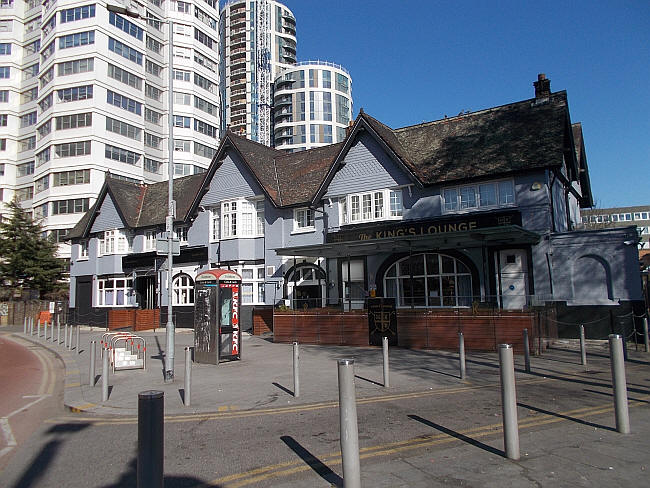 Kings Lounge, 2 Linton Road, Barking IG11 8HG - in February 2019
The following entries are in this format:
Year/Publican or other Resident/Relationship to Head and or Occupation/Age/Where Born/Source.
9/1872/Thomas W Glenny/Beer Retailer/../../Petty Sessions ****

1874/Thomas Wallis Glenny/Ale & Port Brewer/../../Kelly's

10/9/1875/Samuel Bartholomew/Beer Retailer/../../Petty Sessions ****

1878 / Samuel Bartholomew / beer retailer / .. / .. / Post Office Directory *

12/7/1879/Alfred Lovett/Beer Retailer/../../Petty Sessions ****

1881 / Alfred Lovett / Beer House Keeper / 28 / Poplar / Census *
1881 / Alice Lovett / Wife / 23 / Barking / Census
1881 / Alfred Lovett / Son / 3 / Barking / Census

1882 / Alfred Lovett / beer retailer / .. / .. / Kelly's Directory *

6/10/1883/? Leish Dau/Beer Retailer/../../Petty Sessions ****

7/11/1886/Thomas Wallis Glenny/Beer Retailer/../../Petty Sessions ****

1891/Hy Belfall/Caretaker/66/Gibraltar, British Subject/Census
1891/Ann Belfall/Wife/62/Fifeshire, Scotland/Census

1/10/1894/Henry Belfall/Beer Retailer/../../Petty Sessions ****

03/8/1895/James Francis Edward White/Beer Retailer/../../Petty Sessions ****

1890/James Collins/Beer Retailer/../../Kelly's **

1895 / Henry Belfall / beer retailer / .. / .. / Kelly's Directory *

1898/Robert John Johnson/Beer Retailer/../../Kelly's

1899/Robert John Johnson/Beer Retailer/../../Kelly's

1901/Robert Johnson/Beer Retailers Manager/46/Barking, Essex/Census
1901/Ann Johnson/Wife/36/Dagenham, Essex/Census
1901/Robert Johnson/Son, Sorter General Post Office/21/Barking, Essex/Census

1906/Alfred John Douglas Kittle/Beer Retailer/../../Kelly's

1908/Alfred John Douglas Kittle/Beer Retailer/../../Kelly's

1910 / Alfred John Douglas Kittle / beer retailer / .. / .. / Kelly's Directory *

1911/Alfred John Douglas Kittle/Beer House Manager/40/Barking, Essex/Census ****
1911/Mary Ann Kittle/Wife, Assistant/35/Plaistow, Essex/Census
1911/Hilda Helen Kate Kittle/Daughter/11/Barking, Essex/Census
1911/Alfred Lorn Kittle/Son/7/Barking, Essex/Census
1911/William George Kittle/Nephew, Assistant/19/Barking, Essex/Census

1912/Alfred John Douglas Kittle/Beer Retailer/../../Kelly's

1914/Alfred John Douglas Kittle/Beer Retailer/../../Kelly's

1917/Alfred John Douglas Kittle/Beer Retailer/../../Kelly's

1922 / Alfred John Douglas Kittle / beer retailer / .. / .. / Kelly's Directory *

1925/Alfred John Douglas Kittle/Beer Retailer/../../Kelly's

1926/Alfred John Douglas Kittle/Beer Retailer/../../Kelly's **

1937/Herbert Smith & H E Hastings/../../../Kelly's ****



* Provided by Ewan

** Provided by Stephen Harris

**** Provided by Kevan