Pub history and pub wiki
Bull, 2 North Street, Barking
Barking pub history index
A listing of historical public houses, Taverns, Inns, Beer Houses and Hotels in Essex. The Essex listing uses information from census, Trade Directories and History to add licensees, bar staff, Lodgers and Visitors.
This pub was present by 1580 and was rebuilt in 1885 and most recently in 1925. * The Bull closed in 2014, and now awaiting it's fate. **+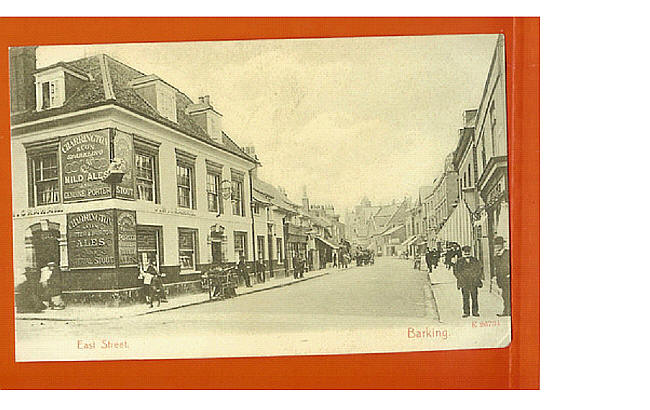 Bull Inn, at the corner of East Street, Barking
Kindly provided by Colleen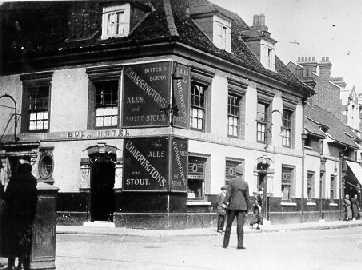 Taken from a Photograph supplied by The Department of Education, Arts & Libraries, London Borough of Barking & Dagenham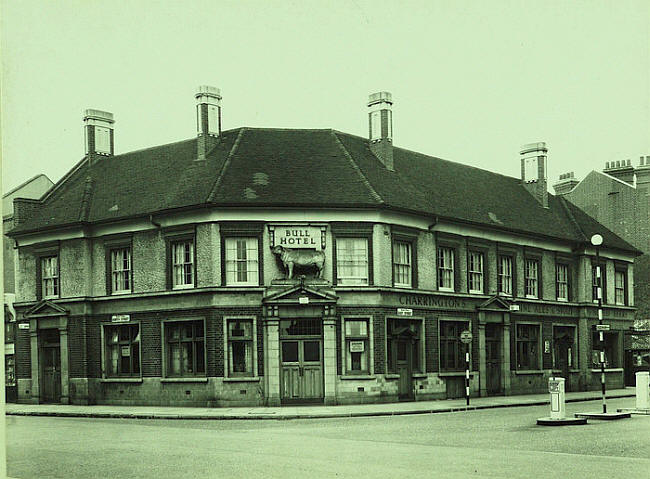 Bull, 2 North Street, Barking - in 1961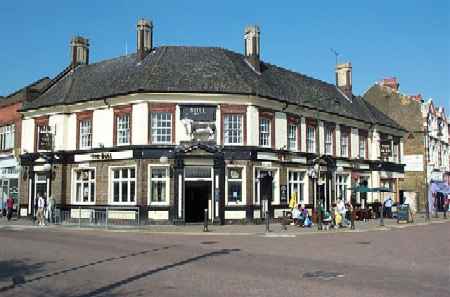 17th April 2003
Taken by Brian Berry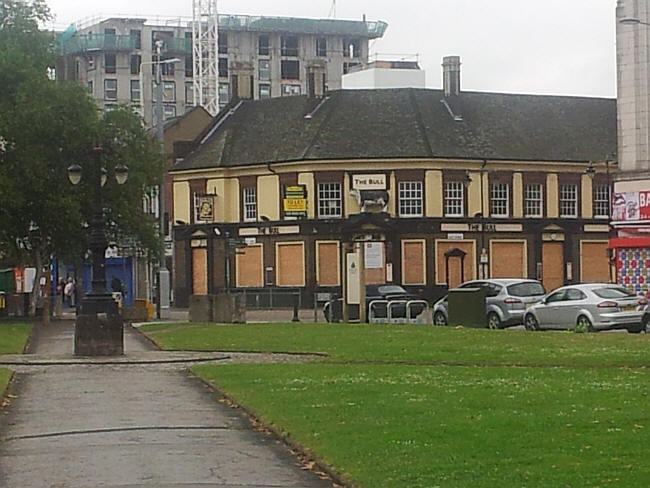 The Bull, North Street, Barking - in May 2014
Kindly provided by Al Skinns
The following entries are in this format:
Year/Publican or other Resident/Relationship to Head and or Occupation/Age/Where Born/Source.
1822-3/William Parsons/../../../Pigot's*

1826/Elizabeth Parsons/../../../Pigot's Directory ****

1828/Elizabeth Parsons/Licensee/../../Alehouse Recognizances***

1828-9/Elizabeth Parsons/../../../Pigot's

1832-3/Elizabeth Parsons/../../../Pigot's

1839/Elizabeth Parsons/../../../Pigot's

1845/Joseph Parsons/../../../Post Office

1848/Elizabeth Parsons/../../../White's

1851/George Parsons/../../../Post Office

1851/George Parsons/licensed victualler/35/Barking, Essex/Census **
1851/Sophia Parsons/wife/28/Middlesex/Census **
1851/Sophia Parsons/daughter, scholar/07/London, Middlesex/Census **
1851/Joseph Parsons/son/04/London, Middlesex/Census **
1851/George Parsons/son/03/London, Middlesex/Census **
1851/Alfred Parsons/son/01/Cambridgeshire/Census **
1851/William Pavitt/ostler/Rainham, Essex/Census **
1851/Jane [Draine]/housemaid/20/Barking, Essex/Census **
1851/Sarah Miller/nursemaid/22/Barking, Essex/Census **
1851/Thomas Potts/lodger, basket maker/32/Spitalfields, London/Census **

1852/G. Parsons/../../../Kelly's*

1855/George Parsons/../../../Kelly's*

1861/George Parsons/Licensed Victualler & PostMaster/45/Barking, Essex/Census ****
1861/Sophia Parsons/Wife/39/St Georges East, Middx/Census
1861/Sophia Parsons/Daughter/17/St Leonards, Shoreditch/Census
1861/Joseph Parsons/Son/15/St Leonards, Shoreditch/Census
1861/Alfred Parsons/Son/11/Hackney, Essex/Census
1861/Clara Parsons/Daughter/8/Barking, Essex/Census
1861/Emily Parsons/Daughter/6/Barking, Essex/Census
1861/Elizabeth Parsons/Daughter/4/Barking, Essex/Census
1861/Edith Louisa Parsons/Daughter/2/Barking, Essex/Census
1861/Mary Anne Alabaster/Niece/17/St Leonards, Shoreditch/Census
1861/Clara Louisa Alabaster/Niece/16/St Leonards, Shoreditch/Census
1861/Matilda Jones/House Servant/28/Ripple Side, Essex/Census
1861/Hebzebah Prior/Nurse/15/Barking, Essex/Census
1861/William Buss/Ostler, Pots Man/24/Wall End, Essex/Census

1862/George Parsons/../../../Kelly's

1863 / George Parsons / .. / .. / .. / White's Directory *+

1867/George Parsons/../../../Kelly's

1870/George Parsons/../../../Kelly's

1871/George Parsons/../../../Post Office

1871/George Parsons/Licensed Victualler, Widow/55/Barking, Essex/Census
1871/Sophia Parsons/Daughter/26/Shoreditch, Middlesex/Census
1871/Joseph Parsons/Son/25/Shoreditch, Middlesex/Census
1871/Emily Parsons/Daughter/16/Barking, Essex/Census
1871/Jessie Parsons/Daughter/8/Barking, Essex/Census
1871/James Milton/Potman/40/Barking, Essex/Census
1871/Hephzebah Prior/Domestic Servant/14/Barking, Essex/Census
1871/Rebecca Crosby/Domestic Servant/18/East Ham, Essex/Census

1872/G Parsons/../../../The Essex Annual *

1874/George Parsons/../../../Kelly's

1878/George Parsons/../../../Kelly's

1881/George Parsons/Licensed Victualler/65/Barking, Essex/Census
1881/Joseph Parsons/Son, Assistant/35/Shoreditch, Middlesex/Census
1881/Emily Parsons/Daughter/26/Barking, Essex/Census
1881/Edith Parsons/Daughter/22/Barking, Essex/Census
1881/Sarah Vaughan/General Domestic Servant/48/Barking, Essex/Census
1881/Esther Curtis/Boarder/11/Creekmouth, Essex/Census

1882/George Parsons/../../../Kelly's

1886/George Parsons/../../../Kelly's

1889/George Parsons/../../../Kelly's Directory *

1890 / Joseph Parsons / .. / .. / .. / Kelly's Directory *+

1891/Joseph Parsons/Publican/44/Finsbury Square, London/Census
1891/Ann Parsons/Wife/26/Barking, Essex/Census
1891/William Parsons/Son/1/Barking, Essex/Census
1891/George Mitchell/Barman/21/Aberdeen, Scotland/Census
1891/Elizth Buckell/Domestic Servant/15/Barking, Essex/Census
1891/Elizth Harris/Visitor, Widow/37/Wilborne, Somerset/Census

1894/Joseph Parsons/../../../Kelly's

1895/Joseph Parsons/../../../Kelly's

1896/Joseph Parsons/../../../Petty Sesssions ****

1898/Joseph Parsons/../../../Kelly's

1899/Joseph Parsons/../../../Kelly's

03/6/1899/Walter Alfred Medcalf/../../../Petty Sesssions ****

12/5/1900/John Frederick Staines/../../../Petty Sesssions ****

23/2/1901/John Herbert Graham/../../../Petty Sesssions ****

1901/John H Graham/Licensed Victualler/27/Poplar, London/Census
1901/Mary Graham/Sister, House Keeper/22/Poplar, London/Census
1901/Robert Keow/Barman/24/Woolwich, London/Census
1901/Alec Griffiths/Potman/17/Dalston, London/Census
1901/Florence Richardson/Barmaid/19/Poplar, London/Census
1901/Harriet Eve/Cook/23/Ilford, Essex/Census
1901/Sarah Purkins/Housemaid/21/Barking, Essex/Census

1902/John Herbert Graham/../../../Petty Sesssions ****

1902/John H. Graham/../../../Kelly's

1906/John H. Graham/../../../Kelly's

1908/John H. Graham/../../../Kelly's

1910 / John H. Graham / .. / .. / .. / Kelly's Directory *+

1911/John Herbert Graham/Publican/37/Poplar, Middlesex/Census ****
1911/George James Graham/Brother, Assistant/28/Poplar, Middlesex/Census
1911/Clara Watson/Barmaid/22/Plaistow, Essex/Census
1911/Annie Clarke/Barmaid/26/Grays, Essex/Census
1911/Fanny Scolard/Housekeeper/56/Poplar, Middlesex/Census

1912/John H. Graham/../../../Kelly's

1914/John H. Graham/../../../Kelly's

25/9/1915/Barbara Ellen Jackson/../../../Petty Sesssions ****

1917/Mrs. Barbara Ellen Jackson/../../../Kelly's

1922 / Barbara Ellen Jackson / .. / .. / .. / Kelly's Directory *+

1925/Mrs. Barbara Ellen Jackson/../../../Kelly's

1929 / Barbara Ellen Jackson / .. / .. / .. / Kelly's Directory *+

1933 / Barbara Ellen Jackson / .. / .. / .. / Kelly's Directory *+

1933/Mrs. Barbara Ellen Jackson/../../../Kelly's

1935 - 1962/G A Smith & Sons Ltd/../../../Freehold

1937/G A Smith & E W Cross/../../../Kelly's



* Provided by Stephen Harris

*+ Provided by Ewan

** Provided by John Mead

**+ Provided by Al Skinns

*** Provided by Mike Smith

**** Provided by Kevan


Search for a pub, an address or person
And Last updated on: Wednesday, 03-Jul-2019 18:24:11 BST