Pub history and pub wiki
Chequers, 2 High Street, Barkingside, Ilford, Essex, IG6 2DD
A listing of historical public houses, Taverns, Inns, Beer Houses and Hotels in Essex. The Essex listing uses information from census, Trade Directories and History to add licensees, bar staff, Lodgers and Visitors.
Also known as the Chequers and the Ye Olde Investigator for a period; this is a Star public house in 2017 (part of the Heineken chain)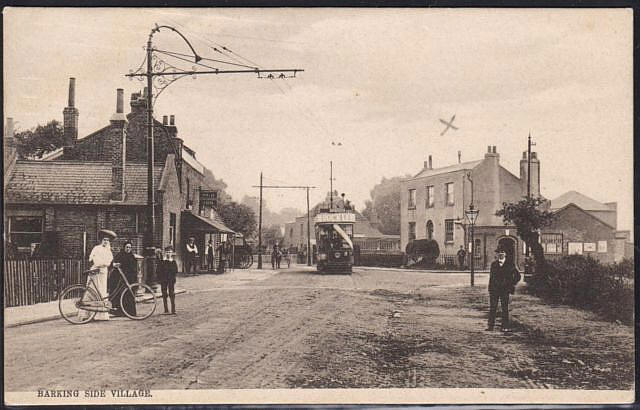 Chequers, Barkingside Village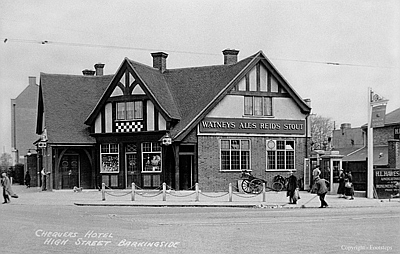 Chequers, Barkingside - a Watneys Mann Pub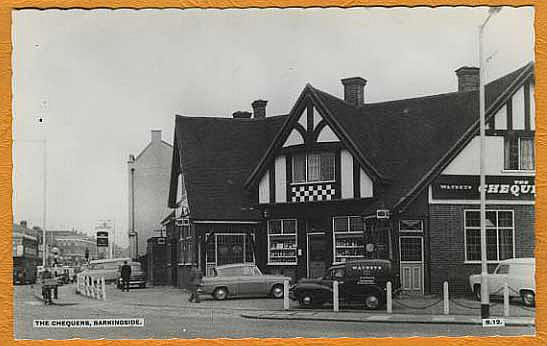 The Chequers, Barkingside
Both kindly provided by Colleen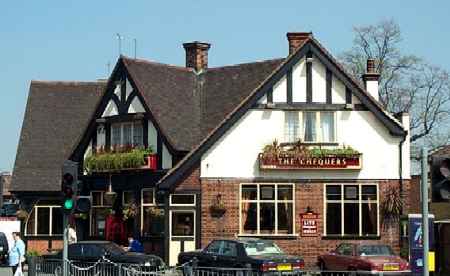 16th April 2003
Taken by Brian Berry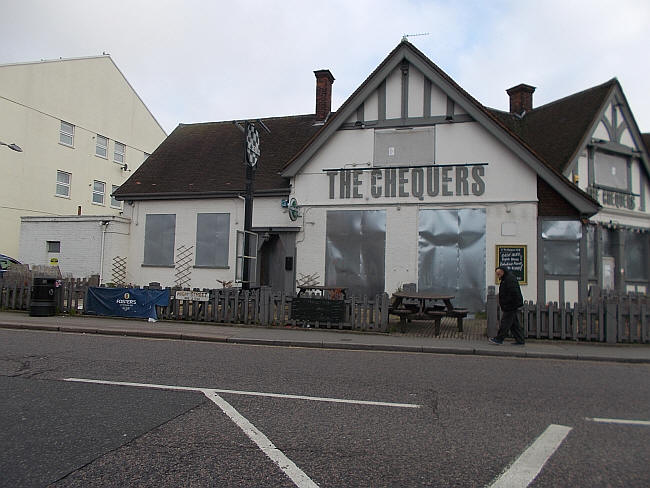 Chequers, 2 High Street, Barkingside, Ilford - in 2019
The following entries are in this format:
Year/Publican or other Resident/Relationship to Head and or Occupation/Age/Where Born/Source.
1851/William Deneson/beer seller/35/Kent/Census **
1851/Sarah Deneson/wife/36/Woodford, Essex/Census **
1851/William Henry Deneson/son/05/Barking, Essex/Census **
1851/George Deneson/son/04/Barking, Essex/Census **
1851/Elizabeth Deneson/daughter/03/Barking, Essex/Census **
1851/Sarah Deneson/daughter/02/Barking, Essex/Census **
1851/James Deneson/son/7m/Barking, Essex/Census **
1851/Robert Hunt/pot boy/16/Barking, Essex/Census **
1851/Mary Harwood/domestic servant/29/Wanstead, Essex/Census **
1851/Thomas Young/lodger, ag lab/51/Moulton, Norfolk/Census **

1860/William Deveson/../../../Kelly's*

1861/William Deveson/Inn Keeper/47/Kent/Census ****
1861/Sarah Deveson/Wife/45/Woodford, Essex/Census
1861/William Deveson/Son/15/Barkingside/Census
1861/George Deveson/Son/14/Barkingside/Census
1861/Sarah Deveson/Daughter/12/Barkingside/Census
1861/James Deveson/Son/11/Barkingside/Census
1861/Susan Deveson/Daughter/10/Barkingside/Census
1861/Jane Deveson/Daughter/9/Barkingside/Census
1861/Rebecca Deveson/Daughter/8/Barkingside/Census
1861/John Edwards/Lodger, Mason/30/Chelmsford/Census
1861/William Cable/Lodger/25/Brentwood/Census

1862/William Deveson/../../../Kelly's

1865/W. Deveson/../../../Kelly's*

1867/William Deveson/../../../Post Office

1870/William Deveson Sen./../../../Kelly's

1871/William Deveson Sen./../../../Post Office

1871/William Deveson/Wine Merchant/54/Kent/Census ****
1871/Sarah Deveson/Wife/59/Woodford Bridge, Essex/Census
1871/George Deveson/Son, Market Gardener/24/Barkingside, Essex/Census
1871/Sarah Deveson/Daughter/21/Barkingside, Essex/Census
1871/Elizabeth Deveson/Daughter/17/Barkingside, Essex/Census
1871/Rebecca Deveson/Daughter/16/Barkingside, Essex/Census
1871/Henry Wright/Potsman/20/Harlow, Essex/Census
1871/Edward Trudgitt/Lodger, Labourer/22/Lambourne End, Essex/Census

1874/William Deveson Sen./../../../Kelly's

1876/William Deveson/../../../Kelly's*

1878/William Deveson/../../../Kelly's

1880/William Deveson/../../../Kelly's*

1881/William Deveson/Licenced Victualler/66/Eastry, Kent/Census
1881/Sarah Deveson/Wife/66/Woodford, Essex/Census
1881/James Deveson/Son, Barman/30/Barking, Essex/Census
1881/Jane Deveson/Daughter/27/Barking, Essex/Census
1881/Rebecca Deveson/Daughter/24/Barking, Essex/Census
1881/Richard Faulkner/Potman/18/Barking, Essex/Census

1882/William Deveson/../../../Kelly's

1885/William Deveson/../../../Kelly's*

1886/James Deveson/Wheelwright/../../Kelly's

1894/James Deveson/../../../Kelly's

1895/James Deveson/../../../Kelly's

1896/James Deveson/../../../Petty Sessions ****

1898/James Deveson/../../../Kelly's

1899/James Deveson/../../../Kelly's

1902/James Deveson/../../../Petty Sessions ****

1902/James Deveson/../../../Kelly's

1908/James Deveson/Coach Builder/../../Kelly's

1911/James Deveson/Publican/60/Barkingside, Essex/Census ****
1911/Alice Deveson/Wife, Publican/60/Barkingside, Essex/Census
1911/Philip James Deveson/Son, Assistant/23/Barkingside, Essex/Census
1911/Edith Alice Deveson/Daughter/19/Barkingside, Essex/Census
1911/Reginald Deveson/Son, Clerk/18/Barkingside, Essex/Census
1911/Hannah Deveson/Barmaid/28/Bow, London/Census
1911/Mary Ann Silverlock/General Servant/45/Bethnal Green, London/Census

1912/James Deveson/Coach Builder/../../Kelly's

1917/James Deveson/Coach Builder/../../Kelly's

1925/James Deveson/../../../Kelly's

30/1/1929/Philip James Deveson/../../../Petty Sessions ****

1933/Philip James Deveson/../../../Kelly's



* Provided by the Pubs, Inns and Taverns Index for England, 1801-1900

**** Provided by Kevan
Search for a pub, an address or person
And Last updated on: Wednesday, 03-Jul-2019 18:24:21 BST