Pub history and pub wiki
Red Lion, 113 High Street, Billericay CM12 9AJ
Billericay pub history index
A listing of historical public houses, Taverns, Inns, Beer Houses and Hotels in Essex. The Essex listing uses information from census, Trade Directories and History to add licensees, bar staff, Lodgers and Visitors.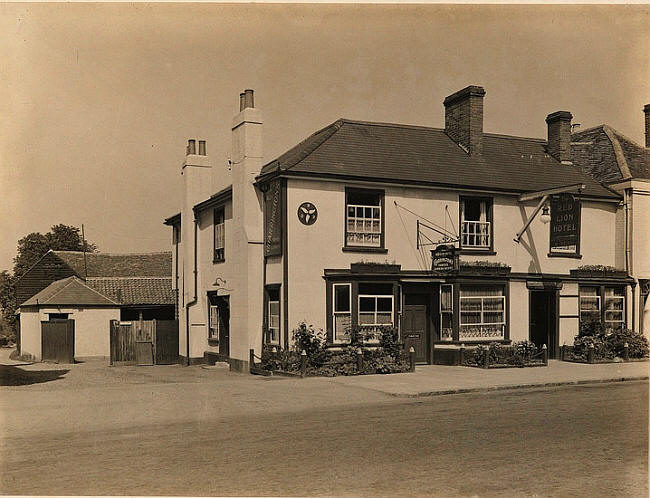 Red Lion, High Street, Billericay - in 1932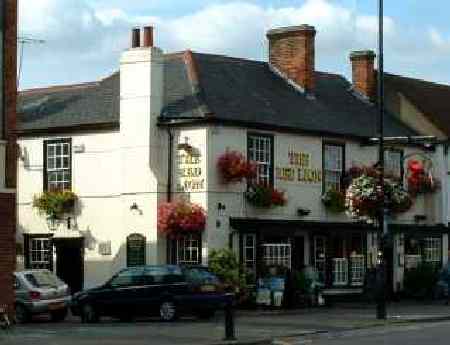 11th August 2002
Taken by Stephen Parker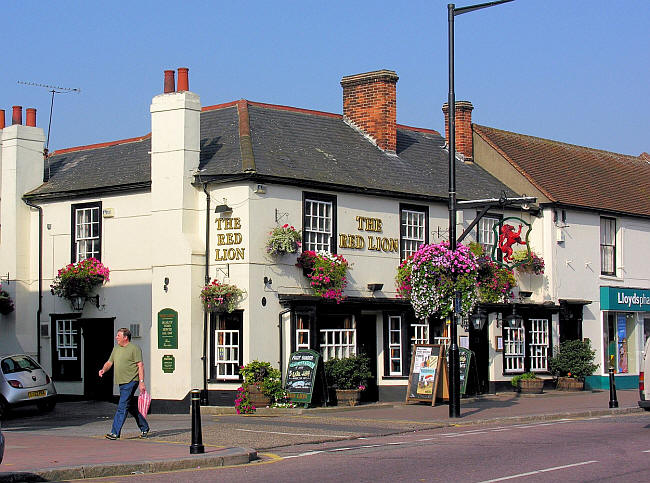 Red Lion, Billericay
Kindly provided by Terry
The following entries are in this format:
Year/Publican or other Resident/Relationship to Head and or Occupation/Age/Where Born/Source.
1822/Mary Thompson/../../../Pigot's**

1823-4/Mary Thompson/../../../Pigot's

1828/James Thompson/Licensee/../../Alehouse Recognizances*

1828-9/Susan Thompson/../../../Pigot's

1832-3/James Thompson/../../../Pigot's

1839/John Cross/Horse & Gig Owner/../../Pigot's

1841/Richard Mumford/30/builder/Essex/Census ***
1841/Mary Mumford/wife/25/Essex/Census ***
1841/Betsy Alexander/female servant/20/Essex/Census ***
1841/Mary Cox/female servant/15/Essex/Census ***
1841/John Savill/male servant/15/Essex/Census ***
1841/Amaziah Abraham/tailor/20/not Essex/Census ***
1841/Enoch Boswell/carpenter/25/not Essex/Census ***
1841/Thomas Beal/soldier/25/not Essex/Census ***
1841/George Everett/gardener/20/Essex/Census ***

1845/Richard Mumford/../../../Post Office

1848/Richard Mumford/../../../White's

1851/Richard Mumford/Builder/../../Post Office

1861/Richard Mumford/innkeeper and builder/49/Dunmow, Essex/Census ***
1861/Mary Ann Mumford/wife/47/Thaxted, Essex/Census ***
1861/Betsy Silversides/general servant/43/Mountnessing, Essex/Census ***
1861/Solomon Young/servant/15/Billericay, Essex/Census ***

1862/Richard Mumford/../../../Kelly's

1867/Thomas Hunt/../../../Post Office

1870/Thomas Sides/../../../Kelly's

1871/Thomas Sides/../../../Post Office

1871/Thomas Sides/innkeeper and land steward/50/Shropshire/Census ***
1871/Elizabeth A Sides/wife/41/Billericay, Essex/Census ***
1871/Mary Parker/stepdaughter/20/Wandsworth, Surrey/Census ***
1871/Mary Sides/daughter/15/Rochester, Kent/Census ***
1871/Ellen M Sides/daughter/10/Corringham, Essex/Census ***
1871/Ellen Hawkes/domestic servant/21/Springfield, Essex/Census ***
1871/Frederick J Davis/inn servant/16/Brentwood, Essex/Census ***

1874/Thomas Sides/../../../Kelly's

1878/Thomas Sides/../../../Kelly's

1881/Thomas Sides/Licensed Victualler/60/Alderbury, Shropshire/Census
1881/Elizabeth Ann Sides/Wife/50/Billericay, Essex/Census
1881/Elizabeth Barton/Daughter/30/Wandsworth, London/Census
1881/Mary Sides/Daughter/25/Rochester, Kent/Census
1881/Ellen Maria Sides/Daughter/20/Corringham, Essex/Census
1881/Montague Sides/Nephew/6/Bow, London/Census
1881/William Oakley/Domestic Servant/20/Great Burstead, Essex/Census
1881/Elizabeth Chapman/Servant/20/Norwich, Norfolk/Census

Note: Premises not named in 1881

1882/Thomas Sides/../../../Kelly's

1886/Thomas Sides/../../../Kelly's

1891/Elizabeth A Sides/widow, hotel keeper/60/Billericay, Essex/Census ***
1891/Mary Sides/daughter/35/Rochester, Kent/Census ***
1891/Hannah Barnes Peachey/visitor, dressmaker/45/Bermondsey, London/Census ***
1891/Harry Allen/visitor, traveller/23/Althorne, Essex/Census ***
1891/Emma Whistler/servant/34/Ingatestone, Essex/Census ***
1891/Alice Hicks/domestic servant/15/Great Burstead, Essex/Census ***
1891/John Nunn/inn servant/17/Peckham, London/Census ***

1894/Mrs. Elizabeth Ann Sides/../../../Kelly's

1895/Mrs. Elizabeth Ann Sides/../../../Kelly's

1898/Alfred Henry Hedgelong/Manager/../../Kelly's

1899/Mrs. Alison Saltonstall/../../../Kelly's

1901/William F Butcher/Hotel Proprietor/57/Colne Engaine, Essex/Census ****
1901/Lucy H Butcher/Wife/54/Gilsborough, Northamptonshire/Census
1901/Francis W Butcher/Son, Office Clerk/17/North Benfleet, Essex/Census
1901/William G Butcher/Son, Office Clerk/16/North Benfleet, Essex/Census
1901/Geo M Butcher/Son/13/North Benfleet, Essex/Census
1901/Alice Payne/Companion/40/Sheepreth, Cambridgeshire/Census
1901/Florence E Dockred/Barmaid/20/Hendon, London/Census
1901/Alice M Challis/General Servant/15/Roxwell, Essex/Census
1901/James Mortimer/General Labourer/53/Writtle, Essex/Census
1901/Herbert Bartlett/Ostler Groom/25/Wickford, Essex/Census
1901/Frederick M Baker/Boarder, General Workman/38/Hockley, Essex/Census

1902/William Francis Butcher/../../../Kelly's

1908/Francis Henry Buckenham/../../../Kelly's

1911/Francis Henry Buckenham/Farmer/30/Hadleigh, Essex/Census ****
1911/Florence Kate Buckenham/Wife/31/Courtenhill, Northamptonshire/Census
1911/Henry James Buckenham/Son/7/Crays Hill, Essex/Census
1911/Ethel Mary Buckenham/Daughter/6/Crays Hill, Essex/Census
1911/Victor Buckenham/Son/5/Billericay, Essex/Census
1911/Margaret Buckenham/Daughter/15 months/Billericay, Essex/Census
1911/Hugh Bramston Buckenham/Brother, Assistant/25/Hadleigh, Essex/Census
1911/Hilda Edith Buckenham/sister, Assistant/23/Hadleigh, Essex/Census
1911/Ethel Agnes Bridge/General Servant/23/Galleywood, Essex/Census

1912/Francis Henry Buckenham/../../../Kelly's

1917/Leo Charles Ayling/Manager/../../Kelly's

1925/Victor Fuller/../../../Kelly's

1929 - 1932/Fripp/../../../Freehold

1933/Frederick Francis Fripp/../../../Kelly's

1933 - 1934/Channer/../../../Freehold

1935 - 1961/Fletcher/../../../Freehold

1937/Tom Fletcher/../../../Kelly's

1962/A J Bevis/../../../Freehold



* Provided by Mike Smith

** Provided by the Pubs, Inns and Taverns Index for England, 1801-1900

*** Provided by John Mead

**** Provided by Kevan
Search for a pub, an address or person
And Last updated on: Wednesday, 03-Jul-2019 18:24:31 BST