Pub history and pub wiki
Rising Sun, 2 Sun Street, Billericay CM12 9LN
Billericay pub history index
A listing of historical public houses, Taverns, Inns, Beer Houses and Hotels in Essex. The Essex listing uses information from census, Trade Directories and History to add licensees, bar staff, Lodgers and Visitors.
Also known as the Sun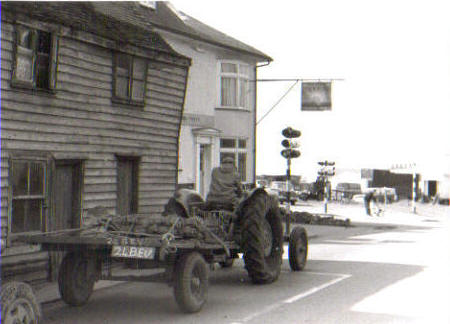 The Rising Sun, Billericay showing Eclipse Cottages, so called because they stood between the Sun and an old Beer House - The Moon
Kindly provided by David Twitchett - copyright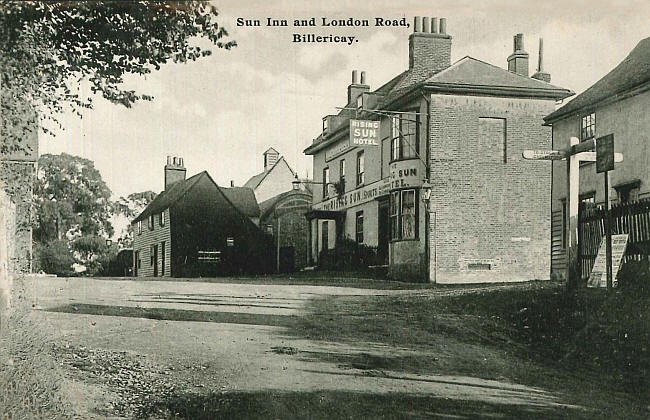 Sun Inn and London Road, Billericay
Kindly provided by Peter Wonnacott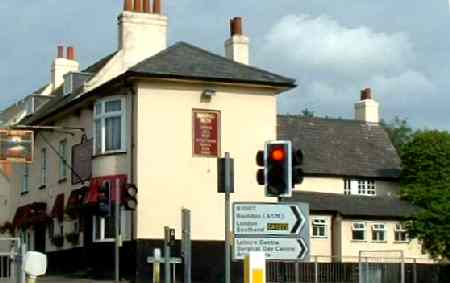 11th August 2002
Taken by Stephen Parker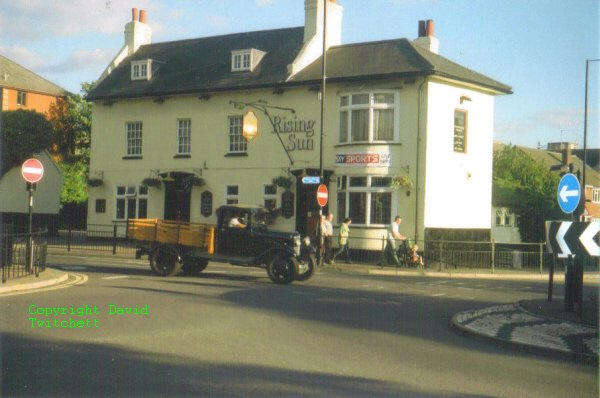 Rising Sun, Billericay - in 2010
Kindly provided by David Twitchett
The following entries are in this format:
Year/Publican or other Resident/Relationship to Head and or Occupation/Age/Where Born/Source.
1822/Crisp Molineux Harridge/../../../Pigot's**

1823-4/Crisp Harridge/../../../Pigot's

1828/Crisp Molineux Harridge/Licensee/../../Alehouse Recognizances*

1828-9/Crisp Harridge/../../../Pigot's

1832-3/Crisp Molineux Harridge/Horse & Gig Owner/../../Pigot's

1839/Crisp Molineux Harridge/../../../Pigot's

1840/Crisp Harridge/../../../Pigot's**

1841/Lucy Lamprill/innkeeper/35/Essex/Census ***
1841/Lucy Lamprill/daughter/07/Essex/Census ***
1841/Samuel Such/male servant/25/Essex/Census ***
1841/Lucy Beard/female servant/20/Essex /Census ***
1841/Mary Smith/female servant/15/Essex/Census ***

1845/George Silversides/../../../Post Office

1848/James Benson/../../../White's

1851/James Benson/../../../Post Office

1851/James Benson/innkeeper/40/Rochford, Essex/Census ***
1851/Mary Benson/wife/40/Pitsea, Essex/Census ***
1851/Barnaby Benson/son, ostler/16/Barling, Essex/Census ***
1851/James Benson/son, scholar/14/Barling, Essex/Census ***
1851/Mary Benson/daughter, scholar/12/Barling, Essex/Census ***
1851/John Benson/son, scholar/10/Barling, Essex/Census ***
1851/Martha Benson/daughter, scholar/06/Prittlewell, Essex/Census ***
1851/Mary Williams/house servant/23/Rayleigh, Essex/Census ***
1851/M Wright/visitor, dressmaker/35/Great Oakley, Essex/Census ***
1851/William Willoughby/lodger, sergeant mariner/25/Chatham, Kent/Census ***

1852/J. Benson/../../../Kelly's**

1855/W. Piper/../../../Kelly's**

1861/Sarah Piper/widow, victualler/67/Great Burstead, Essex/Census ***
1861/George Smith/servant, ostler/33/Mountnessing, Essex/Census ***

1862/Mrs. Sarah Piper/../../../Kelly's

1867/Joseph Duncombe/../../../Post Office

1870/Thomas Oxley/../../../Kelly's

1871/Thomas Oxley/../../../Post Office

1871/Thomas Oxley/victualler/33/Grays Thurrock, Essex/Census ***
1871/Caroline Oxley/wife/29/Ramsden Crays, Essex/Census ***
1871/Thomas E Oxley/son/04/Billericay, Essex/Census ***
1871/Frank L Oxley/son/03/Billericay, Essex/Census ***
1871/Sarah A Oxley/daughter/01/Billericay, Essex/Census ***
1871/Harriet E B Lindey/domestic servant/15/Great Burstead, Essex/Census ***
1871/Jane Whitaker/domestic servant/16/Childerditch, Essex/Census ***

1874/Thomas Oxley/../../../Kelly's

1878/James Lazell/Carrier/../../Kelly's

1881/James Lazell/Innkeeper/23/Billericay, Essex/Census
1881/Ellen Lazell/Wife/32/Springfield, Essex/Census
1881/Emma M. Lazell/Daughter/8/Billericay, Essex/Census
1881/Elizabeth E. Lazell/Daughter/7/Billericay, Essex/Census
1881/Emily M. Lazell/../9m/Billericay, Essex/Census
1881/Rose Silver/Boarder/14/London, Middlesex/Census
1881/Harry Adams/Ostler/18/Ingrave, Essex/Census

1882/James Lazell/../../../Kelly's

1886/Richard Denford/../../../Kelly's

1891/James Benson/licensed victualler/54/Southchurch, Essex/Census ***
1891/Sarah Benson/wife/50/Birmingham/Census ***
1891/Henry Benson/son, ostler/17/Grays, Essex/Census ***
1891/William Benson/son, scholar/15/Grays, Essex/Census ***
1891/Emma Jackson/domestic servant/17/Dagenham, Essex/Census ***
1891/Walter Kirby/lodger, brush maker/20/Billericay, Essex/Census ***
1891/James Spelling/lodger, painter/Scotland/Census **

1894/John Peter Cheek/../../../Kelly's

1895/John Peter Cheek/../../../Kelly's

1898/John Peter Cheek/../../../Kelly's

1899/John Peter Cheek/../../../Kelly's

1901/Edwin Cook/Publican/48/Cockfosters, Hertfordshire/Census ****
1901/Susannah Cook/Wife/51/Barking, Essex/Census
1901/Emily Guest/General Servant/16/Billericay, Essex/Census
1901/Henry Grimwade/Ostler Groom/39/Burnham on Crouch, Essex/Census
1901/John Ramsay/Visitor, Hay Carter/16/Dagenham, Essex/Census

1902/Edwin Cook/../../../Kelly's

1908/Edwin Cook/../../../Kelly's

1911/Edwin Cook/Licensed Victualler, Widow/58/Cockfosters/Census ****
1911/Evelyn Irene/Daughter/24/New Barnet/Census
1911/Ellen Saveall/Servant/27/South Hanningfield/Census
1911/Norman Sweeten/Ostler/21/Southminster/Census

1912/Edwin Cook/../../../Kelly's

1917/Edward Conoley/../../../Kelly's

1925/Robert Knight/../../../Kelly's

1933/Arthur J. White/../../../Kelly's



* Provided by Mike Smith

** Provided by the Pubs, Inns and Taverns Index for England, 1801-1900

*** Provided by John Mead

**** Provided by Kevan
Search for a pub, an address or person
And Last updated on: Wednesday, 03-Jul-2019 18:24:32 BST