Pub history and pub wiki
Colne Valley Arms, Birdbrook
A listing of historical public houses, Taverns, Inns, Beer Houses and Hotels in Essex. The Essex listing uses information from census, Trade Directories and History to add licensees, bar staff, Lodgers and Visitors.
Now called the Birdbrook Tavern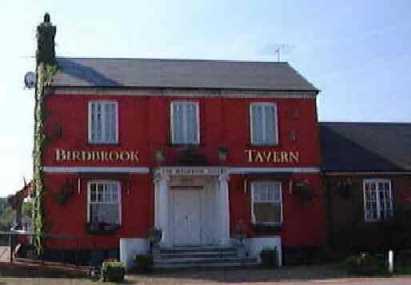 29th August 1999
Taken by Ian Rose.
The following entries are in this format:
Year/Publican or other Resident/Relationship to Head and or Occupation/Age/Where Born/Source.
1845/John French/Carpenter & Beershop Keeper/../../Post Office

1848/John French/Beerhouse Keeper/../../White's

1851/John French/Beer Retailer & Carpenter/../../Post Office

Note: Premises not named prior to 1867

1867/John French/Wheelwright/../../Post Office

1870/Mrs. Anne French/Wheelwright/../../Kelly's

1871/Mrs. Anne French/Wheelwright/../../Post Office

1874/Mrs. Anne French/Wheelwright/../../Kelly's

1878/Mrs. Anne French/Wheelwright/../../Kelly's

1881/Walter French/Carpenter/38/Birdbrook, Essex/Census
1881/Mary Ann French/Wife, Dressmaker/20/Poplar, Middlesex/Census
1881/Louisa A. Hunaball/Visitor, Dressmaker/24/St. Pancras, Midlesex/Census
1881/Emma S. Hunaball/Visitor/8/Islington, London, Middlesex/Census

1882/Walter French/Wheelwright/../../Kelly's

1886/Walter French/Wheelwright/../../Kelly's

1894/Walter French/Builder, Contracter, Blacksmith, Timber Merchant, Wheelright. Carpenter, Hurdle Maker & Lime Burner/../../Kelly's

1895/Walter French/../../../Kelly's

1898/Walter French/Builder/../../Kelly's

1899/Walter French/../../../Kelly's

1902/Walter French/Builder/../../Kelly's

1908/Walter French/Builder/../../Kelly's

1912/Walter French/../../../Kelly's

1917/Mrs. Susannah French/../../../Kelly's

1925/Mrs. Susannah French/../../../Kelly's

1933/William James Patterson/../../../Kelly's


Search for a pub, an address or person
And Last updated on: Wednesday, 03-Jul-2019 18:24:34 BST