Red Lion, Main Road, Boreham CM3 3JA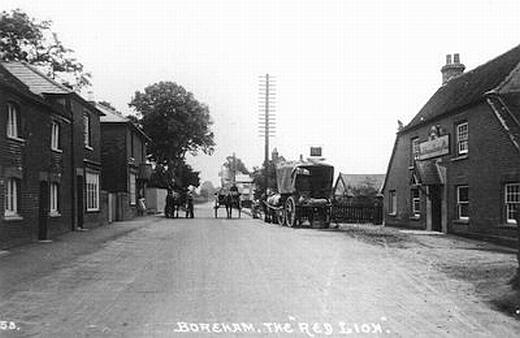 Red Lion, Boreham - early 1900s
Kindly provided by Colleen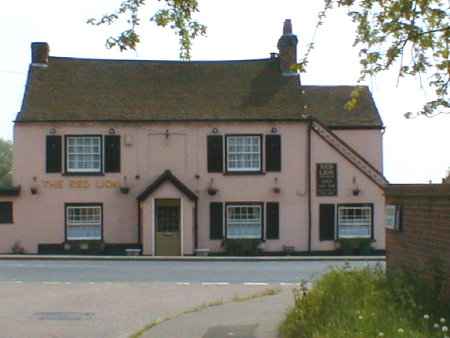 13th May 2001
"The Inn known as the "Red Lion", Boreham, Essex, was built during the reign of Henry VII, in the year 1495. When first built, the inn was a farmhouse forming part of a considerable estate. In the year 1578 the house was purchased by Septimus Mallet, who is described as a farmer and hop grower of the parish of Hatfield. Shortly after buying the house, a licence was granted to Mallet, and the house became a registered "Ale House", licensed to sell ales and ciders only. In 1583, a licence was granted to sell distilled gin and other spirits, and the sign of the "Red Lion" hung. Many inkeepers were small farmers, and continued to farm the lands surrounding their inns, and such was the case with the "Red Lion" whose extensive lands were farmed right up to the early 20th century.
We are indebted to Vic and Bertha McNamara of the "Red Lion", Main Road, Boreham, for the information from which the above has been compiled.
Year/Publican or other Resident/Relationship to Head and or Occupation/Age/Where Born/Source.
1578/Septimus Mallet/Innkeeper/../../..****

1591/Joseph Jull/Innkeeper/../../..****

1608/Edward Lambarde/Innkeeper/../../..****

1619/Richard Wire/Innkeeper/../../..****

1625/Thomas Wheeler/Innkeeper/../../..****

1636/Henry James Turkel/Innkeeper/../../..****

1643/James Smeed/Innkeeper/../../..****

1653/Francis Chester/Innkeeper/../../..****

1660/Elizabeth Chester/Innkeeper/../../..****

1672/Joseph Swabbers/Innkeeper/../../..****

1679/Elizabeth Swabbers/Innkeeper/../../..****

1682/Samuel Swabbers/Innkeeper/../../..****

1672/Joseph Higgins/Innkeeper/../../..****

1698/Jonathan Rafe/Innkeeper/../../..****

1706/Cedric Mimsey/Innkeeper/../../..****

1718/James Parfect/Innkeeper/../../..****

1729/William Quested/Innkeeper/../../..****

1745/Muriel Mimsey/Innkeeper/../../..****

1748/George Dunstan/Innkeeper/../../..****

1757/James Spratford/Innkeeper/../../..****

1765/William Roper/Innkeeper/../../..****

1778/Anne Roper/Innkeeper/../../..****

1781/Miss Anne Roper/Innkeeper/../../..****

1789/Philip Steed/Innkeeper/../../..****

1797/Robert Hillincourt/Innkeeper/../../..****

1811/Peregrine Papworth/Innkeeper/../../..****

1821/Jonathan Archer/Innkeeper/../../..****

1827/Thomas Joslin/../../../Pigot's*

1828-9/Thomas Joslin/../../../Pigot's

1829/William Blyth/Innkeeper/../../..*

1832-3/John Stubbings/../../../Pigot's

1835/Jonathan Stubbins/Innkeeper/../../..****

1839/John Stebbing/../../../Pigot's

1845/John Stubbings/../../../Post Office

1848/Robert Partridge Webber/Victualler/../../White's

1851/John Stubbings/../../../Post Office

1851/John Algar/Victualler/56/Hatfield Peverel, Essex/Census***
1851/Hannah Algar/Wife/61/Woodham Walter, Essex/Census
1851/Henry Algar/Son, Carpenter/21/Boreham, Essex/Census
1851/Harriet Young/Servant/15(?)/Salcott, Essex/Census
1851/Isaac Lucking/Carpenter/68/Little Waltham, Essex/Census
1851/Henry Tyrell/Labourer/34/Boreham, Essex/Census

1855/John Algar/Innkeeper/../../..****

1861/John Algar/Publican/66/Hatfield Peverel, Essex/Census***
1861/Hannah Algar/Innkeeper/Wife/71/Woodham, Essex/Census
1861/Joseph Algar/Son, Assistant/28/Boreham, Essex/Census
1861/Emily Smith/Domestic Servant/16/Boreham, Essex/Census
1861/William Perkins/Agricultural Labourer/42/Boreham, Essex/Census

1862/John Algar/../../../Kelly's

1867/Henry Algar/../../../Post Office

1870/Henry Algar/../../../Kelly's

1871/Henry Algar/../../../Post Office

1871/Henry Algar/Publican/41/Boreham, Essex/Census***
1871/Hariett Algar/Wife/42/Springfield, Essex/Census
1871/William H. Algar/Son/13/Springfield, Essex/Census
1871/John Algar/Father, Retired Publican/76/Boreham, Essex/Census
1871/William Chapman/Lodger, Millwright/31/Epping, Essex/Census
1871/George Bedford/Lodger, Shoemaker/27/Epping, Essex/Census
1871/George Wiscombe/Lodger, Agricultural Labourer/20/Pebmarsh, Essex/Census
1871/John Maynard/Lodger, Agricultural Labourer/30/Toppesfield, Essex/Census
1871/Samuel Bush/Lodger, Agricultural Labourer/23/Mount Bures, Essex/Census
1871/William Badley/Lodger, Agricultural Labourer/26/Wakes Colne, Essex/Census
1871/James Heaver/Lodger, Agricultural Labourer/27/Pebmarsh, Essex/Census
1871/Henry Algar/../../../Post Office

1874/Henry Algar/../../../Kelly's

1878/Richard Archer/../../../Kelly's

1881/Richard Matthew Archer/Innkeeper/43/Springfield, Essex/Census
1881/Mary Jane Archer/Wife/45/Chisledon, Wiltshire/Census
1881/Mary Jane Bennett/Visitor/24/Poplar, Middlesex/Census
1881/Sarah Joslin/General Servant/15/Fairsted, Essex/Census

1882/Richard Archer/../../../Kelly's

1886/Frederick Fuller/../../../Kelly's

1890/Frederick Fuller/../../../Kelly's

1891/Frederick Fuller/Innkeeper/37/? Surrey/Census
1891/Isabella Fuller/Wife/37/Reigate, Surrey/Census
1891/Frederick W. Fuller/Son/7/Hatfield Peverel, Essex/Census
1891/Alexander Fuller/Son/5/Boreham, Essex/Census
1891/Isabella Fuller/Daughter/2/?, Essex/Census
1891/Felen Mary Peasent(?)/Sister in Law, Dressmaker/31/Beckenham, Kent/Census

1894/Frederick Fuller/../../../Kelly's

1895/Frederick Fuller/../../../Kelly's

1898/Frederick Fuller/../../../Kelly's

1899/Frederick Fuller/../../../Kelly's

1901/Frederick Fuller/Innkeeper/47/Ockstead, Surrey/Census******
1901/Gabeller(?) Fuller/Wife/47/Reigate, Surrey/Census******
1901/Alexander R. Fuller/Son, Apprentice Coachbuilder/15/Boreham, Essex/Census******

1902/Thomas Eales/../../../Kelly's

1906/Thomas Eales/../../../Kelly's

1908/Thomas Eales/../../../Kelly's

1910/Mrs. Marion Eales/../../../Kelly's

1912/Mrs. Marion Eales/../../../Kelly's

1914/Mrs. Marion Eales/../../../Kelly's

1917/Mrs. Marion Eales/../../../Kelly's

1922/Mrs. Marion Eales/../../../Kelly's

1925/Mrs. Marion Eales/../../../Kelly's

1929/Mrs. Marion Eales/../../../Kelly's

1933/Mrs. Marion Eales/../../../Kelly's

1937/Mrs. Marion Eales/../../../Kelly's

1940/Mrs. Marion Eales/Licensee/84/../Petty Sessions*****

1943/Miss Lillis P Eales/../../../Kelly's

1950/Mrs & Mrs J W Gisborne/../../../Black Eagle Journal ***

1952/Harold Rocker/Innkeeper/../../****

1969/Peter Woods/Innkeeper/../../****

1976/Brian Victor Raymond/Innkeeper/../../****

1986/Ronald Scott/Innkeeper/../../****

1995/Vic. McNamara/Innkeeper/../../****
1995/Bertha McNamara/Innkeeper/../../



* Provided by Ken Harrison

** Provided by the Pubs, Inns and Taverns Index for England, 1801-1900

*** Provided by Noel Clark, the Great, Great, Great Grandson of John and Hannah (nee Maddocks) Algar

**** Provided by Vic. & Bertha McNamara (via Noel Clark)

***** Provided by Jill Fleming

****** Provided by Helen Cox

*& Provided by Alex Wilkinson