Ram & Hogget, Bradfield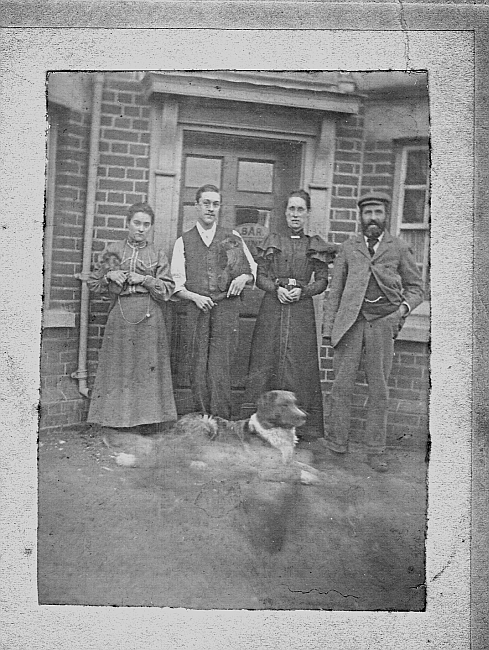 My great grandparents Emily and Nelson Clatworthy with their son, Edgar and their daughter Evelyn outside the front door of the Ram and Hogget, Bradfield - circa 1905
Note the monkeys that Evelyn and Edgar are holding, my grandfather (Henry Clatworthy) did tell me that they had had monkeys for pets.
Kindly provided by Julia Williams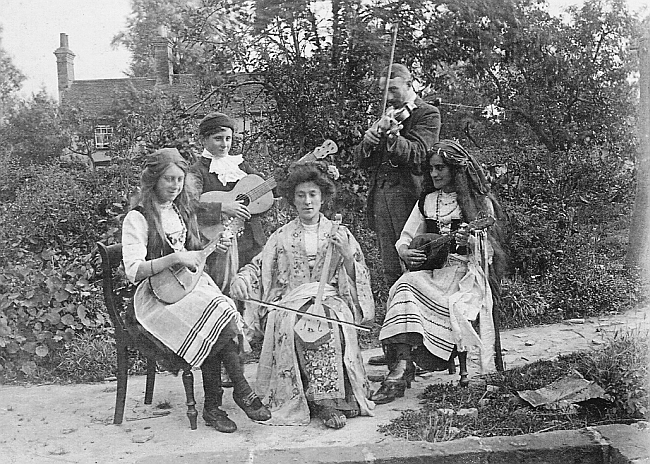 The photo shows members of the family in the garden of the Ram & Hogget. My grandfather was born in Feb 1899, his sister Ella (far left) in 1896, sister Emily (centre) in 1887 and sister Beatrice (far right) in 1889 (so I would guess that the photo was taken in 1909.
Kindly provided by Julia Williams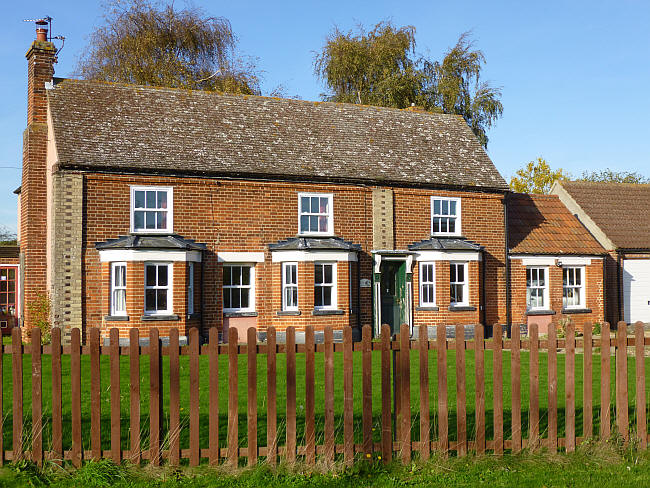 Ram & Hoggett, Bradfield
Kindly provided by Mick Hearn
The following entries are in this format:
Year/Publican or other Resident/Relationship to Head and or Occupation/Age/Where Born/Source.
1862/Samuel Cracknell/Beer Retailer/../../Post Office

1867/Samuel Cracknell/Beer Retailer & Pork Butcher/../../Post Office

1871/Mrs. Eliza Cracknell/Beer Retailer & Pork Butcher/../../Post Office

1874/Mrs. Eliza Cracknell/Beer Retailer & Pork Butcher/../../Post Office

1878/Mrs. Eliza Cracknell/Beer Retailer/../../Post Office

1881/Eliza Cracknell/Beerhouse Keeper/57/Bradfield, Essex/Census
1881/Richard Cracknell/Son, Butcher/22/Bradfield, Essex/Census
1881/Frederic Cracknell/Son, Railway Clerk/24/Bradfield, Essex/Census
1881/Fanny Sargeant/Boarder, Pupil Teacher/20/West Bergholt, Essex/Census

1882/Mrs. Eliza Cracknell/Beer Retailer/../../Kelly's

1886/Mrs. Eliza Cracknell/Beer Retailer/../../Kelly's

1890/Mrs. Eliza Cracknell/Beer Retailer/../../Kelly's

1895/Samuel Cracknell/Beer Retailer/../../Kelly's

Note: Prior to 1906, premises only named in 1881

1906/Horatio Nelson Clatworthy/../../../Kelly's

1908/Henry Ernest Youngman/../../../Kelly's

1910/George Catchpole/../../../Kelly's

1911/George Catchpole/Licensed Victualler/48/Colchester, Essex/Census
1911/Cecilia Catchpole/Wife/46/Ardleigh, Essex/Census
1911/Stanley Catchpole/Son/15/Ickleford, Hertfordshire/Census

1912/Mrs. Cecilia Catchpole/../../../Kelly's

1914/Mrs. Cecilia Catchpole/../../../Kelly's

1917/Mrs. Cecilia Catchpole/../../../Kelly's

1922/Mrs. Cecilia Catchpole/../../../Kelly's

1925/Mrs. Cecilia Catchpole/../../../Kelly's

1929/Mrs. Cecilia Catchpole/../../../Kelly's

1933/Mrs. Cecilia Catchpole/../../../Kelly's

1937/Mrs. Cecilia Catchpole/../../../Kelly's