Brass Bar, Warley Road, Brentwood
A listing of historical public houses, Taverns, Inns, Beer Houses and Hotels in Essex. The Essex listing uses information from census, Trade Directories and History to add licensees, bar staff, Lodgers and Visitors.
Brentwood pub history index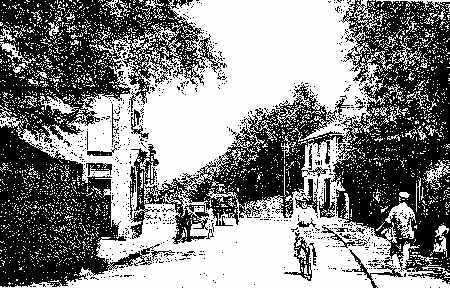 Scene from circa 1920 showing the Brass Bar on the left
The following entries are in this format:
Year/Publican or other Resident/Relationship to Head and or Occupation/Age/Where Born/Source.
1861/Richard Earthy/Beer Retailer & Clerk in Brewery (Brentwood)/26/Halsted, Essex/Census
1861/Elizabeth Earthy/Wife/28/Tolleshunt Knights, Essex/Census
1861/Arthur Earnest R. Earthy/Son/18m/Great Warley, Essex/Census
1861/William George Nixon Earthy/Orphan, Assistant/14/Halsted, Essex/Census
1861/Mary Ann Fulcher/Barmaid/22/../Census

1862/Richard Earthy/Beer Retailer/../../Post Office

1871/Richard Eastley/Beer Retailer/../../Post Office

1871/George Robinson/Licensed Victualler/50/Witham/Census ****
1871/Sarah A Robinson/Wife/44/Witham, Essex/Census

1881/Edward G. Cornell/Beerhouse Keeper/27/Chelmsford, Essex/Census
1881/Annie Cornell/Wife/38/Woodham Walter, Essex/Census
1881/Thomas W. Chalk/Stepson, Foot Man/19/Great Baddow, Essex/Census
1881/John Heard/Lodger, Plasterers Lab/22/Felstead, Essex/Census

1882/Edward Cornell/Beer Retailer/../../Kelly's

1886/Edward Cornell/Beer Retailer/../../Kelly's

1891/James Gotts/Beerhouse Keeper/51/Upminster, Essex/Census
1891/Hannah Gotts/Wife/50/Limehouse, Middlesex/Census
1891/Alice Gotts/Daughter/23/Stepney, Middlesex/Census

1901/George J Charlick/Publican/39/Enfield, Middlesex/Census ****
1901/Eliza Charlick/Wife/41/Eaton, Bedfordshire/Census
1901/George J Charlick/Son/13/Ponders End, Middlesex/Census
1901/Edward H Charlick/Son/12/Enfield, Middlesex/Census
1901/Louisa M Charlick/Daughter/9/Enfield, Middlesex/Census

Note: Premises only named in 1861, 1871, 1881 ,1891 & 1901



**** Kevan