Pub history and pub wiki
Chequers, High Street, Brentwood
A listing of historical public houses, Taverns, Inns, Beer Houses and Hotels in Essex. The Essex listing uses information from census, Trade Directories and History to add licensees, bar staff, Lodgers and Visitors.
Brentwood pub history index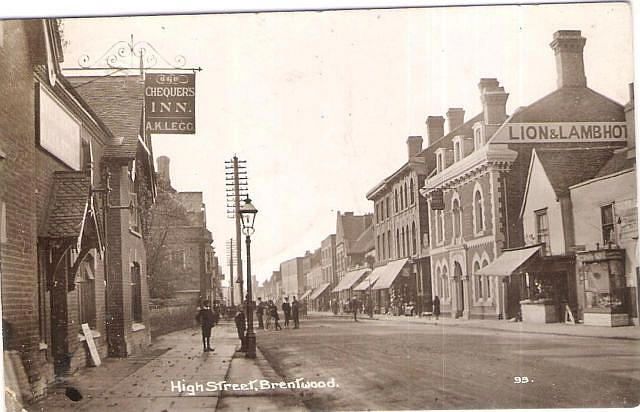 Chequers, and also the Lion & Lamb Hotel, High Street, Brentwood - posted in 1915
Kindly provided by Colleen
The following entries are in this format:
Year/Publican or other Resident/Relationship to Head and or Occupation/Age/Where Born/Source.
1828/John Ingham/Licensee/../../Alehouse Recognizances**

1828-9/John Ingham/../../../Pigot's

1832-3/Ann Ingham/../../../Pigot's

1839/James Richards/../../../Pigot's

1840/James Richards/../../../Pigot's*

1845/John Willsmer/../../../Post Office

1848/John Ivory/../../../White's

1851/Samuel Such/../../../Post Office

1851/Samuel Such/innkeeper/36/Ramsden Crays, Essex/Census ***
1851/Rachel Such/wife/22/Lincolnshire/Census ***
1851/Emily Such/daughter/8m/Brentwood, Essex/Census ***
1851/Emma Such/niece, visitor/28/Ramsden Crays, Essex/Census ***
1851/Henry Allan/servant/35/Ramsden Crays, Essex/Census ***
1851/James Reeve/lodger, horse dealer/32/Pitsea, Essex/Census ***
1851/James Batsford/lodger, ag lab/31/Stebbing, Essex/Census ***

1852/S. Such/../../../Kelly's*

1855/S. Such/../../../Kelly's*

1861/Samuel Such/Inn Keeper/46/Ramsden Crays, Essex/Census ****
1861/Rachel Such/Wife/34/Hallbeach, Lincolnshire/Census
1861/Emily Such/Daughter/10/Brentwood, Essex/Census
1861/Walter H Such/Son/9/Brentwood, Essex/Census
1861/Alfred J Such/Son/7/Brentwood, Essex/Census
1861/William C Such/Son/6/Brentwood, Essex/Census
1861/Sidney A Such/Son/7 months/Brentwood, Essex/Census
1861/Margaret Smith//House Servant/18/Census
1861/Mary A Starling/Nurse Maid/14/South Weald, Essex/Census
1861/George Downs/Ostler/24/Essex/Census
1861/Henry Spooner/Lodger, Agr Labourer/50/South Weald, Essex/Census
1861/John Threadgold/Lodger, Carpenter & Joiner/20/Great Stambridge, Essex/Census
1861/William High/Lodger, Butcher/57/Ingatestone, Essex/Census

1862/Samuel Such/../../../Kelly's

1867/Joseph Wells/../../../Post Office

1870/Joseph Wells/../../../Kelly's

1871/Joseph Wells/Inn Keeper/45/Leytonstone, Essex/Census ****
1871/Anna Wells/Wife/42/Mountnessing, Essex/Census
1871/Amelia A Wells/Daughter/13/Walthamstow, Essex/Census
1871/Phoebe E Wells/Daughter/10/Mountnessing, Essex/Census
1871/Joseph H S Wells/Son/3/Brentwood, Essex/Census
1871/Sarah A Gilbert/General Servant/23/Rotherfield Town/Census
1871/George Pitt/General Servant/35/Dunmow, Essex/Census
1871/Charles H Foster/General Servant/15/Billericay, Essex/Census
1871/Alpheus Kittly/Lodger/27/Earls Colne, Essex/Census

1871/Joseph Wells/../../../Post Office

1874/Thomas Morris/../../../Kelly's

1878/John Elkington/../../../Kelly's

1881/John Elkington/Licensed Victualler/32/Maldon, Essex/Census
1881/Esther Elkington/Wife/27/Warley, Essex/Census
1881/Ellie Elkington/Daughter/2/Brentwood, Essex/Census
1881/Mary A. Elkington/Daughter/1/Brentwood, Essex/Census
1881/Ellen Deeks/General Servant/21/Hundon, Suffolk/Census
1881/George Bull/Lodger, Letter Carrier/36/Great Burstead, Essex/Census
1881/John Hawkins/Lodger, Farm Servant/37/Dunmow, Essex/Census
1881/George Wignall/General Servant (Dgs)/46/Clerkenwell, Middlesex/Census
1881/John Hutchinson/Lodger, Plasterer/26/Rainhill, Lancashire/Census
1881/George Prior/Lodger, Gardener (7/3)/26/Halstead, Essex/Census
1881/William J. Sharp/Lodger, Bootmaker/34/Halstead, Essex/Census
1881/John Smith/Ostler/25/Halstead, Essex/Census

1882/John Elkington/../../../Kelly's

1886/Richard Henry Knight/../../../Kelly's

1890/Alexander K. Legg/../../../Kelly's

1891/Alexander K. Legg/Innkeeper/56/Reading, Berkshire/Census
1891/Elizabeth Legg/Wife/53/Durston, Somerset/Census
1891/Margaret A. Legg/Daughter, Assistant/26/Kingsland, London/Census
1891/Llewellyn C. Legg/Son, Linen Drapers Assistant/16/Romford, Essex/Census
1891/Sidney J. B. Legg/Son/13/Romford, Essex/Census
1891/Kate Radford/Assistant/19/Devonshire/Census
1891/Daniel Crow/Potman/29/Chelmsford, Essex/Census
1891/William Royce/Baker/22/Romford, Essex/Census

1894/Alexander K. Legg/../../../Kelly's

1895/Alexander K. Legg/../../../Kelly's

1898/Mrs. Elizabeth Legg/../../../Kelly's

1899/Mrs. Elizabeth Legg/../../../Kelly's

1901/Elizabeth Legg/Inn Keeper, Widow/63/Dulveston, Somerset/Census ****
1901/Maria P Kirkman/Barmaid/33/Greenwich/Census
1901/Mary A Ray/Domestic Servant/23/Ongar, Essex/Census
1901/William Stevens?/Cellerman/27/Brentwood, Essex/Census
1901/Daniel Crow/Ostler, Groom/29/Chelmsford, Essex/Census
1901/Arthur White/Boarder, Postman & Mailman/22/Billericay, Essex/Census

1902/Mrs. Elizabeth Legg/../../../Kelly's

1906/Mrs. Elizabeth Legg/../../../Kelly's

1908/Mrs. Elizabeth Legg/../../../Kelly's

1910/Mrs. Elizabeth Legg/../../../Kelly's

1911/Elizabeth Legg/Publican, widow/73/Dulverton/Census ****
1911/Maria Phemister/Barmaid/42/Greenwich/Census
1911/Mary Ann Wray/Servant/33/High Ongar/Census
1911/William James Stevens/Potman/37/Shenfield/Census

1912/Alexander Kennedy Legg/../../../Kelly's

1914/Alexander Kennedy Legg/../../../Kelly's

1917/Alexander Kennedy Legg/../../../Kelly's

1922/Alexander Kennedy Legg/../../../Kelly's

1925/Alexander Kennedy Legg/../../../Kelly's

1929/Alexander Kennedy Legg/../../../Kelly's

1933/Albert Loveday/../../../Kelly's

1937/Albert Loveday/../../../Kelly's



* Provided by the Pubs, Inns and Taverns Index for England, 1801-1900

** Provided by Mike Smith

*** Provided by John Mead

**** Kevan
Search for a pub, an address or person
And Last updated on: Wednesday, 03-Jul-2019 18:24:55 BST