Feathers, Railway Square, Brentwood
A listing of historical public houses, Taverns, Inns, Beer Houses and Hotels in Essex. The Essex listing uses information from census, Trade Directories and History to add licensees, bar staff, Lodgers and Visitors.
Brentwood pub history index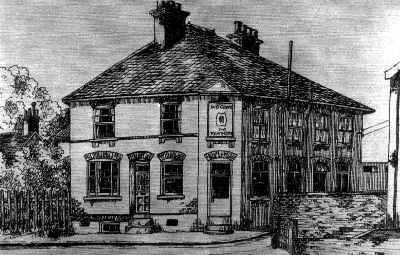 Provided by Jean Rigby who relates:
"My Mom remembered Monty's Desert Rats being stationed at Warley Barracks and often coming down to have a pint. Her Dad would let them know when an officer would be coming to find any of them, as they weren't supposed to be out. My nanny & grandad (Mom & Pop Warren) owned a dog, called Chum, who had a blue-black tongue, (as was part Chow-chow) who guarded the pub at night. One night, the local "Bobby" came by and checked the doors. One was unlocked, so he came right in to see why. Chum always let customers and friends in, but knew that he wasn't to be there, so refused to let him out, until the officer called up to my grandad to come down.
The following entries are in this format:
Year/Publican or other Resident/Relationship to Head and or Occupation/Age/Where Born/Source.
1871/William Sewell/Beer Retailer/23/Rayleigh, Essex/Census ****
1871/Martha Sewell/Wife/24/Bowers, Essex/Census
1871/Henry Mills/Lodger, Colter/49/Witham, Essex/Census
1871/Charles Miller/Lodger, Labourer/50/Epping, Essex/Census
1871/Henry ???/Lodger, Brick Layer/26/Brentwood, Essex/Census
1871/Alfred Edwards/Lodger, Engineer/29/London/Census
1871/Eleanor Edwards/Lodger, Wife/24/London/Census
1871/William Edwards/Son/6/Kent/Census

1881/Joseph Turner/Beerhouse Keeper/56/Lindsell, Essex/Census
1881/Harriet Turner/Wife/54/Danbury, Essex/Census
1881/Kate Turner/Daughter, Barmaid/17/Great Waltham, Essex/Census
1881/Harry Turner/Son, Stable Boy (Groom 8)/16/Witham, Essex/Census
1881/Grace Turner/Daughter/14/Witham, Essex/Census
1881/Charles Millar/Lodger, Agricultural Labourer/70/Epping, Essex/Census

1882/Joseph Turner/Beer Retailer/../../Kelly's

1891/George Nokes/Beerhouse Keeper/48/Great Wakering, Essex/Census
1891/Mary A. Nokes/Wife/44/South Weald, Essex/Census
1891/Kate C. Nokes/Daughter/11/Brentwood, Essex/Census
1891/Jesse R. Nokes/Daughter/8/Brentwood, Essex/Census
1891/Maud Alice Nokes/Daughter/6/Brentwood, Essex/Census
1891/George W. Nokes/Son/3/Brentwood, Essex/Census
1891/Susan Pickitt/Mother in Law, Charwoman/?/Stifford, Essex/Census
1891/William Harris/Lodger, Bricklayer & Labourer/44/Widford, Essex/Census
1891/James Green/Lodger, Baker/46/Ingatestone, Essex/Census

1902/Stephen Philpot/Beer Retailer/../../Kelly's

1906/William David Simpson/Beer Retailer/../../Kelly's

1908/John Roome/Beer Retailer/../../Kelly's

1910/John Roome/Beer Retailer/../../Kelly's

1911/John Roome/Army Pensioner & Publican/60/Manchester/Census ****
1911/Catherine Roome/Wife/49/High Wycombe/Census
1911/Thomas Challis/Boarder, Brick Maker/19/Brentwood, Essex/Census
1911/Henry Bannister/Boarder, Job Master/66/Birly, Essex/Census

1912/John Roome/Beer Retailer/../../Kelly's

1914/John Roome/Beer Retailer/../../Kelly's

1917/John Roome/Beer Retailer/../../Kelly's

1922/John Roome/Beer Retailer/../../Kelly's

1925-6/John Henry Anderson/Beer Retailer/../../Kelly's

1929/Edward Thomas Setterfield/Beer Retailer/../../Kelly's

1933/James Rochford/Beer Retailer/../../Kelly's

1937/Percy Pickford/../../../Kelly's

1945/Nathan (Pop) Warren/Owner & Operator/60/Fir Cottages, Fir Lane, Winchmore Hill, London/Granddaughter*
1945/Lilian Sarah (nee Lodge) Warren/Owner & Wife/63/South Woodham Ferrers, Essex/Granddaughter*

Note: Premises only named in 1881, 1891, 1937 & 1945



* Provided by by Jean Rigby, the Granddaughter of Nathan & Lilian Warren
**** Kevan