Railway Tavern, Queens Road/Kings Road, Brentwood
At 136 Kings Road in 1911 census and in 1937.
A listing of historical public houses, Taverns, Inns, Beer Houses and Hotels in Essex. The Essex listing uses information from census, Trade Directories and History to add licensees, bar staff, Lodgers and Visitors.
Brentwood pub history index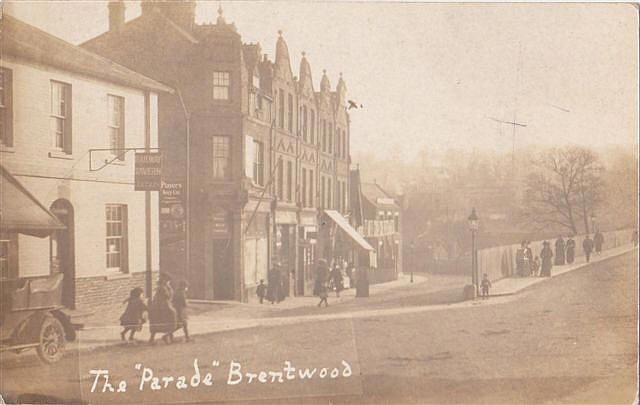 Railway Tavern, The Parade, Brentwood - nice early scene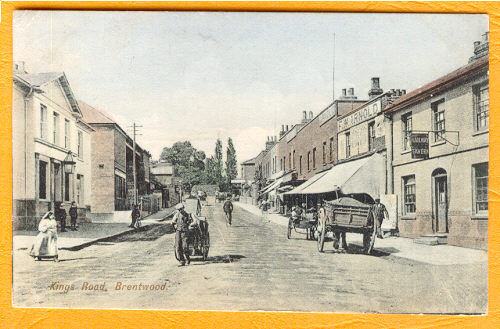 Kindly provided by Colleen
The following entries are in this format:
Year/Publican or other Resident/Relationship to Head and or Occupation/Age/Where Born/Source.
1871/James Croucher/Labourer, Publican/49/Coopersale, Essex/Cemsus ****
1871/Susan Croucher/Wife/48/Coopersale, Essex/Cemsus
1871/James Adams/Lodger, Labourer/36/Sudbury, Essex/Cemsus
1871/Emma Adams/Wife/32/Ingatestone, Essex/Cemsus
1871/Eliza Adams/Daughter/9/Fryerning, Essex/Cemsus
1871/Charles Adams/Lodger, Labourer/38/Panfield, Essex/Cemsus
1871/Mary Ann Adams/Wife/28/Wethersfield, Essex/Cemsus
1871/Benjamin Jiggins/Lodger, Labourer/26/Brentwood, Essex/Cemsus
1871/Jesse Rivell ??/Lodger, Labourer/40/London, Middx/Cemsus

1881/Edward J. Binks/Beerhouse Keeper/41/Tollesbury, Essex/Census
1881/Emma M. Binks/Wife/38/Tollesbury, Essex/Census

1882/Edward Binks/Beer Retailer/../../Kelly's

1886/William Mills Fletcher/Beer Retailer/../../Kelly's

1890/William Mills Fletcher/Beer Retailer/../../Kelly's

1891/Harriet Fletcher/Public House Keeper/48/Orsett, Essex/Census
1891/William M. Fletcher/Husband/49/Orsett, Essex/Census
1891/Sophia Fletcher/Daughter/14/Brentwood, Essex/Census
1891/John J. Fletcher/Son/12/Brentwood, Essex/Census
1891/William H. Fletcher/Son/11/Brentwood, Essex/Census
1891/Henry E. Fletcher/Son/9/Brentwood, Essex/Census
1891/John Howard/Lodger, Living on Own Means/62/Maldon, Essex/Census
1891/Samuel Woods/Lodger, Farm Labourer/30/Eastwood, Essex/Census

1895/Joshua Ellis/Beer Retailer/../../Kelly's

1899/Joshua Ellis/Beer Retailer/../../Kelly's

1902/Joshua Ellis/Beer Retailer/../../Kelly's

1906/Joshua Ellis/Beer Retailer/../../Kelly's

1908/Joshua Ellis/Beer Retailer/../../Kelly's

1910/Joshua Ellis/Beer Retailer/../../Kelly's

1911/Joshua Ellis/Beer House Keeper/66/Saling, Essex/Census ****
1911/Annie Ellis/Wife, Assistant/64/Asheldham, Essex/Census
1911/Ernest John Ellis/Son, Assistant/37/Lexden, Essex/Census
1911/Grace P D Ellis/Daughter, Assistant/19/Brentwood, Essex/Census
1911/Jessie Turner/General Servant/19/St Lawrence, Essex/Census

1912/Joshua Ellis/Beer Retailer/../../Kelly's

1914/Joshua Ellis/Beer Retailer/../../Kelly's

1917/Ernest J. Ellis/Beer Retailer/../../Kelly's

1922/Ernest J. Ellis/Beer Retailer/../../Kelly's

1925-6/Ernest J. Ellis/Beer Retailer/../../Kelly's

1929/Ernest J. Ellis/Beer Retailer/../../Kelly's

1933/Ernest J. Ellis/Beer Retailer/../../Kelly's

1937/Ernest J. Ellis/../../../Kelly's

Note: Premises only named in 1881, 1891 & 1937



**** Kevan