Robin Hood & Little John, Ongar Road, Brentwood
A listing of historical public houses, Taverns, Inns, Beer Houses and Hotels in Essex. The Essex listing uses information from census, Trade Directories and History to add licensees, bar staff, Lodgers and Visitors.
Brentwood pub history index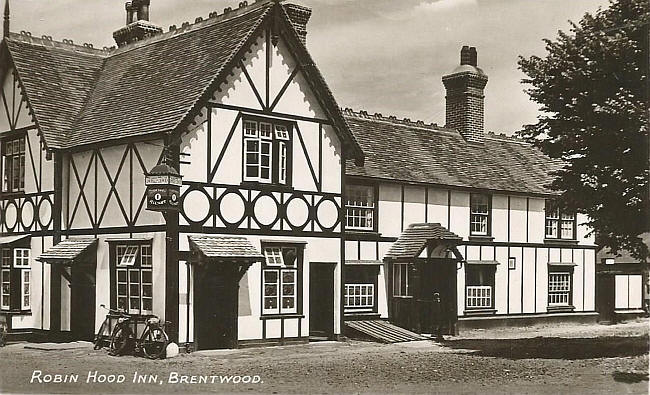 Robin Hood Inn, Ongar Road, Brentwood
Kindly provided by Peter Wonnacott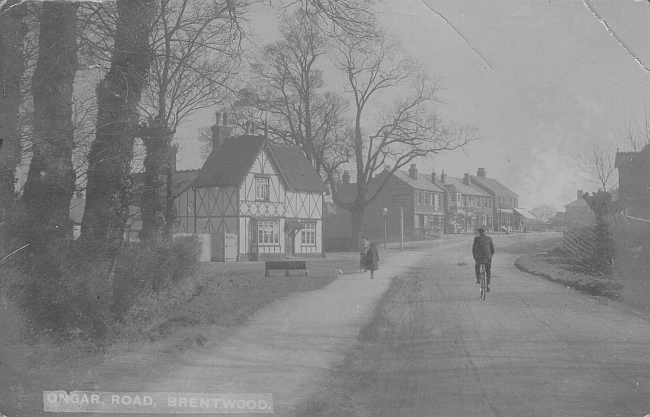 The real picture postcard shows Ongar Road, Road Brentwood and the 'ROBIN HOOD & LITTLE JOHN PUBLIC HOUSE'. It was postally used in 1914.
Kindly provided by Julian Gooding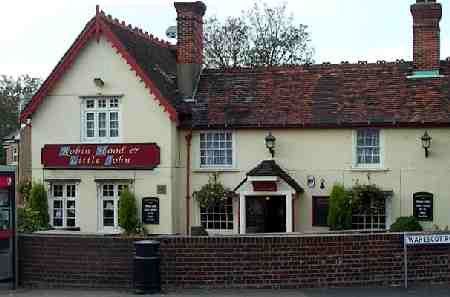 9th October 2002
Taken by Brian Berry
The following entries are in this format:
Year/Publican or other Resident/Relationship to Head and or Occupation/Age/Where Born/Source.
1828/Benjamin Bolland/Licensee/../../Alehouse Recognizances**

1839/James Miles/../../../Pigot's

1840/James Miles/../../../Pigot's*

1845/William Burr/../../../Post Office

1848/William Burn/../../../White's

1851/William Burr/victualler/46/Hornchurch, Essex/Census
1851/Grace Burr/wife/40/Upminster, Essex/Census
1851/Joseph Ours/lodger, ag lab/18/Black Notley, Essex/Census

1855/W. Burr/../../../Kelly's*

1861/William Burr/Licensed Victualler/58/Hornchurch, Essex/Census ****
1861/Grace Burr/Wife/49/Upminster, Essex/Census
1861/Eliza Spooner/Niece, Bar Maid/16/South Weald, Essex/Census
1861/Maria Word/General Servant, widow/48/South Weald, Essex/Census

1862/William Burr/../../../Kelly's

1867/Joseph White/../../../Post Office

1870/Samuel Bridge/../../../Kelly's

1871/James Dodd/Inn Keeper/36/Danbury, Essex/Census ****
1871/Emma A Dodd/Wife/32/Rettendon, Essex/Census
1871/Lauretta E Dodd/Daughter/11/Rettendon, Essex/Census
1871/Charles Dodd/Son/9/Rettendon, Essex/Census
1871/George Nevell Dodd/Son/6/Rettendon, Essex/Census
1871/Albert A Dodd/Son/1/Brentwood, Essex/Census
1871/Abigail Clark/General Servant/15/Kelvedon Hatch, Essex/Census

1871/Samuel Bridge/../../../Post Office

1874/James Dodd/../../../Kelly's

1878/James Dodd/../../../Kelly's

1881/James Dodd/Licensed Victualler/47/Danbury, Essex/Census
1881/Emma Dodd/Wife/42/Rettendon, Essex/Census
1881/Laurette E. Dodd/Daughter, Dressmaker/21/Rettendon, Essex/Census
1881/George Ninell Dodd/Son, Apprentice Upholsterer/16/Rettendon, Essex/Census
1881/Frederick Dodd/Son/13/Rettendon, Essex/Census
1881/Herbert Dodd/Son/11/Brentwood, Essex/Census
1881/Maud E. Dodd/Daughter/8/Brentwood, Essex/Census
1881/Edith R. Dodd/Daughter/6/Brentwood, Essex/Census
1881/Leonard B. Dodd/Son/2/Brentwood, Essex/Census

1882/James Dodd/../../../Kelly's

1886/James Dodd/../../../Kelly's

1890/James Dodd/../../../Kelly's

1891/Henry Yull/Publican/30/Romford, Essex/Census
1891/Emily Yull/Sister, Housekeeper/32/Romford, Essex/Census
1891/Florence Yull/Sister, Visitor/20/Romford, Essex/Census

1894/Henry Yull/../../../Kelly's

1895/Henry Yull/../../../Kelly's

1898/Henry Yull/../../../Kelly's

1899/Henry Yull/../../../Kelly's

1902/Henry Yull/../../../Kelly's

1906/Henry Yull/../../../Kelly's

1908/Henry Yull/../../../Kelly's

1910/Henry Yull/../../../Kelly's

1911/Frank Norris/Proprietor Public House/22/Romford, Essex/Census ****
1911/Grace Norris/Wife/23/Romford, Essex/Census
1911/David Lagden/Potman/1894/Brentwood, Essex/Census
1911/Gertrude Francis/General Servant/20/Raneford, Essex/Census

1912/Frank Alfred Norris/../../../Kelly's

1917/Frank H. Rowe/../../../Kelly's

1922/Frank H. Rowe/../../../Kelly's

1925/Robert H. Page/../../../Kelly's

1929/Robert H. Page/../../../Kelly's

1933/James Hone/../../../Kelly's

1937/James Hone/../../../Kelly's



* Provided by the Pubs, Inns and Taverns Index for England, 1801-1900

** Provided By Mike Smith

**** Kevan