Pub history and pub wiki
White Hart, High Street, Brentwood
A listing of historical public houses, Taverns, Inns, Beer Houses and Hotels in Essex. The Essex listing uses information from census, Trade Directories and History to add licensees, bar staff, Lodgers and Visitors.
Brentwood pub history index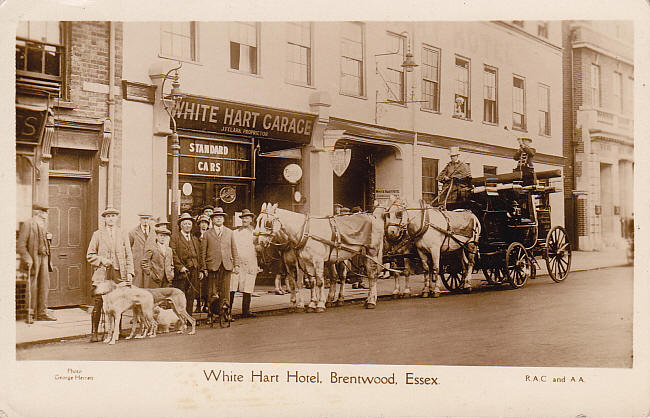 White Hart, Brentwood - postcard dates from circa 1920s
Kindly provided by Julian Gooding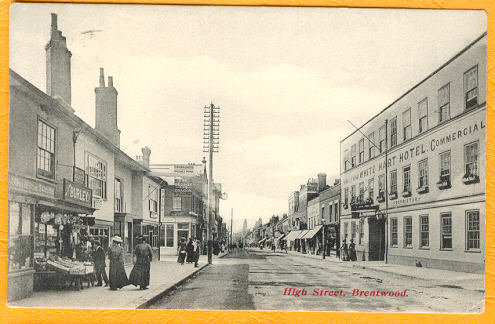 White Hart, Brentwood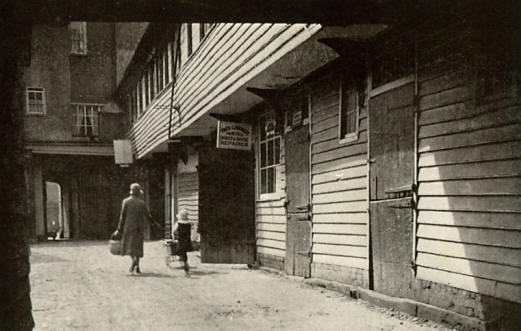 White Hart, Brentwood, circa 1934
Both Kindly provided by Colleen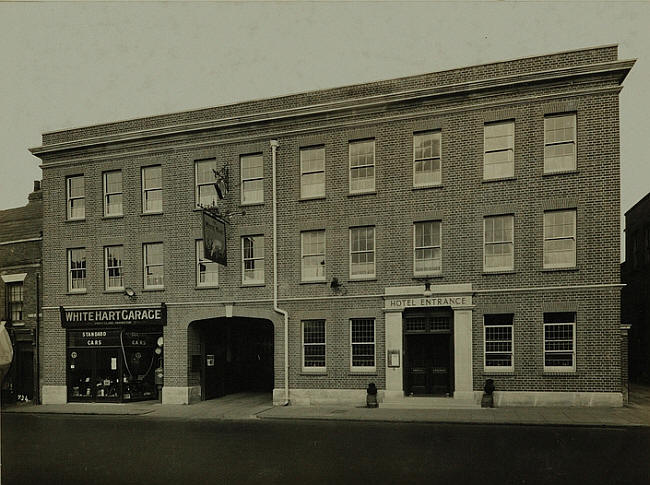 White Hart, High Street, Brentwood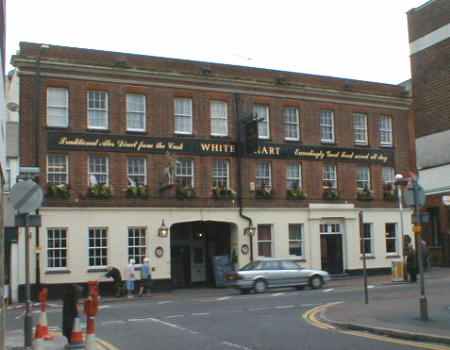 9th July 2000
The following entries are in this format:
Year/Publican or other Resident/Relationship to Head and or Occupation/Age/Where Born/Source.
1791/William Lenny/Innkeeper & Excise Office/../../Universal British

1828/Ammon Arnold Moull/Licensee/../../Alehouse Recognizances**

1828-9/Richard Wicks/../../../Pigot's

1832-3/Ammon Moull/../../../Pigot's

1839/Ammon Moull/../../../Pigot's

1840/Ammon Moull/../../../Pigot's*

1845/William Ammon Moull/Agent for the Essex Economic Fire Office/../../Post Office

1848/William Ammon Moull/../../../White's

1851/William Ammon Moull/../../../Post Office

1851/William A Moull/innkeeper/wine merchant/38/St Mary Aldbury, London/Census ***
1851/Charles Moull/brother, coach proprietor/35/Brentwood, Essex/Census ***
1851/Charles W Mason/visitor, commercial traveller/46/Great Clacton, Essex/Census ***
1851/George Attridge/head waiter/48/High Easter, Essex/Census ***
1851/Henry G Phillips/waiter/26/Stanford Rivers, Essex/Census ***
1851/George Boltwood/porter/23/Brentwood, Essex//Census ***
1851/George Howard/ postillion/28/Essex/Census ***
1851/Adam Johnston/postillion/32/Blackmore, Essex/Census ***
1851/Catherine Nokes/assistant/24/Sporle, Norfolk/Census ***
1851/Sarah Clarke/barmaid/19/Downham, Essex/Census ***
1851/Rachel Chilvers/widow, cook/55/Ipswich, Suffolk/Census ***
1851/Elizabeth Ward/chambermaid/50/Mountnessing, Essex/Census ***
1851/Sarah Wainright/charwoman/75/Kenton, Suffolk/Census ***

1851/Edward Pie/'helper'/22/Rayleigh, Essex/Census ***


1852/William Ammon Moull/../../../Kelly's*

1855/W. A. Moull/../../../Kelly's*

1861/William A Moull/Hotel Keeper & Farmer of 65 acres employing 3 men and 1 boy/47/London, Middx/Census ****
1861/Catherine Moull/Wife/35/Sporle, Norfolk/Census
1861/Sarah A Moull/Daughter/5/Brentwood, Essex/Census
1861/Elizabeth A Moull/Daughter/4/Brentwood, Essex/Census
1861/William A Moull/Son/2/Brentwood, Essex/Census
1861/Beatrice Moull/daughter/1/Brentwood, Essex/Census
1861/Elizabeth Nokes/Sister in Law/36/Sporle, Norfolk/Census
1861/Sophia Nokes/Sister in Law/34/Sporle, Norfolk/Census
1861/Elizabeth Reeves/Housemaid/30/Rainham, Essex/Census
1861/Mary A Fairchild/Housemaid/16/Childerditch, Essex/Census
1861/Rhoda Knight/Nurse/21/Chelmsford, Essex/Census
1861/Emma Gambling/Nurse Maid/16/Broomfield, Essex/Census
1861/Emma Howney/Kitchen Maid/16/South Weald, Essex/Census
1861/Francis Cox/Waiter/41/Great Bookham, Surrey/Census
1861/Charles Marshall/Waiter/15/London, Middx/Census
1861/George L Anthony/Guest, Fundholder/30/London, Middx/Census

1862/Mrs. W. A. Moull/../../../Kelly's

1867/Mrs. Catherine Moull/../../../Post Office

1870/Mrs. Catherine Moull/../../../Kelly's

1871/Mrs. Catherine Moull/../../../Post Office

1871/Catherine Moull/Hotel Proprietor, Widow/45/Sporle, Norfolk/Census ****
1871/Sophia Nokes/Sister, Assistant/43/Sporle, Norfolk/Census
1871/Elizabeth J Stevens/House Keeper/29/Galley Weston, Northamptonshire/Census
1871/Elizabeth Rollingson/Cook/52/Ipswich, Suffolk/Census
1871/Harriet Rayner/House Maid/30/Southminster, Essex/Census
1871/Mary A Ward/Kitchen Maid/15/Kelvedon Hatch, Essex/Census
1871/Charles Ridley/Waiter/21/Colchester, Essex/Census
1871/Robert Norman/Waiter/15?/Stratford St Mary, Suffolk/Census
1871/Henry Markham/Keeper of Taps/65/Hashton, Suffolk/Census
1871/Elizabeth Markham/Wife/59/London, Middx/Census
1871/Elizabeth Ollenbrittle/Grand Daughter/15/Hemley, Suffolk/Census
1871/Mary A Markham/Grand Daughter/12/Hemley, Suffolk/Census

1874/Thomas Cox/Wine & Spirit Merchant/../../Kelly's

1878/Thomas Cox/Wine & Spirit Merchant/../../Kelly's

1881/Samuel D. Stanbury/Hotel Keeper & Farmer/37/Barnstaple, Devon/Census
1881/Ellen Stanbury/Wife/35/Totnes, Devon/Census
1881/Eva E. Stanbury/Daughter/9/Leatherhead, Surrey/Census
1881/Florance M. Stanbury/Daughter/6/Leatherhead, Surrey/Census
1881/John P. Stanbury/Son/5/Leatherhead, Surrey/Census
1881/George C. Stanbury/Son/5m/Exmouth, Devon/Census
1881/Mary E. Watts/Barmaid/24/Newark, Cambridge/Census
1881/Mary G. Smith/Barmaid/22/Newark, Nottingham/Census
1881/Laura Prior/Nurse/21/Chereton Fitzpaine, Devon/Census
1881/Ann Blackmoor/Cook/35/Crediton, Devon/Census
1881/Annie Ferguson/Chambermaid/18/London, Middlesex/Census
1881/Lavania Coombes/Waitress/21/London, Middlesex/Census
1881/Minnie Archer/Kitchenmaid/18/Chadwell Heath, Essex/Census
1881/Edward Pasfield/Boots/21/Romford, Essex/ Census
1881/William Pearse/Billiard Marker/15/Bridgewater, Somerset/ Census

1882/Mrs. Mary Mason/../../../Kelly's

1886/Mrs. Mary Mason/../../../Kelly's

1890/Mrs. Mary Mason/../../../Kelly's

1891/James Wild/Hotel Keeper/47/Strand, Middlesex/Census
1891/Louisa Wild/Wife/43/Ramsgate/Census
1891/Kate Temple/Manageress/33/Winkfield, Berks/Census
1891/Adelaide B. Mead/Servant/21/Beckenham, Essex/Census
1891/Frances A. Rulton/Kitchenmaid/18/Halstead, Essex/Census
1891/Fred W. Edwards/Servant/21/Holloway Road, London/Census
1891/Edgar A. Minto/Cellarman/16/Old Kent Road, London/Census
1891/Robert Parker/Boarder, Living on Own Means/63/Greenwich, Kent/Census
1891/Elizabeth Drinkall/Boarder, Housekeeper/36/Lambeth/Census
1891/William E. Hodges/Billiard Marker/33/Southwark, London/Census
1891/Emma Hodges/Wife of Above, Barmaid/28/Clerkenwell, London/Census
1891/Thomas E. Hodges/Daughter of Above/8/Bermodsey, London/Census

1894/James Wild/../../../Kelly's

1895/James Wild/../../../Kelly's

1898/Thomas Gillard Kemp/../../../Kelly's

1899/Thomas Gillard Kemp/../../../Kelly's

1902/Frederick Heathcote/../../../Kelly's

1906/Frederick William Pridgeon/../../../Kelly's

1908/Herbert Smith/../../../Kelly's

1910/Herbert Smith/../../../Kelly's

1911/Herbert Smith/Hotel Proprietor/47/Malvern, Worcestershire/Census ****
1911/Lavinia Bertha Smith/Wife, Assistant/38/Horsham, Sussex/Census
1911/Bertha Mary Smith/Daughter/9/London/Census
1911/Annette Leveson/Visitor, Wife of Off Licence Holder/47/London/Census
1911/Percy Harris/Visitor, Civil Engineer/24/Warwickshire/Census
1911/Kate Helen Brewer/Kitchenmaid/18/Brentwood, Essex/Census
1911/Florence Mary Rands/Chambermaid/24/London/Census
1911/Ethel Thatcher/Barmaid/23/Bristol, Gloucestershire/Census

1912/Herbert Smith/../../../Kelly's

1914/Herbert Smith/../../../Kelly's

1917/Herbert Smith/../../../Kelly's

1922/Herbert Smith/../../../Kelly's

1925/Mrs. Lavinia Bertha Smith/../../../Kelly's

1929/Thomas B. Dell/Manager/../../Kelly's

1933/Thomas B. Dell/Manager/../../Kelly's

1935 - 1938/Captain H. Aldridge/called up for military action/../../Freehold

1937/Captain H. Aldridge/Proprietor/../../Kelly's

1939 - 1943/Mrs H A Aldridge/../../../Freehold

1944 - 1956/Major H Aldridge/../../../Freehold

1957 - 1966/H & Mrs P R Aldridge/../../../Freehold



* Provided by the Pubs, Inns and Taverns Index for England, 1801-1900

** Provided by Mike Smith

*** Provided by John Mead

**** Kevan
And Last updated on: Wednesday, 03-Jul-2019 18:25:00 BST