Anchor, Waterside, Brightlingsea
Brightlingsea pub history index
A listing of historical public houses, Taverns, Inns, Beer Houses and Hotels in Essex. The Essex listing uses information from census, Trade Directories and History to add licensees, bar staff, Lodgers and Visitors.
Now closed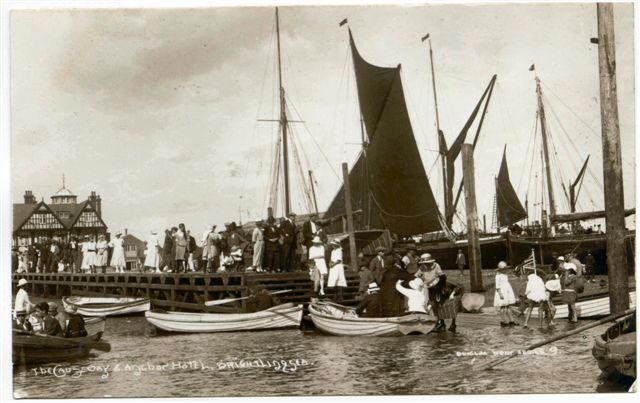 A brilliant picture from the waterside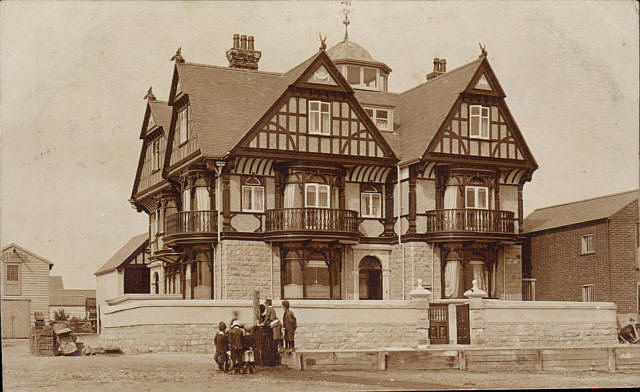 Anchor, Brightlingsea - early 1900s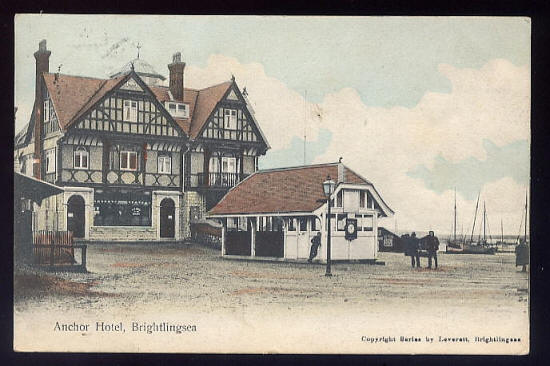 Anchor Hotel, Brightlingsea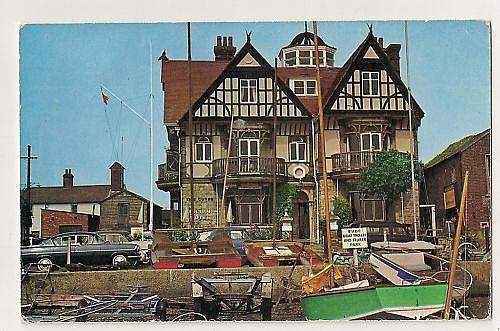 Anchor, Brightlingsea - in 1966
Kindly provided by Colleen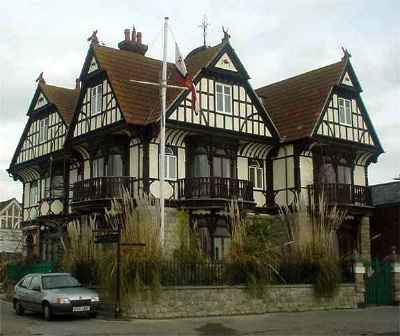 8th April 2001
Taken by Mark Andrew Hanrahan
Known Residents
The following entries are in this format:
Year/Publican or other Resident/Relationship to Head and or Occupation/Age/Where Born/Source.
1828-9/William Francis/../../../Pigot's

1832-3/William Francis/../../../Pigot's

1839/James Harrington/../../../Pigot's

1840/James Harrington/../../../Pigot's*

1845/James Harrington/../../../Post Office

1848/James Harrington/../../../White's

1851/James Harrington/../../../Post Office

1851/James Harrington/innkeeper/40/Burnham, Essex/Census **
1851/Mary Harrington/wife/37/West Mersea, Essex/Census **
1851/Edward Harrington/son, shipwright/17/Burnham, Essex/Census **
1851/Jane Harrington/daughter, barmaid/15/Brightlingsea, Essex/Census **
1851/Mary Harrington/daughter, scholar/08/Brightlingsea, Essex/Census **
1851/Eliza Harrington/daughter, scholar/06/Brightlingsea, Essex/Census **
1851/Lucy Harrington/daughter/02/Brightlingsea, Essex/Census **
1851/Abraham Harrington/son/2m/Brightlingsea, Essex/Census **
1851/May Hustead/general servant/16/Brightlingsea, Essex/Census **
1851/William Francis/lodger, fisherman/40/Brightlingsea, Essex/Census **
1851/Mary Ann Francis/lodger, his wife//52/Brightlingsea, Essex/Census **
1851/Robert Francis/lodger, his son/13/Brightlingsea, Essex/Census **
1851/James Robinson/lodger, porter/51/Layer Marney, Essex/Census **

1852/J. Harrington/../../../Kelly's*

1855/W. H. Peggs/../../../Kelly's*

1862/Henry York/../../../Kelly's

1867/Henry York/../../../Post Office

1870/Henry York/../../../Kelly's

1871/Henry York/../../../Post Office

1871/Henry York/Inn Keeper/56/Ardleigh, Essex/Census
1871/Elizabeth York/Wife/50/Brightlingsea, Essex/Census
1871/Alfred Bragg/Visitor/12/Brightlingsea, Essex/Census

1874/Henry York/../../../Kelly's

1878/Henry York/../../../Kelly's

1881/Henry York/Innkeeper/66/Layer de la Haye, Essex/Census
1881/Elizabeth York/Wife/61/Bunyard, Suffolk/Census
1881/Maude March/General Servant/20/Brightlingsea, Essex/Census

1882/Henry York/../../../Kelly's

1886/William Bacon/../../../Kelly's

1890/William Bacon/../../../Kelly's

1891/William Bacon/Inn Keeper/49/Tendring, Essex/Census
1891/Rosina Bacon/Wife/49/Brightlingsea, Essex/Census
1891/Minnie Lungley/Domestic Servant/20/Brightlingsea, Essex/Census

1894/William Bacon/../../../Kelly's

1895/William Bacon/../../../Kelly's

1898/William Bacon/../../../Kelly's

1899/William Bacon/../../../Kelly's

1901/William Bacon/Inn Keeper/59/Tendring, Essex/Census
1901/Agnes G Fisher/Niece, Manageress/23/Tendring, Essex/Census
1901/Mary A Fisher/Niece, Barmaid/17/Tendring, Essex/Census
1901/Benjamin Bacon/Nephew, Ostler/19/Tendring, Essex/Census
1901/Mary A Bacon/Sister/64/Tendring, Essex/Census
1901/H G Woodley/Adopted Son/9/../Census

1902/Ernest Percival/../../../Kelly's

1906/Ernest Percival/../../../Kelly's

1908/Ernest Percival/../../../Kelly's

1910/Ernest Percival/../../../Kelly's

1911/Ernest Percival/Hotel Proprietor/42/Great Tey, Essex/Census
1911/Laura Percival/Wife, Assistant/48/Chapple, Essex/Census
1911/Elsie Percival/Daughter/17/Brightlingsea, Essex/Census
1911/Ida Percival/Daughter/14/Brightlingsea, Essex/Census
1911/Reginald Percival/Son/11/Brightlingsea, Essex/Census
1911/Nora Percival/Daughter/8/Brightlingsea, Essex/Census
1911/William Nice/Hotel Boots/27/Brightlingsea, Essex/Census
1911/Lily Wade/Waitress/20/Wivenhoe, Essex/Census
1911/Laura Roper/Kitchen Maid/18/Wivenhoe, Essex/Census
1911/Henry Ashworth Harrison/Boarder, Barrister at law/43/Worcestershire/Census

1912/Ernest Percival/../../../Kelly's

1914/Ernest Percival/../../../Kelly's

1917/Ernest Percival/../../../Kelly's

1922/Ernest Percival/../../../Kelly's

1925/Ernest Percival/../../../Kelly's

1929/Ernest Percival/Proprietor/../../Kelly's

1933/Ernest Percival/Proprietor/../../Kelly's

1937/Ernest Percival/Proprietor/../../Kelly's



* Provided by the Pubs, Inns and Taverns Index for England, 1801-1900

** Provided by John Mead