King's Head, 41 Victoria Place, Brightlingsea CO7 0HT
Brightlingsea pub history index
At 41 Victoria Place in 1911 and 2019
A listing of historical public houses, Taverns, Inns, Beer Houses and Hotels in Essex. The Essex listing uses information from census, Trade Directories and History to add licensees, bar staff, Lodgers and Visitors.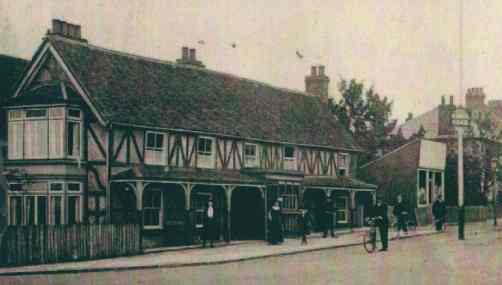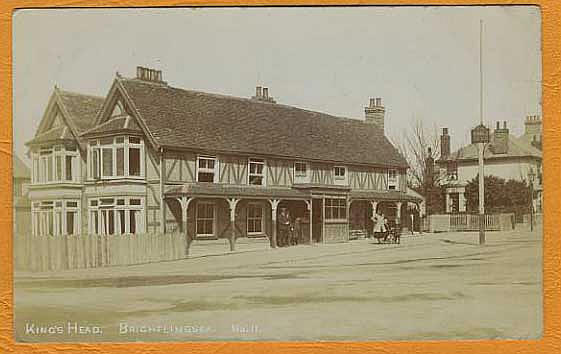 Kings Head, Brightlingsea
Late 19th century(?)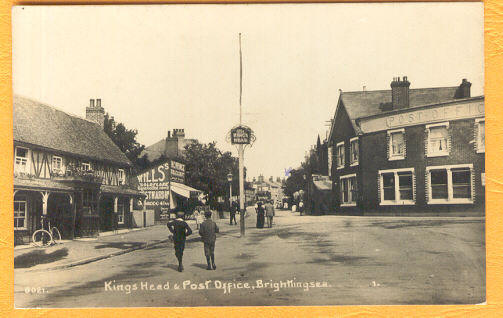 Kings Head & Post Office, Brightlingsea
Kindly provided by Colleen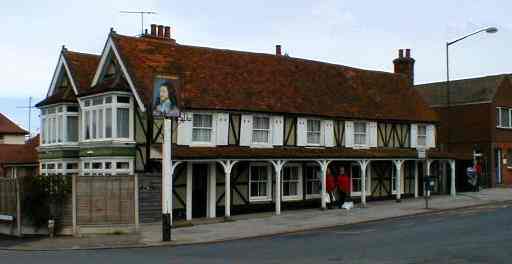 27th April 2000
The following entries are in this format:
Year/Publican or other Resident/Relationship to Head and or Occupation/Age/Where Born/Source.
1828-9/James How/../../../Pigot's

1832-3/Josiah Richardson/../../../Pigot's

1839/William Francis/../../../Pigot's

1840/William Francis/../../../Pigot's*

1845/Mrs Ann Francis/../../../Post Office

1848/James Everett/../../../White's

1851/James Webb/../../../Post Office

1851/James Webb/innkeeper/62/Ardleigh, Essex/Census **
1851/Mary Ann Webb/wife/52/St Osyth, Essex/Census
1851/Maria Partridge/general servant/20/Naughton, Suffolk/Census
1851/George Bloomfield/lodger, ag lab/41/Dedham, Essex/Census

1855/J. Webb/../../../Kelly's*

1861/John Clark/Publican/44/St Osyth, Essex/Census
1861/Sarah Cole/House Keeper/42/Bures, Essex/Census
1861/Sarah Simons/General Servant/24/Tendring, Essex/Census

1862/Thomas Fuller/Carrier/../../Kelly's

1867/Thomas Fuller/Carrier/../../Post Office

1870/William Mills/../../../Kelly's

1871/William Mills/../../../Post Office

1874/Thomas Fuller/Goods & Parcels Agent to the Great Eastern Railway Co./../../Post Office

1878/Thomas Fuller/Goods & Parcels Agent to the Great Eastern Railway Co./../../Post Office

1881/Joseph Lake/Builder & Publican/60/Elmstead, Essex/Census
1881/Mary Ann Gibbs/Sister, Housekeeper/63/Elmstead, Essex/Census
1881/Ellen Austin/Domestic Servant/19/Brightlingsea, Essex/Census

1882/Joseph Lake/Carpenter/../../Kelly's

1886/Joseph Lake/Carpenter/../../Kelly's

1890/Joseph Lake/Carpenter/../../Kelly's

1891/Wilbey J Lake/Carpenter & Builder/44/Elmstead Market, Essex/Census
1891/Emily E Lake/Wife/38/Yaxley, Suffolk/Census
1891/George W Lake/Son, Carpenter/16/Yaxley, Suffolk/Census
1891/Ruth Lake/Daughter/14/Yaxley, Suffolk/Census
1891/Alice Lake/Daughter/10/Stoke Ash, Suffolk/Census
1891/Joseph Lake/Father, Retired Builder, Widow/70/Elmstead Market, Essex/Census

1894/Wilby Joseph Lake/Builder/../../Kelly's

1895/Wilby Joseph Lake/Builder/../../Kelly's

1898/Wilby Joseph Lake/Builder/../../Kelly's

1899/Wilby Joseph Lake/Builder/../../Kelly's

1902/Wilby Joseph Lake/Builder/../../Kelly's

1906/Wilby Joseph Lake/Builder/../../Kelly's

1908/Wilby Joseph Lake/Builder/../../Kelly's

1910/Wilby Joseph Lake/../../../Kelly's

1911/Wilby Joseph Lake/Publican/64/Elmstead Market, Essex/Census
1911/Emily Elizabeth Lake/Wife/58/Yaxley, Suffolk/Census
1911/Ruth Lake/Daughter/34/Yaxley, Suffolk/Census
1911/Frederick Howard Lake/Son/14/Brightlingsea, Essex/Census
1911/George Henry Lake/Grandson/7/Brightlingsea, Essex/Census

1912/Wilby Joseph Lake/../../../Kelly's

1914/Mrs. Emily Lake/../../../Kelly's

1917/George Alexander/../../../Kelly's

1922/George Alexander/../../../Kelly's

1925/George Alexander/../../../Kelly's

1929/George Alexander/../../../Kelly's

1933/George Alexander/../../../Kelly's

1937/George Alexander/../../../Kelly's



* Provided by the Pubs, Inns and Taverns Index for England, 1801-1900

** Provided by John Mead