Anchor, Quay, Burnham on Crouch
A listing of historical public houses, Taverns, Inns, Beer Houses and Hotels in Essex. The Essex listing uses information from census, Trade Directories and History to add licensees, bar staff, Lodgers and Visitors.
Built in the 16th century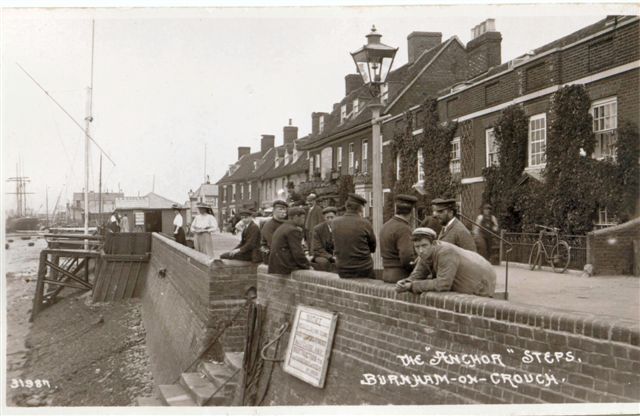 he Anchor, from the Quay - circa 1910-1920
Kindly donated by Colleen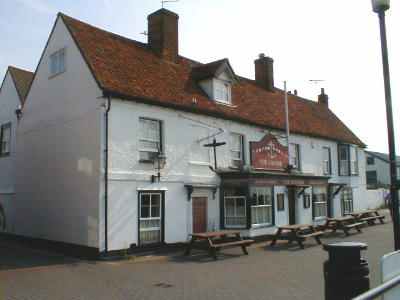 13th August 2000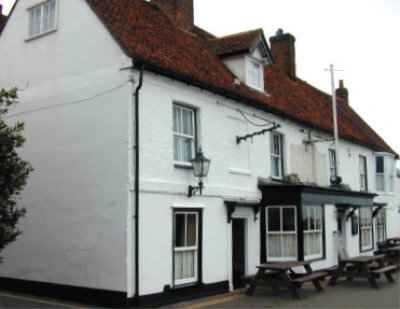 5th April 2001
Taken by Chris
The following entries are in this format:
Year/Publican or other Resident/Relationship to Head and or Occupation/Age/Where Born/Source.
1839/John Sirett/../../../Pigot's

1840/John Sirett/../../../Pigot's*

1845/William Bridge/../../../Post Office

1848/William Bridge/../../../White's

1851/William Bridge/../../../Post Office

1851/William Bridge/victualler/38/Southminster, Essex/Census ****
1851/Eliza Bridge/wife/34/Southminster, Essex/Census ****
1851/William Bridge/son, scholar/12/Southminster, Essex/Census ****
1851/Robert Bridge/son, scholar/11/Southminster, Essex/Census ****
1851/Emily Bridge/daughter, scholar/08/Burnham/Essex/Census ****
1851/Louisa Bridge/daughter/03/Burnham/Essex/Census ****
1851/Charlotte Richardson/house servant/19/Althorne, Essex/Census ****
1851/Sarah Hicks/house servant/12/Southminster, Essex/Census ****
1851/Henry Wendon/ostler/16/Earls Colne, Essex/Census ****
1851/Benjamin Moss/lodger, mariner/23/Burnham/Essex/Census ****
1851/Elijah Jennings/lodger, ag lab/19/Althorne, Essex/Census ****

1852/W. Bridge/../../../Kelly's*

1855/Mrs. E. Bridge/../../../Kelly's*

1855/Mrs. E. Bridge/../../../Post Office

1856/Mrs. E. J. Bridge/../../../Post Office

1861/John Smith/Victualler/41/Sible Hedingham, Essex/Census**
1861/Louisa Smith/Wife/43/Woodham Mortimer, Essex/Census**
1861/Lavinia Smith/Daughter/3/Burnham, Essex/Census**
1861/Harrison Smith/Son/2/Burnham, Essex/Census**
1861/Ellen Tiffin/Niece, Nursemaid/14/Woodham Mortimer, Essex/Census**
1861/Francis Willin/Hostler/45/Great Hordham, Herts, Essex/Census**

1862/John Smith/../../../Kelly's

1867/John Smith/../../../Post Office

1870/John Smith/../../../Kelly's

1871/John Smith/Innkeeper/51/Hedingham, Essex/Census**
1871/Louise Smith/Wife/51/Harlow, Essex/Census**
1871/Harrison Smith/Son/11/Burnham, Essex/Census**
1871/Lavina Smith/Daughter/13/Burnham, Essex/Census**
1871/William Brown/Boarder/65/Maldon, Essex/Census**

1871/John Smith../../../Post Office

1874/John Smith/../../../Kelly's

1878/John Smith/../../../Kelly's

1881/John Smith/Licensed Victualler/60/Sible Hedingham, Essex/Census
1881/Louisa Smith/Wife/62/Harleigh, Essex/Census
1881/Harrison Smith/Son, Late Accountant/22/Burnham, Essex/Census
1881/Stephen Plum/Ostler/30/London, Middlesex/Census

1882/John Smith/../../../Kelly's

1886/Harrison Charles Smith/../../../Kelly's

1890/Harrison Charles Smith/../../../Kelly's

1894/Harrison Charles Smith/../../../Kelly's

1895/Harrison Charles Smith/../../../Kelly's

1898/Harrison Charles Smith/../../../Kelly's

1899/Harrison Charles Smith/../../../Kelly's

1901/Harrison C. Smith/Innkeeper/46/Burnham, Essex/Census***
1901/Amy Smith/Wife/45/Hildenborough, Kent/Census***
1901/Harry Smith/Son/16/Burnham, Essex/Census***
1901/Daisy Smith/Daughter/14/Burnham, Essex/Census***
1901/John Smith/Son/11/Burnham, Essex/Census***
1901/Nelson Smith/Son/5/Burnham, Essex/Census***
1901/Roberts Smith/Son/4/Burnham, Essex/Census***
1901/Eunice Smith/Daughter/2/Burnham, Essex/Census***
1901/Eliza Olley/General Domestic Servant/20/Wivenhoe, Essex/Census***
1901/Alice Olley/General Domestic Servant/16/Burnham, Essex/Census***
1901/Joseph Clark/Ostler/16/../Census***
1901/Jacob Olley/Yachtsman (Seas)/68/Messing, Essex/Census***
1901/Mahala Olley/Wife/67/Wivenhoe, Essex/Census***

1902/Harrison Charles Smith/../../../Kelly's

1906/Harrison Charles Smith/../../../Kelly's

1908/Harrison Charles Smith/../../../Kelly's

1910/Frank Hudson/../../../Kelly's

1912/Frank Hudson/../../../Kelly's

1914/Frank Hudson/../../../Kelly's

1917/Frank Hudson/../../../Kelly's

1922/Frank Hudson/../../../Kelly's

1925/Frank Hudson/../../../Kelly's

1929/Frank Hudson/../../../Kelly's

1933/Frank Hudson/../../../Kelly's

1937/Frederick South/../../../Kelly's



* Provided by the Pubs, Inns and Taverns Index for England, 1801-1900

** Provided by CG

*** Provided by Linda Smith (nee Olley)

**** Provided by John Mead