White Hart, Quay, Burnham on Crouch
A listing of historical public houses, Taverns, Inns, Beer Houses and Hotels in Essex. The Essex listing uses information from census, Trade Directories and History to add licensees, bar staff, Lodgers and Visitors.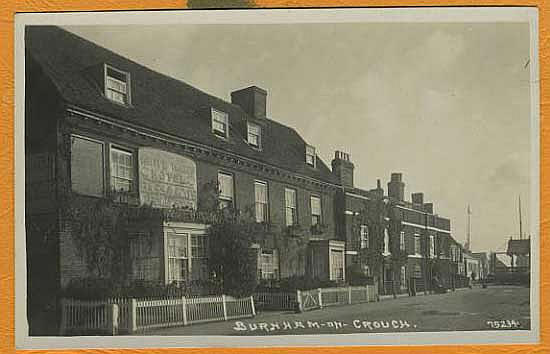 White Hart, Burnham on Crouch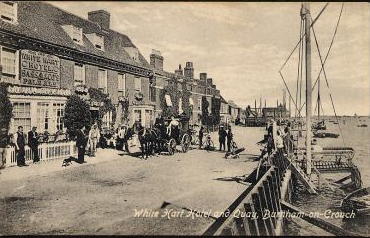 White Hart Hotel & Quay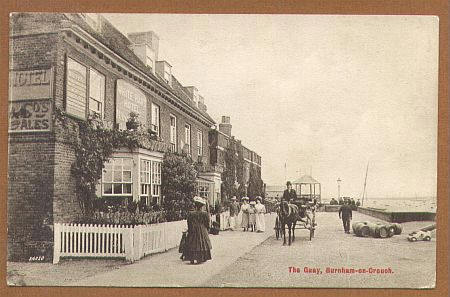 The Quay, Burnham on Crouch
Both kindly provided by Colleen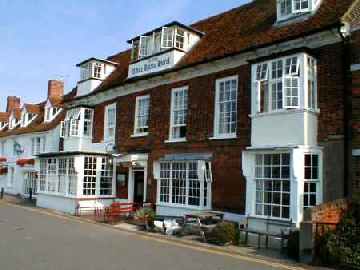 13th August 2000
Known Residents
The following entries are in this format:
Year/Publican or other Resident/Relationship to Head and or Occupation/Age/Where Born/Source.
1839/William Page/../../../Pigot's

1845/William Page/Coal Merchant/../../Post Office

1848/William Page/../../../White's

1851/William Page/victualler/67/Tiptree, Essex/Census ***
1851/Emma Hill/housekeeper/47/London/Census ***
1851/Sarah Sirett/visitor/26/Burnham/Essex/Census ***
1851/Mary Toppesfield/servant/31/Paglesham, Essex/Census ***
1851/Mary Ruffles/servant/23/Brightlingsea, Essex/Census ***
1851/Isaac Hamm/ostler/31/Burnham/Essex/Census ***

1852/W. Page/../../../Kelly's**

1855/Charles Harris/../../../Kelly's**

1856/Charles Harris/../../../Post Office

1861/Charles Harris/Hotelkeeper/43/Chelmsford, Essex/Census*
1861/Emma (nee Clark) Harris/Wife/27/Burnham, Essex/Census*
1861/Patience Harris/Daughter/6m/Burnham, Essex/Census*
1861/Ann Cater/Servant, Cook/18/Foulness, Essex/Census*
1861/Charlotte Beele/General Servant/17/Althorne, Essex/Census*
1861/James Bunn/Hostler/19/Tillingham, Essex/Census*
1861/John Baker/Boarder, Oyster Merchant/44/Whitstable, Kent/Census*

1862/Charles Harris/../../../Kelly's

1867/Charles Harris/../../../Post Office

1870/Daniel William Papprill/../../../Kelly's

1871/Daniel William Papprill/../../../Post Office

1871/Daniel W. Papprill/Hotelkeeper/62/London, Middlesex/Census*
1871/Ann Papprill/Wife/66/Morpeth, Northumberland/Census*
1871/Catherine Smith/Mother/85/Morpeth, Northumberland/Census*
1871/Levitha Nevils/Servant/25/Tiptree Heath, Essex/Census*
1871/Robert Wright/Ostler/Daniel William PapprillDaniel William Papprill/../../../Kelly's

1878/Daniel William Papprill/../../../Kelly's

1881/Samuel N. Smith/Hotelkeeper/27/Clapham, Surrey/Census
1881/Kate Smith/Wife/24/Malta/Census
1881/Barnard Smith/Son/15m/Stratford St. Mary, Suffolk/Census
1881/Salley Godfrey/Barmaid/22/Copdock, Surrey/Census
1881/Elizabeth Hart/General Servant/20/Burnham, Essex/Census
1881/H. Wilks/Ostler/22/Burnham, Essex/Census
1881/Ben Adams/Help/60/Thringaston, Leicester/Census

1882/Samuel Richardson Smith/../../../Kelly's

1886/Daniell Brothers & Co./Brewers/../../Kelly's
1886/Charles Frederick James Barker/Wine, Spirit, Ale & Porter Merchant & Mineral Water Manufacturer/../../Kelly's

1890/Daniell & Son's Breweries Ltd./Brewers/../../Kelly's
1890/George Gale/Wine, Spirit, Ale & Porter Merchant/../../Kelly's

1894/Daniell & Sons Ltd./Brewers/../../Kelly's
1894/George Gale/Ale & Porter Merchant/../../Kelly's

1895/Daniell & Son's Breweries Ltd./Brewers/../../Kelly's
1895/George Gale/Wine, Spirit, Ale & Porter Merchant/../../Kelly's

1898/James Brown/../../../Kelly's

1899/James Brown/../../../Kelly's

1902/James Brown/../../../Kelly's

1906/James Brown/../../../Kelly's

1908/Mrs. E. Robinson/../../../Kelly's

1910/Arthur Joseph Norris/../../../Kelly's

1912/Arthur Joseph Norris/../../../Kelly's

1914/Arthur Joseph Norris/../../../Kelly's

1917/Arthur Joseph Norris/../../../Kelly's

1922/Arthur Joseph Norris/../../../Kelly's

1925-6/Mrs. Kate Norris/../../../Kelly's

1933/John F. Lamport/Proprietor/../../Kelly's

1937/L. Hood Robson/Proprietor/../../Kelly's



* Provided by CG with additional information from John Robertson, the great grandson of Charles Harris.

** Provided by the Pubs, Inns and Taverns Index for England, 1801-1900

*** Provided by John Mead