Chequers, Canewdon
A listing of historical public houses, Taverns, Inns, Beer Houses and Hotels in Essex. The Essex listing uses information from census, Trade Directories and History to add licensees, bar staff, Lodgers and Visitors.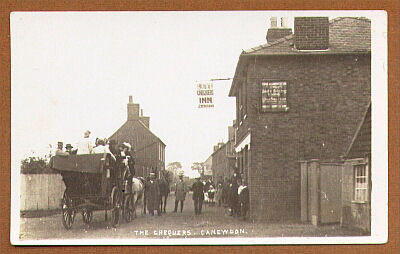 The Chequers, Canewdon
Kindly provided by Colleen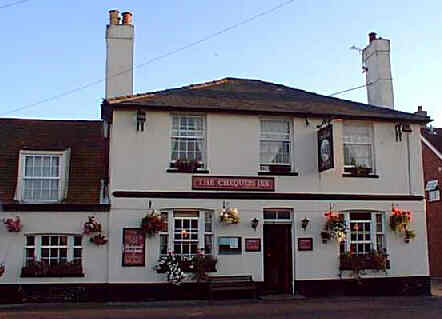 3rd September 1999
Taken by Stephen Parker
The following entries are in this format:
Year/Publican or other Resident/Relationship to Head and or Occupation/Age/Where Born/Source.
1828-9/John Wright/../../../Pigot's

1832-3/John Wright/../../../Pigot's

1839/Henry William Slade/../../../Pigot's

1845/Thomas Codlin/../../../Post Office

1848/Thomas Codlin/Smith & Victualler/../../White's

1851/Thomas Codlin/Blacksmith/../../Post Office

1851/Thomas Codlin/licensed victualler/46/Rochford, Essex/Census ***
1851/Charlotte Codlin/wife, 46/Foulness, Essex/Census ***
1851/Sarah Codlin/daughter/18/Canewdon, Essex/Census ***
1851/Thomas Codlin/son/15/Canewdon, Essex/Census ***
1851/William Codlin/son/13/Canewdon, Essex/Census ***
1851/Eliza Codlin/daughter, scholar/11/Canewdon, Essex/Census ***
1851/Mary Codlin/daughter, scholar/09/Canewdon, Essex/Census ***
1851/Charles Codlin/son, scholar/07/Canewdon, Essex/Census ***
1851/Clara Codlin/daughter, scholar/03/Canewdon, Essex/Census ***

1852/T. Codlin/../../../Kelly's*

1855/T. Codlin/../../../Kelly's*

1861/Samuel Barltrup/Innkeeper/46/Great Yeldham, Essex/Census**
1861/Ellen B. Barltrup/Wife/41/Thundersley,Essex/Census**
1861/Rachel Brown/General Servant/18/Hockley, Essex/Census**
1861/James Gibbs/Lodger, Blacksmith/48/Hockley, Essex/Census**

1870/William Codling/../../../Kelly's

1871/William Codling/../../../Post Office

1874/William Potton Codlin/../../../Post Office

1878/William Potton Codlin/../../../Post Office

1881/William P. Codlin/Licensed Victualler/43/Canewdon, Essex/Census
1881/Elizabeth F. Codlin/Wife/40/London, Middlesex/Census
1881/Ann Wright/General Servant/15/Canewdon, Essex/Census

1882/William Potton Codlin/../../../Kelly's

1886/William Potton Codlin/../../../Kelly's

1890/William Potton Codlin/../../../Kelly's

1894/William Potton Codlin/../../../Kelly's

1895/William Potton Codlin/../../../Kelly's

1898/William Wederell/../../../Kelly's

1899/William Wederell/../../../Kelly's

1902/Mrs. Elizabeth Wederell/../../../Kelly's

1906/James Richard Dabbs/../../../Kelly's

1908/James Richard Dabbs/../../../Kelly's

1910/James Richard Dabbs/../../../Kelly's

1912/James Richard Dabbs/../../../Kelly's

1914/William Zimmerman/../../../Kelly's

1917/Nathaniel Hall/../../../Kelly's

1922/Alfred Wright/../../../Kelly's

1925/Charles Grimshaw/../../../Kelly's

1929/Laurence William Jeffery/../../../Kelly's

1933/Maurice Davis/../../../Kelly's

1937/R. Whybrow/../../../Kelly's



* Provided by the Pubs, Inns and Taverns Indexfor England, 1801-1900

** Provided by CG

*** Provided by John Mead