Hemsworth, 69 Hemsworth street, Canning Town E16
A listing of historical public houses, Taverns, Inns, Beer Houses and Hotels in Essex. The Essex listing uses information from census, Trade Directories and History to add licensees, bar staff, Lodgers and Visitors.
Badly damaged on the 19th July 1944 and demolished October 1944.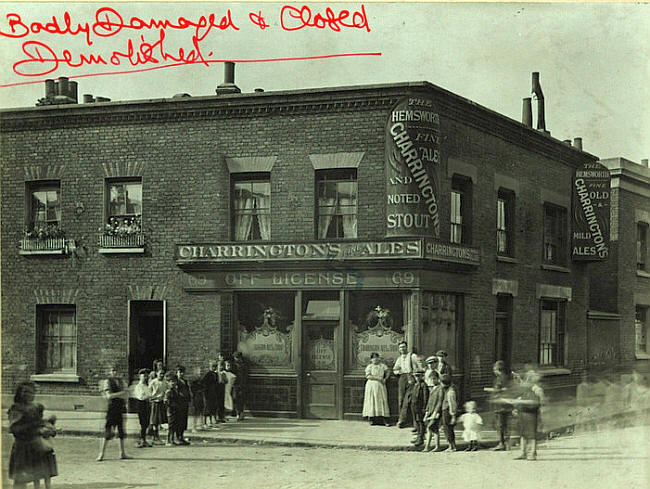 Hemsworth, 69 Hemsworth Street, Canning Town - in 1919
Canning Town index
Also see the History of Canning Town
Residents at this address
1891/Ellen Sammonds/Manageress (Beer House)/22/Weston, Somerset/Census

1896/Henry Hyam/Beer Retailer/../../Kellys Directory

1911/Grace Hyam/Head/53/Hoxton, London/Census
1911/Harry Earnest Hyam/Son, Beer Retailer/28/Stepney, London/Census

1913 - 1921/Naylor/../../../Freehold

1922/Hollick/../../../Freehold

1923/Jobard/../../../Freehold

1924/Davies/../../../Freehold

1925/Stammers/../../../Freehold

1926/Mrs Dale/../../../Freehold

1927/Woodcock/../../../Freehold

1928 - 1929/Mrs Brennan/../../../Freehold

1930 - 1931Huxtable/../../../Freehold

1932 - 1934/Mrs Pridham/../../../Freehold

1935 - 1937/Mrs Webster/../../../Freehold

1938/Mrs Gander/../../../Freehold

1939 - 1940/P Cox/../../../Freehold

1943 - 1944/Prince/../../../Freehold