Search London wiki and Pub wiki history sites
Bridge House Hotel, 23 Barking road, Canning Town E16
A listing of historical public houses, Taverns, Inns, Beer Houses and Hotels in Essex. The Essex listing uses information from census, Trade Directories and History to add licensees, bar staff, Lodgers and Visitors.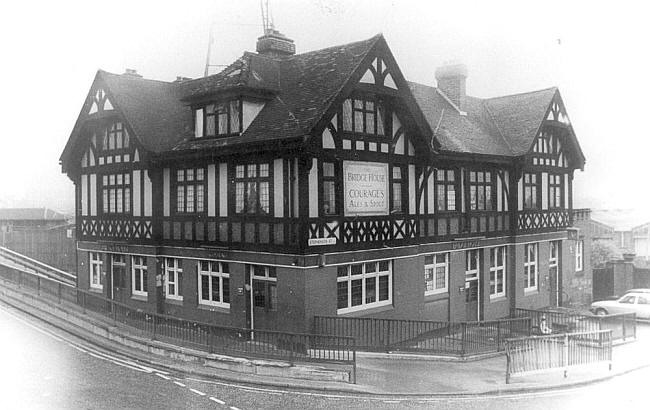 Bridge House Hotel, 23 Barking Road, Canning Town E16
Canning Town index
Also see the History of Canning Town
Also know as the Bridge Hotel and the Bridge House Tavern. Closed in the 1980s and demolished. * It is situated at the junction with Stephenson street, and changed name to the Bentleys by 1983.
Residents at this address
1870/Benjamin Carter/../../../Kelly's Directory

1871/Benjamin Carter/Licensed Victualler/45/West Ham, Essex/Census
1871/Ann Carter/Wife/44/West Ham, Essex/Census
1871/Annie Carter/Daughter, Barmaid/17/West Ham, Essex/Census
1871/Benjamin Carter/Son/14/West Ham, Essex/Census
1871/Alice Carter/Daughter/11/Bow, Middlesex/Census
1871/Ellen Carter/Daughter/10/Poplar, Middlesex/Census
1871/Alfred Carter/Son/5/Poplar, Middlesex/Census

1872/Benj Carter/../../../Kelly's Directory

1874/Benjamin Carter/../../../Kelly's Directory

1878/Andrew Kurtz/../../../Kelly's Directory

1881/Andrew Kurtz/Licensed Victualler/28/Poplar, Middlesex/Census
1881/Isabella Kurtz/Wife/26/Croyden, Surrey/Census
1881/Janetta Kurtz/Daughter/1/West Ham, Essex/Census
1881/Grace Ellen Kurtz/Daughter/3m/West Ham, Essex/Census
1881/Sarah Eliz. Tharp/Sister in Law, Barmaid/20/Croydon, Surrey/Census
1881/Elizabeth Ann Seager/Barmaid/23/Plymouth, Devon/Census
1881/Esther Bates/Domestic Cook/31/Birmingham, Warwick/Census

1882/Andrew Kurtz/../../../Kelly's Directory

1886/Andrew Kurtz/../../../Kelly's Directory

1896/Robert Fielder/../../../Post Office Directory

1902/Charles William Chandler/../../../Kelly's Directory

1908/Charles William Chandler/../../../Kelly's Directory

1912/Walter Henry Neary/../../../Kelly's Directory

1914/Walter Henry Neary/../../../Kelly's Directory

1917/Stanley Ellis/../../../Kelly's Directory

1925/? Hayward/../../../Kelly's Directory
1925/John S. Squire/../../../Kelly's Directory

1934/William Brien Maynard/../../../Kelly's Directory

1938/George V Palmer/../../../Post Office Directory

1944/George V Palmer/../../../Post Office Directory

1971/../Bridge House, 23 Barking road/../../Pub Directory

1983/../Bentleys, 23 Barking road: Courage. Used to be the Bridge House/../../Pub Directory



* Provided by Tris