Old Ship, 135 Victoria Dock road, Canning Town E16
A listing of historical public houses, Taverns, Inns, Beer Houses and Hotels in Essex. The Essex listing uses information from census, Trade Directories and History to add licensees, bar staff, Lodgers and Visitors.
Canning Town index
Also see the History of Canning Town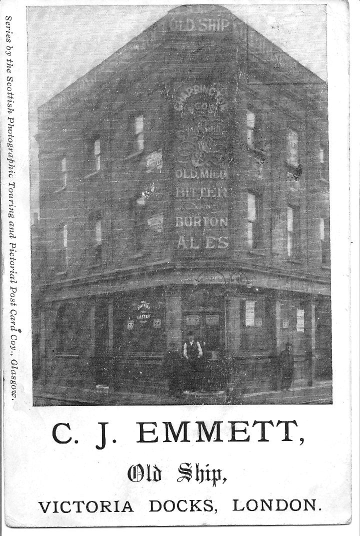 Old Ship, 135 Victoria Dock Road, E16 - about 1905 - and I think there is a strong chance that Charles J Emmett is the gentleman in the white shirt standing in the doorway.
Kindly provided by Stephen Harris
Listed address as Lilliput Lane in 1886 & earlier
Residents at this address
1871/Elizabeth Edwards/Beer Shop Keeper/37//Census
1871/Charles Parker/Lodger, Seaman/28//Census
1871/William ////Census
..to complete

13/9/1872/Elizabeth Edwards/Beer Retailer/../../Petty Sessions

1874/Elizabeth Susannah Edwards/Beer Retailer/../../Kelly's

15/5/1875/Cornelius Carey/Beer Retailer/../../Petty Sessions

1878/Cornelius Carey/Beer Retailer/../../Kelly's

1881/Cornelius Carey/Publican & Fireman/44/Southampton, Hampshire/Census
1881/Elizabeth Carey/Wife/46/Southampton, Hampshire/Census
1881/Charles J. Edwards Carey/Son/14/London, Middlesex/Census
1881/Charlotte Edwards Carey/Daughter/10/Plaistow, Essex/Census
1881/William Russell/Boarder/30/../Census
1881/Cornelius Brown/Boarder/35/../Census
1881/Joseph Crushay/Boarder/40/../Census

1882/Cornelius Carey/Beer Retailer/../../Kelly's

1886/Cornlis Carey/Beer Retailer/../../Kelly's

1890/Mrs Elizabeth Carey/Beer Retailer/../../Kelly's

1891/Elizabeth Carey/Beer Retailer, Widow/55/Southampton, Hampshire/Census
1891/Charles James Edwards/Son, Assistant/12/Middlesex/Census
+ Lodgers

1896/Wm Barber/Beer Retailer/../../Post Office Directory

1901/Charles J Emmett/Beer House Manager/30/Bethnal Green, Middlesex/Census
1901/Florence L Emmett/Wife/27/Bethnal Green, Middlesex/Census
1901/Robert Emmett/Son/3/West Ham, Essex/Census
1901/Charles Emmett/Son/1/West Ham, Essex/Census
1901/Hannah Emmett/Sister/14//Census
1901/Alice Gough/General Servant/14/Bethnal Green, Middlesex/Census

1902/Chas Jn Emmett/Beer Retailer/../../Post Office Directory

1914/Charles John Emmett/Beer Retailer/../../Kellys Directory

1922/Alfred John Reed/Beer Retailer/../../Kellys Directory

Note: Premises only named in 1901 & Petty Sessions records


** Provided by Stephen Harris