Pitts Head, 43 Pitt Street, Canning Town E16
Also see the History of Canning Town
A listing of historical public houses, Taverns, Inns, Beer Houses and Hotels in Essex. The Essex listing uses information from census, Trade Directories and History to add licensees, bar staff, Lodgers and Visitors.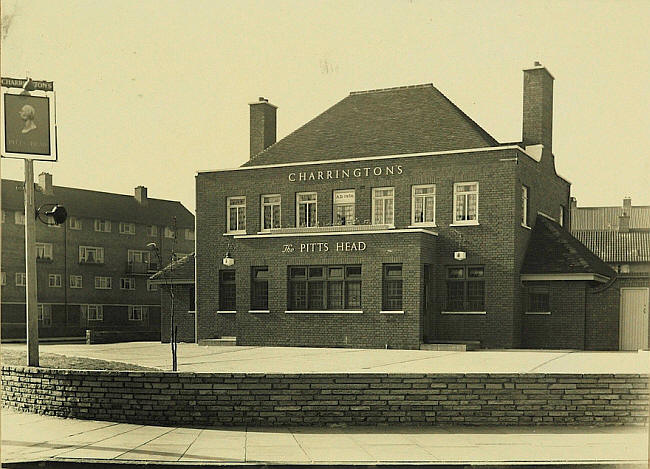 Pitts Head, 43 Pitt Street, Canning Town E16 - in 1956
This picture is likely to be the new build , i.e. the Pitts Head at 2 Fords park road E16.
Canning Town index
Residents at this address
1870/Joseph Berryman/../../../Kelly's

1871/Joseph Berryman/Publican/57/Bristol, Gloucestershire/Census
1871/Caroline Berryman/Wife/53/Bristol, Gloucestershire/Census

1874/George Edwin Muddyman/../../../Kelly's

1878/Mrs. Eliza Strudwick Millett/../../../Kelly's

1881/Kate Millett/Licensed Victualler/21/City of London, Middlesex/Census
1881/Caroline M. Berry/Housekeeper/28/Poplar, Middlesex/Census
1881/Agnes French/Barmaid/16/Hackney, Middlesex/Census
1881/Kate Morris/Barmaid/16/North Woolwich, Essex/Census
1881/Emma Moore/Domestic Servant/15/Poplar, Middlesex/Census

1882/Miss Kate Millett/../../../Kelly's

1886/Thomas Charrington/../../../Kelly's

1891/Henry Scatchard/Public House Manager/43/Stepney, London/Census
1891/Elizabeth Ann Scatchard/Wife/28/Poplar, London/Census
1891/Annie M Scatchard/Daughter/9/Poplar, London/Census
1891/Charles S Scatchard/Son/7/Stepney, London/Census
1891/Hannah Maria Tramble/General Servant/14/Canning Town, Essex/Census

1896/Frank C Hill/../../../Post Office Directory

1901/Joseph Arch/Licensed Victualler/45/Warwick, Warwickshire/Census
1901/Elizabeth Arch/Wife/32/Bermondsey, Surrey/Census
1901/Joseph Arch/Son/11/Folkestone, Kent/Census
1901/Edward Arch/Son/9/Folkestone, Kent/Census
1901/John Arch/Son/8/Folkestone, Kent/Census
1901/Geo Only/Barman/39/W?bury, Essex/Census

1902/Joseph Arch/../../../Kelly's

1908/William Bates Miles/../../../Kelly's

1911/James Emerson/Licensed Victualler/37/Camberwell/Census
1911/Bertha Emerson/Wife/35/Bow/Census
1911/Edward Emerson/Son/13/Forest Gate/Census
1911/Stanley Emerson/Son/11/Forest Gate/Census
1911/James Emerson/Son/9/Forest Gate/Census
1911/Bertha Emerson/Daughter/7/East Ham/Census
1911/Edith Emerson/Daughter/5/East Ham/Census
1911/Ada Emerson/Daughter/3/East Ham/Census
1911/Lillian Emerson/Daughter/1/East Ham/Census
1911/Mabel Colloff/Domestic Servant/16/Poplar, London/Census

1912/James Henry Emerson/../../../Kelly's

1917/James Henry Emerson/../../../Kelly's

1925/James Henry Emerson/../../../Kelly's

1934/James Henry Emerson/../../../Kelly's

1938/James Henry Emerson/../../../Post Office

1956 - 1961/A H Bailey/../../../Freehold