Royal Oak, Francis Terrace, 67 Barking Road, Canning Town E16
A listing of historical public houses, Taverns, Inns, Beer Houses and Hotels in Essex. The Essex listing uses information from census, Trade Directories and History to add licensees, bar staff, Lodgers and Visitors.
Canning Town index
Also see the History of Canning Town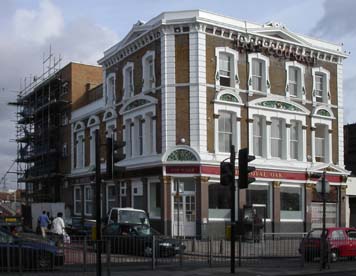 The Royal Oak, Junction of Barking Road and Oak Crescent, Canning Town. Was for many years the training venue for, among others, heavyweight boxer Frank Bruno who became a familiar sight around the area.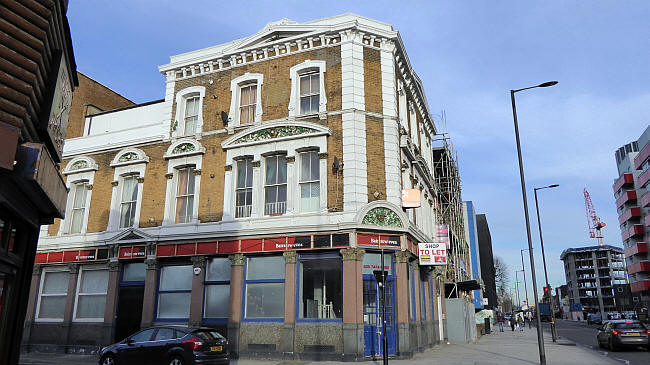 Former Royal Oak, 67 Barking Road E16 - in January 2016
Thanks to Lal & Amy
Residents at this address
1848/William Beswick/../../../White's Directory

1851/William Beswick/../../../Post Office Directory

1851/William Beswick/wine and spirit merchant/43/Clerkenwell, Middlesex/Census **
1851/Frances S Beswick/wife/38/St George in the East, Middlesex/Census **
1851/William C Beswick/stereotype apprentice/14/St Luke's, Middlesex/Census **
1851/Frances C Beswick/daughter, scholar/08/Poplar, Middlesex/Census **
1851/Edward J Beswick/son/01/West Ham, Essex/Census **
1851/Sarah Whitbread/house srvant/28/Aldgate, London/Census **
1851/John Crimpton/potman/25/Hanwell, Hertfordshire/Census **

1855/Joseph Martin/../../../Post Office Directory

1856/Joseph Martin/../../../Post Office Directory

1862/Joseph Martin/Brass & Iron Founder, Engineer & Engine Broker/../../Kelly's

1867/Joseph Martin/Brass & Iron Founder, & Engineer/../../Post Office

1870/Thomas Palmer/../../../Kelly's Directory

1871/Joseph Pluck/Iron Ship Plater/40/Wenden Ambo, Essex/Census
1871/Eliza Pluck/Wife/39/Great Leighs, Essex/Census
1871/Robert Pluck/Son, Smith/14/Plaistow, Essex/Census
1871/Joseph Pluck/Son, Office Boy/12/Plaistow, Essex/Census
1871/Fred Pluck/Son/9/Plaistow, Essex/Census
1871/Sarah Pluck/Niece, Nurse Girl/12/Plaistow, Essex/Census
1871/Adelaide Pluck/Daughter/7/Plaistow, Essex/Census
1871/Margaret Pluck/Daughter/5/Plaistow, Essex/Census
1871/Kate Pluck/Daughter/1/Plaistow, Essex/Census
1871/William Pile/Boarder, Pot Boy/13//Census

July 1872/Francis Dyson Butler/Outgoing Licensee/../../Era Newspaper

July 1872/Francis Lewis Frebent/Incoming Licensee/../../Era Newspaper

1874/Frederick George Cole/../../../Kelly's Directory

1878/George Peppiatt/../../../Kelly's Directory

1881/John Cubbon/Licensed Victualler/26/New York, United States/Census
1881/Alice Jane Connolly/Mother, Housekeeper/48/Edgeware, Middlesex/Census
1881/James Connolly/Father in Law, Cabinet Maker/41/La Chine, Canada/Census
1881/Sarah Tustle/Domestic Servant/20/Poplar, Middlesex/Census

1882/John Cubbon/../../../Kelly's Directory

1886/Henry David Cordery/../../../Kelly's Directory

1896/John Hy Pavitt/../../../Post Office Directory

1902/Benjamin Guiver/../../../Kelly's Directory

1908/Thomas H. Trainer/../../../Kelly's Directory

1912/Robert Maurice/../../../Kelly's Directory

1917/Edward J. Corbett/../../../Kelly's Directory

1925/Henry Charles Rhodes/../../../Kelly's Directory

1934/Henry Charles Rhodes/../../../Kelly's Directory

1938/Henry Charles Rhodes/../../../Post Office Directory

1944/John Cooke/../../../Post Office Directory

1983/../Royal Oak, 67 Barking Road E16. Courage./../../Pub Directory



** Provided by John Mead