Search London wiki and Pub wiki history sites
All public house, restaurants, bars etc closed for the forseeable future on 20th March 2020, but this is a history site
Marquis of Salisbury, 110 Hermit Road, Canning Town E16
A listing of historical public houses, Taverns, Inns, Beer Houses and Hotels in Essex. The Essex listing uses information from census, Trade Directories and History to add licensees, bar staff, Lodgers and Visitors.
Canning Town index
Also see the History of Canning Town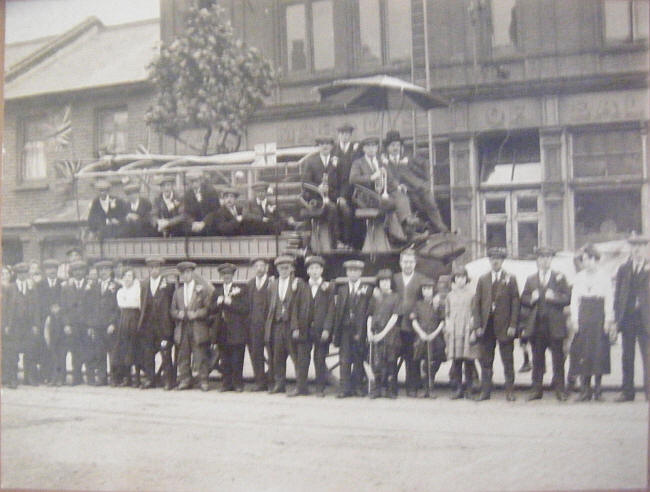 Charabanc outing probably celebrating the end of the first world war (because of the flags and the band).
Kindly provided by Ken Lyons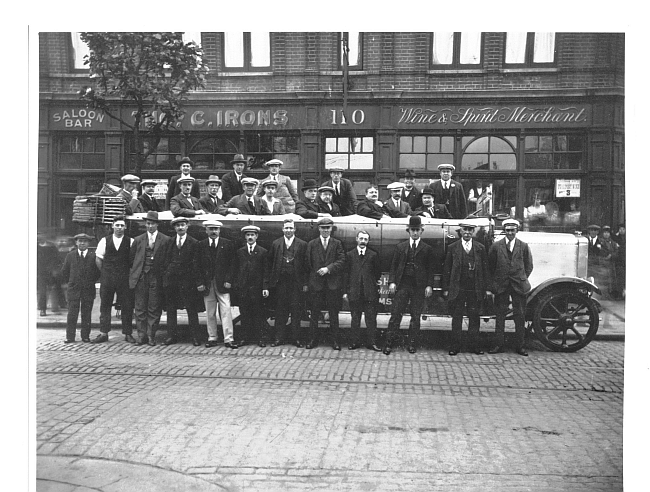 Charrabanc outing from the Marquis of Salisbury, 110 Hermit Road - circa 1920s
Kindly provided by John Brown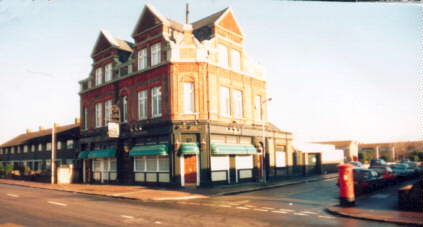 The Marquis of Salisbury is situated at the junction of Hermit Road and Blanche Street. Closed in the 1990s and is now in residential use
Thanks to Lal & Amy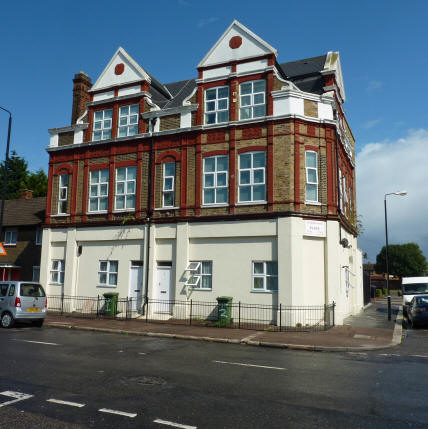 Marquis of Salisbury, 110 Hermit Road - in August 2009
Residents at this address
Essex Herald 17 September 1878 :
Lord Salisbury, Hermit road, Plaistow - Mr Smith applied on behalf of Mr David Cordery for a full license for the house in course of erection, offering to give up two beerhouses in exchange - Refused

David Cordery is earlier at the Railway Tavern, 145 Victoria Dock Road, Canning Town, and also briefly at the White Hart, 2 Alfred street, Bow

1881/David Cordery/Beerhouse Keeper/50/Sulhampstead, Berkshire/Census
1881/Frank Cordery/Son, Apprentice Carpenter/18/West Ham, Essex/Census
1881/Elizabeth Smallden/Domestic Servant/18/Broadclyst, Devon/Census
1881/David Lawrence/Grandson/4/West Ham, Essex/Census
1881/Lucy Lawrence/Granddaughter/2/West Ham, Essex/Census

1886/David Cordery/Beer Retailer/../../Kelly's

By 1891, David Cordery is now at the Three Rabbits, Romford Road, Little Ilford

Note: Premises not named in 1886

1896/W H Curtis/../../../Post Office Directory

1902/Frederick Gould/../../../Kelly's

1908/Frederick Gould/../../../Kelly's

1911/Frederick George Gould/Licensed Victualler/39/Hackney, Middlesex/Census
1911/Ada Rosetta Estella Gould/Wife, Assistant/39/City of London, Middlesex/Census
1911/Elizabeth Bessie Harvey/Housemaid/32/Mutford, Suffolk/Census
1911/Emily Annett Fox/Barmaid/30/Swindon, Wiltshire/Census
1911/Emma Bloomfield Fox/Barmaid/22/Plaistow, Essex/Census

1912/Frederick Gould/../../../Kelly's

1917/John Russell Phillips/../../../Kelly's

1925/Thomas Charles Irons/../../../Kelly's

1934/Walter William Irons/../../../Kelly's

The Marquis of Salisbury PH, Hermit Road, E16. (my wife was born there), your last entry - "Thomas Irons" - was landlord until he died (February 1937), and it was then taken over by his brother Walter William Irons (my wife's father) until he died (December 1965), Amy Gertrude Irons (his 2nd wife - my wife's mother) took over as landlady until she retired from the trade (1970)." *

1939/Walter William Irons/Licensed Victualler/Born 16 Jan 1895/../Electoral Register
1939/Walter T F Irons/Apprentice (Boilermaker)/Born 3 April 1923/../Electoral Register
1939/Amy G Irons/Housekeeper/Born 1st Oct 1913/../Electoral Register

1944/Walter William Irons/../../../Post Office Directory


* Provided by Lal Cook