Search London wiki and Pub wiki history sites
Harrow, Rose Lane / Billet road, Chadwell Heath
Chadwell Heath pub history index
The address is also sometimes given as Rose Lane Gate, and the modern address is Billet Road (which intersects with Rose Lane). The pub is named as The Arrow in the 1901 and 1911 census returns, presumably an error. *+
A listing of historical public houses, Taverns, Inns, Beer Houses and Hotels in Essex. The Essex listing uses information from census, Trade Directories and History to add licensees, bar staff, Lodgers and Visitors.
The Harrow originally comes under the Dagenham census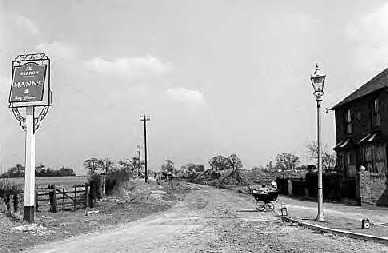 1956
Taken from a Photograph supplied by London Borough of Barking & Dagenham
This would appear to be either a diffent building to the one below or it has been heavily altered.
The Harrow, Marks Gate, Chadwell Heath
All kindly provided by Noeline Mullins
Noeline has sent me a considerable number of photographs and letters relating to her great grandfather, William Warman and family, who ran the Harrow shortly after the First World War. These are being added as additional information becomes available. See: *
The Warman family
The following entries are in this format:
Year/Publican or other Resident/Relationship to Head and or Occupation/Age/Where Born/Source.
1841/Elizabeth Warren/Beer House/60/../Census ****
1841/Edward Lawrence/Labourer/25/../Census
1841/Sophia Lawrence/../25/Essex/Census
1841/Jane Lawrence/../1/Essex/Census
1841/Joshua Warren/Seaman/35/Essex/Census

The pub is not named in the 1841 census, but is the only place in Rose Lane, Dagenham

1851/William Cooper/beershop keeper (unmarried)/45/Hornchurch, Essex/Census
1851/Elizabeth Gapp/visitor/57/Hornchurch, Essex/Census
1851/William Gapp/visitor/06/Dover, Kent/Census

1861/Joseph Mason/Beer Seller/41/Canfield, Essex/Census ****
1861/Mary A Mason/Wife/33/Dagenham, Essex/Census
1861/Walter Mason/Son/4?/Dagenham, Essex/Census
1861/Ann Mary Mason/Daughter/8 months/Dagenham, Essex/Census
1861/Sarah Clements/Servant/15/Romford, Essex/Census

1867/Charles King/beer retailer/../../Post Office Directory *+

1871/Charles King/Beer Retailer/../../Post Office

1874/Charles King/Beer Retailer/../../Post Office

1878/Abraham Pye/Beer Retailer & Straw Dealer/../../Post Office

1881/Abraham Pye/General Dealer & Beerhouse Keeper/47/Pebmarsh, Essex/Census
1881/Emma Pye/Wife/47/Maldon, Essex/Census
1881/George H. Pye/Son, General Labourer/18/Dagenham, Essex/Census
1881/Charles W. Pye/Son, General Labourer/17/Dagenham, Essex/Census

1882/Abraham Pye/Beer Retailer & Straw Dealer/../../Kelly's

1886/Abraham Pye/Beer Retailer & Straw Dealer/../../Kelly's

1890/George Henry Pye/Beer Retailer & Straw Dealer/../../Kelly's

1891/George H. Pye/27/Beer Retailer/Dagenham, Essex/Census**
1891/Hannah Pye/28/Wife/Barking, Essex/Census**
1891/John Pye/5/Son/Barking, Essex/Census**
1891/Lily Pye/3/Daughter/Barking, Essex/Census**
1891/Abraham Pye/2/Son/Barking, Essex/Census**
1891/George E. Pye/1m/Son/Barking, Essex/Census**
1891/John Clark/32/Boarder, General Labourer/Dagenham, Essex/Census**

1895/Abraham Pye/Beer Retailer & Straw Dealer/../../Kelly's

1899/George Henry Pye/Beer Retailer & Straw Dealer/../../Kelly's

1901/George Henry Pye/Beer Seller/37/Dagenham, Essex/Census *+
1901/Johannah Pye/Wife/38/Dagenham, Essex/Census
1901/John Pye/Son/14/Dagenham, Essex/Census
1901/Lily Agnes Pye/Daughter/13/Dagenham, Essex/Census
1901/Abraham Pye/Son/11/Dagenham, Essex/Census
1901/William Thomas Pye/Son/6/Dagenham, Essex/Census
1901/Beatrice Mary Pye/Daughter/11 months/Dagenham, Essex/Census

1902/George Henry Pye/Beer Retailer & Straw Dealer/../../Kelly's

A brother of Mary Ann Jermy and Harriet Jermy - Jacob Jermy - was also attracted to pub life in and around Barking. In 1901 he was working as a barman at the Britannia PH in Barking according to the census and his marriage certificate. By 1908 he and his wife Mary Ann Elizabeth nee Dolby were settled at the Harrow PH in Chadwell Heath. Jacob died suddenly in 1911 and his wife took over the licence with the help of her Father in law Francis Jermy who had been living with his daughter at the Coopers Arms. Her Father in law died in 1914. In 1916 Mary Ann married Abraham Pye whose family had been publicans at the Harrow for many years before Jacob came on the scene. Abraham and Mary Ann moved just up the road and his name went over the door at the Crooked Billet. **

1908/Jacob Jermy/Beer Retailer/../../Kelly's

1910/Jacob Jermy/Beer Retailer/../../Kelly's

1911/Mary Ann Jermy/Beer House Keeper (Widow)/32/Barking, Essex/Census *+
1911/William Jermy/Son/9/Barking, Essex/Census
1911/Francis Jermy/Visitor (Widower), Farm Labourer/65/Potterham, Norfolk/Census

1912/Mrs. M. A. Jermy/Beer Retailer/../../Kelly's

Note: Prior to 1914, premises only named in 1891

1914/Mrs. M. A. Jermy/Beer Retailer/../../Kelly's

1917/William A. Warman/Beer Retailer/../../Kelly's

1922/William A. Warman/Beer Retailer/../../Kelly's

1925/William A. Warman/Beer Retailer/../../Kelly's

William Warman married Hetty Maria Hill and was also the captain of a ship called The Martin*

1925-6/William A. Warman/Beer Retailer/../../Kelly's

1929/Warman & Wells/Beer Retailers/../../Kelly's

1933/Warman & Wells/Beer Retailers/../../Kelly's

1937/William Clarke/../../../Kelly's



* Provided by Noeline Mullins, the great granddaughter of William Warman.

*+ Provided by Ewan

** Provided by CG

*** Provided by Linda Taylor

**** Provided by Kevan