Search London and Pub history
George, 79 Duke Street, Chelmsford
A listing of historical public houses, Taverns, Inns, Beer Houses and Hotels in Essex. The Essex listing uses information from census, Trade Directories and History to add licensees, bar staff, Lodgers and Visitors.
Chelmsford pub index
Also known as the George & Dragon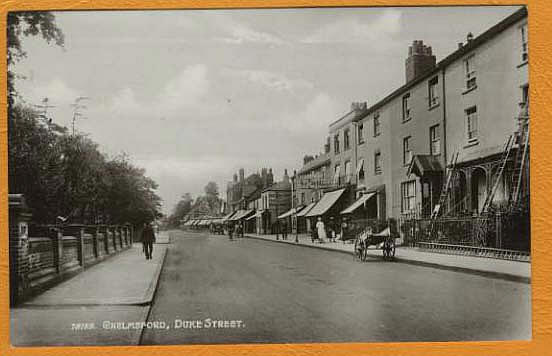 Duke Street, Chelmsford - is that the George half way down
Kindly provided by Colleen
The following entries are in this format:
Year/Publican or other Resident/Relationship to Head and or Occupation/Age/Where Born/Source.
1791/James Abrey/Victualler/../../Universal British

1822/John Abrey/../../../Pigot's*

1823-4/John Abrey/../../../Pigot's

1828-9/John Abrey/../../../Pigot's

1832-3/Charles Brewster/../../../Pigot's

1839/Charles Brewster/../../../Pigot's

1840/Charles Brewster/../../../Pigot's*

1841/George Sarel/Publican/60/../Census
1841/Sarah Sarel/../50/Essex/Census
1841/William Sarel/../12/Essex/Census
1841/Mary Haven/Femal M/20/Essex/Census
1841/William Stanhope/Ostler/30/Essex/Census
1841/John Quilter/Ostler App/25/Essex/Census

1845/George Sarel/../../../Post Office

1848/John Pressland Sarel/../../../White's

1851/John Presland Sarel/../../../Post Office

1851/John P Sarel/widower, victualler/38/Chelmsford, Essex/Census **
1851/Sarah Sarel/daughter, scholar/11/Chelmsford, Essex/Census **
1851/Elizabeth P Sarel/daughter, scholar/10/Chelmsford, Essex/Census **
1851/Caroline A Sarel/daughter, scholar/06/Chelmsford, Essex/Census **
1851/Susanna B Snow/widow, sister, housekeeper/31/Chelmsford, Essex/Census **
1851/William Stanhope/brewer and ostler/44/Great Baddow, Essex/Census **
1851/Harriet Bailey/house servant/17/Writtle, Essex/Census **
1851/Thomas Sarel/under ostler/50/Kenn, Devon/Census **

1855/J P Sarel/../../../Post Office

1862/John Presland Sarel/Brewer/../../Kelly's

1867/John Presland Sarel/../../../Post Office

1870/John Presland Sarel/../../../Kelly's

1871/John Presland Sarel/../../../Post Office

1871/John Presland Sarel/Inn Keeper/58/Chelmsford, Essex/Census
1871/Emma Sarel/Wife/49/Blackmore, Essex/Census
1871/Mary Elizabeth Winn/BarMaid/19/Limehouse, Middx/Census
1871/Emily Barnard/ChamberMaid/19/Little Dunmow, Essex/Census
1871/Emma Matilda Brazier/Cook/25/Great Baddow, Essex/Census
1871/William Taylor/Helper in Stables/25/Broomfield, Essex/Census

1874/John Presland Sarel/../../../Kelly's

1878/John Presland Sarel/../../../Kelly's

1881/John Presland Sarel/Innkeeper/68/Chelmsford, Essex/Census
1881/Emma Sarel/Wife/68(?)/Blackmore, Essex/Census
1881/Eliza Josling/Housekeeper/54/Chignal St. James, Essex/Census
1881/Eliza Oxbrow/Barmaid/36/Witham, Essex/Census
1881/Emily Hinton/General Servant/20/Danbury, Essex/Census
1881/Jane Baverman/General Servant/22/Great Baddow, Essex/Census
1881/Julia Burden/General Servant/25/Fore Street, London, Middlesex/Census
1881/William Charles Wade/Ostler/20/Great Baddow, Essex/Census

1882/John Presland Sarel/../../../Kelly's

1886/Thomas Philip Heath/../../../Kelly's

1890/Thomas Philip Heath/../../../Kelly's

1891/Thomas Philip Heath/Licensed Victualler/40/Sudham, Norfolk/Census
1891/L. A. Heath/Wife/50/Gravesend, Kent/Census
1891/F. M. M. Heath/Daughter/11/Gravesend, Kent/Census
1891/G. E. Heath/Daughter/8/Chelmsford, Essex/Census
1891/Kate Green/General Domestic Servant/15/Great Baddow, Essex/Census
1891/Fred Gibbs/Boots/14/Springfield, Essex/Census

1894/Charles Welham/../../../Kelly's

1895/Charles Welham/../../../Kelly's

1898/Charles Welham/../../../Kelly's

1899/Charles Welham/../../../Kelly's

The Essex Newsman of 13 Jan 1900 reported that "The licence of the George Inn was transferred to Mrs Hannah Elizabeth Burgess (CHELMSFORD PETTY SESSIONS)" ***
The 1901 census for Chelmsford shows :
Elizabeth Burgess; head; widow; age 46; licensed victualler, employer; born London SE.
Thomas A Burgess; son; single; age 22; manager of pub; born London Borough.
Albert R Burgess; son; single; age 18; assistant barman; born London Kennington...

1901/Elizabeth Burgess/Licensed Victualler, Widow/46/London SE/Census ***
1901/Thomas A Burgess/Son, Manager/22/Borough, London/Census
1901/Albert R Burges/Son, barman/18/Kensington, London/Census
1901/William R Burges/Son, Apprentice Wireless Telegraphy/15/Kent road, London SE/Census
1901/Ann F Burgess/Daughter/14/Kent road, London SE/Census
1901/Mary A Sampson/Cousin, Widow/41/St James, London/Census
1901/Jesse Patient/Housemaid/16/Chelmsford, Essex/Census

And by 1911 this family is at the Marsh Gate, in Stratford. ***

1902/Arthur Spalding/../../../Kelly's

1906/Arthur Spalding/../../../Kelly's

1908/Arthur Spalding/../../../Kelly's

1910/Arthur Spalding/../../../Kelly's

1911/Arthur Spalding/Publican/50/Chelmsford, Essex/Census
1911/Alice Maud Mary Spalding/Wife/49/Haverhill, Essex/Census
1911/Walter William Spalding/Son, Engineer/21/Chelmsford, Essex/Census
1911/Robert Clarance Spalding/Son, Engineer/19/Chelmsford, Essex/Census
1911/Florence Spalding/Daughter/18/Chelmsford, Essex/Census
1911/Sidney Donald Spalding/Son/13/Chelmsford, Essex/Census
1911/Doris Katherine Spalding/Daughter/11/Chelmsford, Essex/Census
1911/Richard Leonard Spalding/Son/9/Chelmsford, Essex/Census
1911/George Henry Spalding/Son/1/Chelmsford, Essex/Census
1911/Mabel M Forby/Barmaid/22/Norwich/Census
1911/Ernest B Godsave/Ostler/31/Bovinger, Ongar/Census
1911/Maud Clarke/Nursemaid/15/Waltham, Essex/Census
1911/Lily E Wood/General Servant/16/Penge, Surrey/Census
1911/Wilfred J Pledger/Visitor, Farmer/37/Great Baddow, Essex/Census

1912/Arthur Spalding/../../../Kelly's



* Provided by the Pubs, Inns and Taverns Index for England, 1801-1900

** Provided by John Mead

*** Provided by Dave Williams