Pub history
Queen's Head, 61 High Street Chelmsford
A listing of historical public houses, Taverns, Inns, Beer Houses and Hotels in Essex. The Essex listing uses information from census, Trade Directories and History to add licensees, bar staff, Lodgers and Visitors.
Chelmsford pub index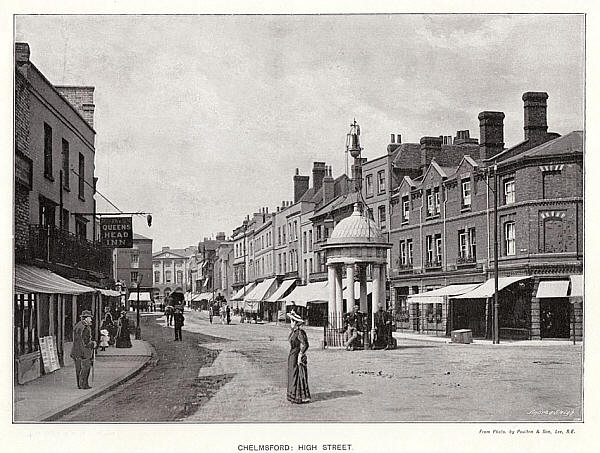 Queens Head, High Street, Chelmsford - in 1890s
Kindly provided by Colleen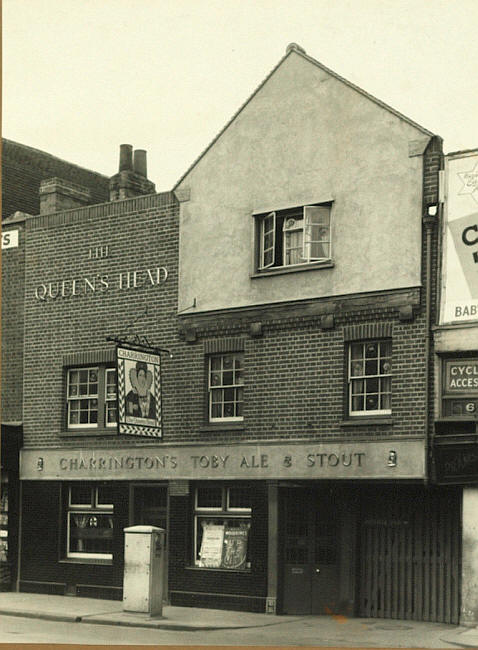 Queen's Head, 61 High Street Chelmsford
The following entries are in this format:
Year/Publican or other Resident/Relationship to Head and or Occupation/Age/Where Born/Source.
1791/Thomas Clift/Victualler/../../Universal British

1822/P. Poxley/../../../Pigot's*

1823-4/P. Poxley/../../../Pigot's

1828-9/P. Poxley/../../../Pigot's

1832-3/Philip Puxley/../../../Pigot's

1839/Ann Puxley/../../../Pigot's

1840/Ann Puxley/../../../Pigot's*

1848/James Albra/../../../White's

1851/Miss Harriett Wiggen/../../../Post Office

1851/Harriet Wiggen/unmarried, innkeeper/39/Walton, Suffolk/Census **
1851/Mary Robinson/niece, scholar/12/Hull, Yorkshire/Census **
1851/Emma Turner/house servant/13/Great Leighs, Essex/Census **

1852/Miss H. Wiggin/../../../Kelly's*

1855/S. Sorrell/../../../Kelly's*

1862/Samuel Sorrell/../../../Kelly's

1867/Stephen Holloway/../../../Post Office

1870/Henry Stevens/../../../Kelly's

1871/Henry Stevens/../../../Post Office

1871/Henry Stevens/Licensed Victualler/29/Chelmsford, Essex/Census ****
1871/Eliza Stevens/Wife/38/Stroud, Kent/Census
1871/Stephen Holloway/Son in Law, Carpenter/21/Stroud, Kent/Census
1871/Henry Holloway/Son in Law/11/Stroud, Kent/Census
1871/Ellen Holloway/Daughter in Law/8/Queensborough, Kent/Census

1874/E. Fincham/../../../Kelly's

1878/Edward James Fincham/../../../Kelly's

1881/Frederick Hills/Publican/35/Woodham Ferrers, Essex/Census
1881/Fanny Hills/Wife/27/Woodham Ferrers, Essex/Census
1881/Sarah Smith/Lodger, Unemployed General Servant/62/Great Dunmow, Essex/Census

1882/Edward Carswell/../../../Kelly's

1886/William Harris/../../../Kelly's

1890/William Harris/../../../Kelly's

1891/William Harris/Licensed Victualler/41/Woolwich, Kent/Census
1891/Alice Sophia Harris/Wife/36/Finchley, Middlesex/Census
1891/William A. Harris/Son/9/Greenwich, Kent/Census
1891/Alice Mary Harris/Daughter/6/Chelmsford, Essex/Census
1891/Stanley, Essex/Son/4/Chelmsford, Essex/Census
1891/Walter Firmin/Boarder, Electrical Engineer/23/Colne Engaine, Essex/Census
1891/Rosina Farrant/General Domestic Servant/18/Ireland/Census
1891/Ellen Quy/General Domestic Servant/14/Totham, Essex/Census

1894/William Harris/../../../Kelly's

1895/William Harris/../../../Kelly's

1898/William Harris/../../../Kelly's

1899/William Harris/../../../Kelly's

1902/William Stoten/../../../Kelly's

1906/Cyril Bates Hine/../../../Kelly's

1908/Arthur Charles King/../../../Kelly's

1910/Arthur Charles King/../../../Kelly's

1911/Arthur Charles King/Licensed Victualler/49/Margaretting, Essex/Census ****
1911/Emily King/Wife, Housekeeper/48/Hambledon, Hampshire/Census
1911/James Edward Carter/Boarder, Labourer/40/Stanton, Suffolk/Census
1911/Elizabeth Carter/Housekeeper/38/Norwich/Census
1911/Samuel Edward Emery/Boarder, Labourer/43/Norwich/Census

1912/Arthur Charles King/../../../Kelly's

1914/William Archer Ling/../../../Kelly's

1917/William Archer Ling/../../../Kelly's

1922/William Archer Ling/../../../Kelly's

1925/George Digby/../../../Kelly's

1929/George Arthur Box/../../../Kelly's

1933/George Arthur Box/../../../Kelly's

1937/Percy W. Sawyer/../../../Kelly's

1938 - 1957/Sawyer/../../../Freehold

By 1939, George Arthur Box is at the Queens Head, Southminster. ***

1943/Percy W. Sawyer/../../../Kelly's

1958 - 1962/R Wiltshire/../../../Freehold

1963/P J Jater/../../../Freehold



* Provided by the Pubs, Inns and Taverns Index for England, 1801-1900

** Provided by John Mead

*** Provided by Angela Wildman