King William IV, High Road, Chigwell IG7
Chigwell pub history index
A listing of historical public houses, Taverns, Inns, Beer Houses and Hotels in Essex. The Essex listing uses information from census, Trade Directories and History to add licensees, bar staff, Lodgers and Visitors.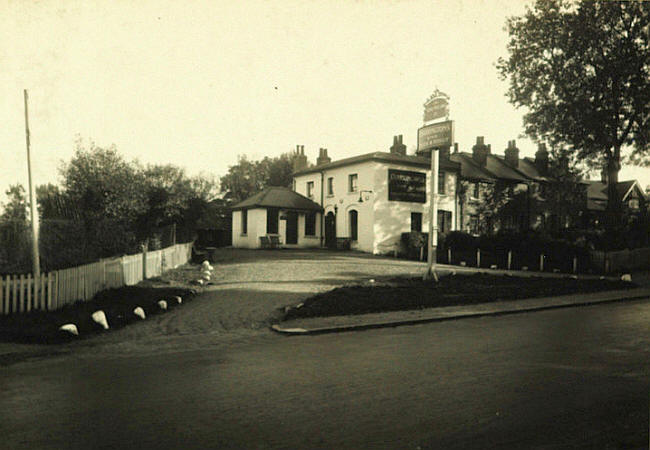 King William IV, Chigwell Road, Chigwell - in 1927

15th July 2001
The current pub, on the left; the former, on the right.
The following entries are in this format:
Year/Publican or other Resident/Relationship to Head and or Occupation/Age/Where Born/Source.
1851/Thomas Nayler/beerhouse keeper/59/Holborn, Middlesex/Census **
1851/Mary Nayler/wife/55/Stapleford Abbots, Essex/Census
1851/Henry J Nayler/son, assistant/20/Chigwell, Essex/Census
1851/Charles W Nayler/son, assistant/18/Chigwell, Essex/Census

1861/Henry Naylor/Beer House Keeper/30/Chigwell, Essex/Census ****
1861/Elenor Naylor/Wife/26/Dover, Kent/Census
1861/Jeremiah Knight/Lodger, Labourer/38/Mountnessing, Essex/Census
1861/Charles Stokes/Lodger, Labourer/24/High Easter, Essex/Census
1861/James Stokes/Lodger, Labourer/19/High Easter, Essex/Census

1871/Charles T Harris/Beer House Keeper/35/Maldon, Essex/Census ****
1871/Ellen Harris/Wife/36/Dover, Kent/Census
1871/William Edward Harris/Nephew/9/Lewisham, Kent/Census
1871/Jane Bird/Niece, Dressmaker/24/Brighton, Sussex/Census
1871/Sophia Bird/Niece, Dressmaker/21/Brighton, Sussex/Census

1878/George Lines/Beer Retailer/../../Kelly's

1881/George Lines/Beerhouse Keeper/39/Shadbrook, Suffolk/Census
1881/Emily Lines/Wife/31/Maldon, Essex/Census
1881/Emily A. Lines/Daughter/9/Chigwell, Essex/Census
1881/Edith Lines/Daughter/7/Chigwell, Essex/Census
1881/George Lines/Son/5/Chigwell, Essex/Census
1881/Amos Lines/Son/1/Chigwell, Essex/Census
1881/Eleanor Lines/Daughter/5m/Chigwell, Essex/Census

1882/George Lines/Beer Retailer/../../Kelly's

1886/George King Lines/../../../Kelly's

1891/Emily Lines/Beer HOuse Keeper, Widow/40/Maldon, Essex/Census ****
1891/Clara Lines/Daughter/13/Chigwell, Essex/Census
1891/Amos Lines/Son/11/Chigwell, Essex/Census
1891/Eleanor Lines/Daughter/10/Chigwell, Essex/Census
1891/Herbert Lines/Son/8/Chigwell, Essex/Census
1891/Alfred Lines/Son/7/Chigwell, Essex/Census
1891/Florence Lines/Daughter/6/Chigwell, Essex/Census
1891/Horace Lines/Son/3/Chigwell, Essex/Census
1891/James Lowen/Boarder, Postman/20/Chigwell, Essex/Census

1898/John Dandie/Beer Retailer/../../Kelly's
1898/Annie Dandie/Wife/../../Great, great nephew*

1899/John Dandie/Beer Retailer/../../Kelly's

1901/John Dandy/Beer House Keeper/50/Scotland/Census ****
1901/Annie B Dandy/Wife/45/Essex/Census

1902/John Dandie/Beer Retailer/../../Kelly's

1908/Mrs. Annie Dandie/Beer Retailer/../../Kelly's

1911/Charles Birch/Publican/59/Chigwell, Essex/Census ****
1911/Emma Birch/Wife/63/Chigwell, Essex/Census
1911/Emily Birch/Daughter/20/Woodford Bridge, Essex/Census
1911/Richard John Hetherington/Grandson/14/Woodford Bridge, Essex/Census
1911/Robert Hetherington/Grandson/8/Chigwell, Essex/Census

1912/Charles Birch/Beer Retailer/../../Kelly's
1912/Emma Birch/Wife/../../Great grandson*

1917/Charles Birch/Beer Retailer/../../Kelly's
1917/Emma Birch/Wife/../../Great grandson*

1919 - 1965/Nosworthy/../../../Freehold

1925/William H. Nosworthy/Beer Retailer/../../Kelly's
1925/Emily "Babe" Nosworthy/Wife/../../Great nephew*

1933/William H. Nosworthy/Beer Retailer/../../Kelly's
1933/Emily "Babe" Nosworthy/Wife/../../Great nephew*

Note: Premises only named in 1881 & 1886



* Provided by David Bambridge

** Provided by John Mead

**** Provided by Kevan