Bull & Crown, The Green, Chingford
A listing of historical public houses, Taverns, Inns, Beer Houses and Hotels in Essex. The Essex listing uses information from census, Trade Directories and History to add licensees, bar staff, Lodgers and Visitors.
This pub was originally called the Black Bull, then Bull, then Bull's Head, then Crown, then Bull & Crown, then Slug & Lettuce (1991) , then back to Bull & Crown (1996), then Molly K's (2002) and now back once again to Bull & Crown (since 2006).
It was rebuilt in its present form in 1899. ***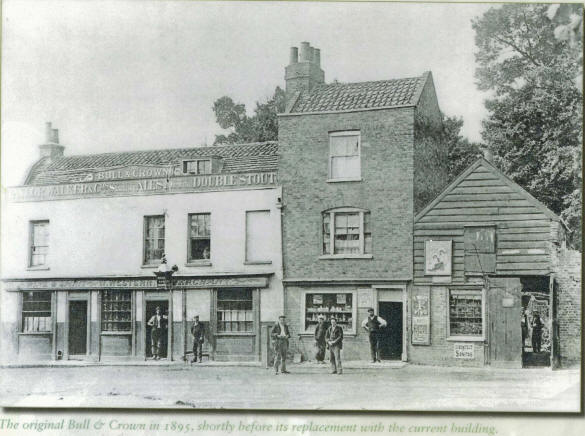 The Original Bull & Crown in 1895, shortly before its replacement with the current building
Kindly provided by Footix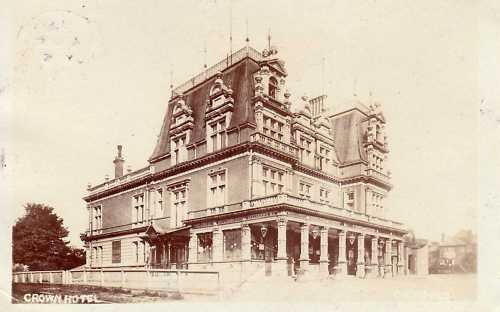 Bull & Crown, Chingford - posted in 1905 (named as Crown Hotel)
Kindly provided by Colleen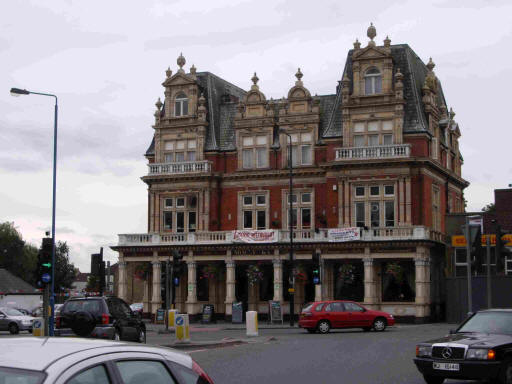 Bull & Crown, The Green, Chingford in 2005
Kindly provided by Brian Lodge
The following entries are in this format:
Year/Publican or other Resident/Relationship to Head and or Occupation/Age/Where Born/Source.
1776/Francis Bruce/../../../Alehouse Recognizances ***

1826/Robert Groom/../../../Pigots

1828-9/Robert Groom/../../../Pigots

1832-3/Robert Groom/../../../Pigots

1839/Joseph Finch/../../../Pigots

1840/Joseph Finch/../../../Pigots*

1845/Charles Swain/../../../Post Office

1848/Charles Swain/Victualler/../../Whites

1851/George Allen/../../../Post Office

1851/William Bowden/innkeeper (widower)/69/'at sea'/Census **
1851/Bertha Day/housekeeper/26/Ramsgate, Kent/Census **
1851/Sarah Green/housemaid/17/Chingford, Essex/Census **
1851/Henry G Lowe/ostler/60/Chingford, Essex/Census **

1855/T. B. Fairchild/../../../Kellys*

1862/John Rudge/../../../Kellys

1867/Mrs. Hester Keeley/../../../Post Office

1870/Mrs. Hester Keeley/../../../Kellys

1871/Mrs. Hester Keeley/../../../Post Office

1874/Mrs. Hester Keeley/../../../Kellys

1876/Henry Osborne/../../../Kellys*

1878/Henry Osborne/../../../Kellys

1880/Drusilla Leach/../../../Kellys*

1881/William Western/Innkeeper/34/Walthamstow, Essex/Census
1881/Druscilla Western/Wife/45/Denham, Suffolk/
1881/Elizabeth Osborne/Mother, Annuitant/62/Thorpe, Suffolk/Census
1881/William Leech/Son/13/Hornsey, Middlesex/Census
1881/Joseph Morris/Lodger, Agricultural Labourer/31/Chingford, Essex/Census
1881/James Morris/Lodger, Agricultural Labourer/27/Chingford, Essex/Census

1882/William Western/../../../Kellys

1885/William Western/../../../Kellys*

1886/William Western/../../../Kellys

1890/William Western/../../../Kellys

1894/William Western/../../../Kelly

1895/William Western/../../../Kellys

1896/William Western/../../../Kellys

1898/James Wesson Cooper/../../../Kellys

1899/James Wesson Cooper/../../../Kellys

1902/William Colmer/../../../Kellys

1906/William Jaggard/../../../Kellys

1908/William Jaggard/../../../Kellys

1910/William Jaggard/../../../Kellys

1911/William Jaggard/Licensed Victualler/49/Stepney, London/Census
1911/Charlotte Jaggard/Wife/45/Northumberland/Census
1911/Lilly Jaggard/Daughter, Assistant/23/Walthamstow, Essex/Census
1911/F W Jaggard/Son, Assistant/20/Walthamstow, Essex/Census
1911/Elsie Jaggard/Daughter, Assistant/20/Walthamstow, Essex/Census
1911/William E Jaggard/Son, Commercial Clerk/17/Walthamstow, Essex/Census
1911/Doris E Jaggard/Daughter/12/Walthamstow, Essex/Census
1911/Hilda B Jaggard/Daughter/12/Walthamstow, Essex/Census
1911/Alice Nicholls/Housemaid/21/Bristol/Census
1911/Charles H Quigley/Bar Assistant/22/Kentish Town/Census
1911/Alfred J Wilkes/Bar Assistant/21/Enfield Lock/Census

1912/William Colmer/../../../Kellys

1914/Mrs. Alice Chisolm/../../../Kellys

1917/Mrs. Alice Chisolm/../../../Kellys

1922/Mrs. Alice Chisolm/../../../Kellys

1925/Donald Chisolm/../../../Kellys



* Provided by the Pubs, Inns and Taverns Index for England, 1801-1900

** Provided by John Mead

** Provided by Stephen Harris