Prince Albert, Chingford Road/Old Church Hill, Chingford
A listing of historical public houses, Taverns, Inns, Beer Houses and Hotels in Essex. The Essex listing uses information from census, Trade Directories and History to add licensees, bar staff, Lodgers and Visitors.
There have been at least four incarnations of this pub. The original pub was rebuilt in around 1890, the new building being the one shown in your first photo (of around 1905). It was rebuilt in around 1932, the replacement being the building shown in your second photograph (of around 1970). The whole site was then redeveloped in 1971, with the pub being reduced to a basement bar below new shops. My photograph shows the pub as it appears in April 2009: **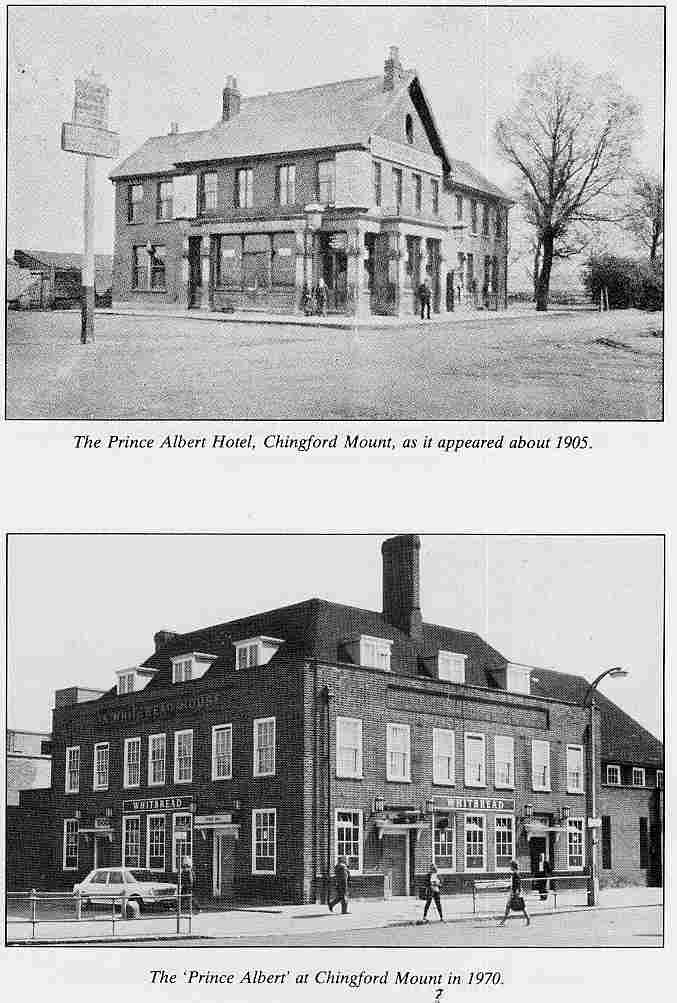 The Prince Albert, Chingford Mount in 1905 and 1970
Kindly provided by Brian Lodge
source: Chingford in History written by the Chingford Historical Society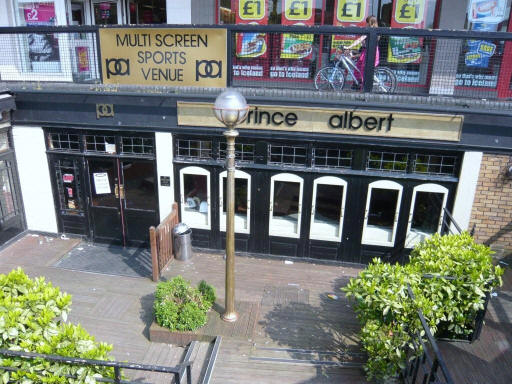 Prince Albert, 1 Old Church Road, Chingford, E4 - in April 2009
Kindly provided by Stephen Harris
The following entries are in this format:
Year/Publican or other Resident/Relationship to Head and or Occupation/Age/Where Born/Source.
1862/John Taylor/../../../Kelly's

1867/Executors of John Taylor/../../../Post Office

1869/Thomas Francis Harris/../../../Kellys **

1870/George Hart Pargiter/../../../Kelly's

1871/George Hart Pargiter/../../../Post Office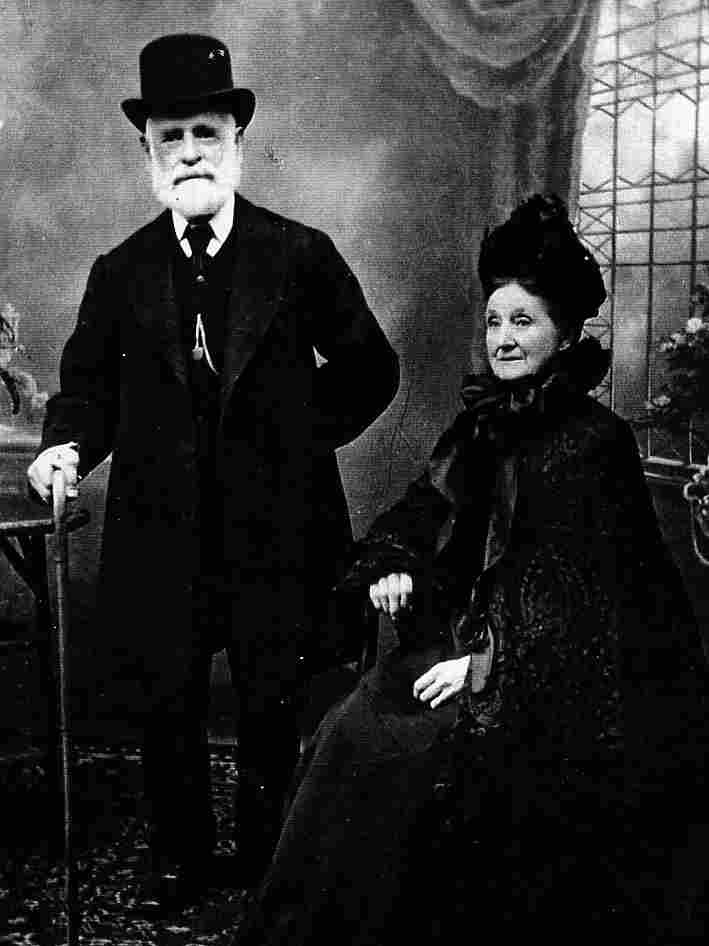 Philemon and Mary Lodge circa 1870
Kindly provided by Brian Lodge
Philemon was born Ellis Farm in High Easter 09/12/1832, son of Isaac and Elizabeth Lodge, one of eleven children. He must have had some form of education, which would be helpful to him in later life. he married Mary Scott of North Weald Bassett on 17/12/1859 in Bethnal Green. He had twelve children. In 1871 he was running a coffee shop in Worship Street Shoreditch. Between 1873 to 1886 he was a tennant at the Prince Albert Pub Chingford, between 1894 to 1897 he was running the Kings head Pub in Chingford. During this time he also had some grazing land in Chingford, from which he supplied fresh horses for the Post Coaches. In 1900 he became one of the first councillers for Chingford when it became a UDC, he retired from that in 1909. In 1901 he was running The White Lion Pub in Enfield. One of his daughters went on to run a sucessful Forge and Taxi service in North Chingford, they were one of the first taxi services to have motorised cabs after the First World War, loosing all their horses to the war effort. Philemon died 14/08/1920, he was buried in Chingford Mount Cemetery.

1874/Philemon Lodge/../../../Kelly's

1876/Philemon Lodge/../../../Kelly's*

1878/Philemon Lodge/../../../Kelly's

1880/Philemon Lodge/../../../Kelly's*

1881/Philemon Lodge/Licensed Victualler/48/High Easter, Essex/Census
1881/Mary Lodge/Wife/42/North Weald, Essex/Census
1881/William Lodge/Son, Ostler/20/Stepney, Middlesex/Census
1881/Annie E. Lodge/Daughter/18/Mile End, Middlesex/Census
1881/Edith M. Lodge/Daughter/16/Mile End, Middlesex/Census
1881/Albert J. Lodge/Son, Carpenter/14/Mile End, Middlesex/Census
1881/Frederick J. Lodge/Son/9/Finsbury, Middlesex/Census
1881/Walter Lodge/Son/7/Chingford, Middlesex/Census
1881/Alfred C. Lodge/Son/4/Chingford, Middlesex/Census
1881/Agnes S. Lodge/Daughter/2/Chingford, Middlesex/Census
1881/C. P. Lodge/Son/1d/Chingford, Middlesex/Census
1881/Emma Jolley/Monthly Nurse/62/Walthamstow, Essex/Census

1882/Philemon Lodge/../../../Kelly's

1886/Philemon Lodge/../../../Kelly's

I have just received the Will of Charles Thomas Clark, who died 1887 in Chingford. He was "a licensed victualler of Prince of Albert of Chingford, county of Essex, and also of Cowley Arms, Leytonstone Road, county of Essex". His widow was Annie Clark. ****

1890/Robert Parkinson/../../../Kelly's

1894/Robert Parkinson/../../../Kelly's

1895/Robert Parkinson/../../../Kelly's

1898/Steer & Ives/../../../Kelly's

1899/Steer & Ives/../../../Kelly's

1902/Arthur William Steer/../../../Kelly's

1906/John Beech/../../../Kelly's

1908/John Beech/../../../Kelly's

1910/John Beech/../../../Kelly's

1912/John Beech/../../../Kelly's

1914/John Beech/../../../Kelly's

1917/Mrs. Elizabeth Mary Beech/../../../Kelly's

1922/Mrs. Elizabeth Mary Beech/../../../Kelly's

1925/Mrs. Elizabeth Mary Beech/../../../Kelly's




* Provided by the Pubs, Inns and Taverns Index for England, 1801-1900

** Provided by Stephen Harris

*** Provided by Brian Lodge

**** Provided by Alice Puceck