Search London wiki and Pub wiki history sites
Bell, High Street, Chipping Ongar
A listing of historical public houses, Taverns, Inns, Beer Houses and Hotels in Essex. The Essex listing uses information from census, Trade Directories and History to add licensees, bar staff, Lodgers and Visitors.
Chipping Ongar index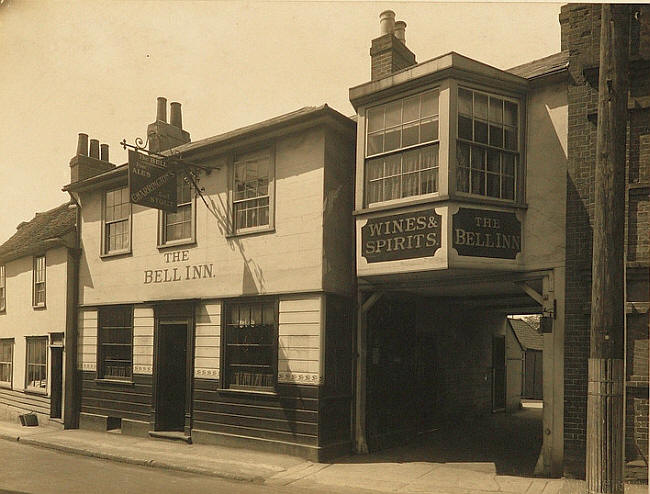 Bell, High Street, Chipping Ongar - in 1930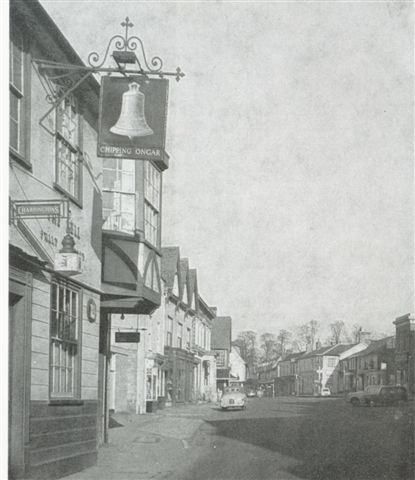 The Bell Inn, circa 1960
Kindly donated by Colleen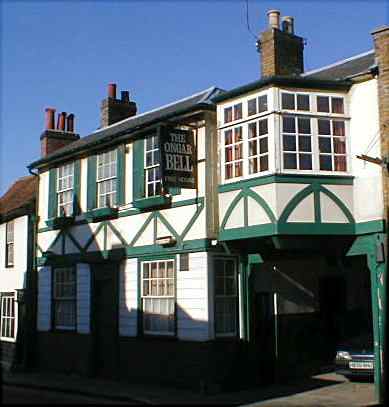 11th August 2001
The following entries are in this format:
Year/Publican or other Resident/Relationship to Head and or Occupation/Age/Where Born/Source.
1852/W. Tanner/../../../Kelly's

1855/W. Tanner/../../../Kelly's*

1862/Frederick Tanner/../../../Kelly's

1867/George Bretton/../../../Post Office

1870/George Bretton/../../../Kelly's

1871/George Bretton/../../../Post Office

1874/George Bretton/../../../Kelly's

1878/George Bretton/../../../Kelly's

1881/George Bretton/Publican/49/Bobbingworth, Essex/Census
1881/Jane Bretton/Wife/40/High Laver, Essex/Census
1881/Margaret E. Bretton/Daughter, Mantle Maker/15/Chipping Ongar, Essex/Census
1881/Mary A. Bretton/Daughter/13/Chipping Ongar, Essex/Census
1881/Thomas Bretton/Son/10/Chipping Ongar, Essex/Census
1881/Samuel Josling/Boarder, Retired Farmer/72/Great Easton, Essex/Census
1881/Leslie Ricket/Boarder, Railway Clerk/19/Netteswell, Essex/Census
1881/James W. Prentice/Lodger, Printer/44/Norwich, Norfolk/Census
1881/James Martin/Lodger, Hay Carter/44/Purleigh, Essex/Census
1881/Arthur J. Kinnsett/Lodger, Hay Carter/23/High Laver, Essex/Census

1882/George Bretton/../../../Kelly's

1886/Mrs. Jane Bretton/../../../Kelly's

1890/Comyns Owers/../../../Kelly's

1891/Comyns Owers/Publican & Carrier/29/Stanford Rivers, Essex/Census ****
1891/Margaret E Owers/Wife/25/Chipping Ongar, Essex/Census
1891/Emily E Owers/Daughter/1/Chipping Ongar, Essex/Census
1891/John Rees/Visitor, Photographer/26/Holborn, Middx/Census
1891/Henry Collingwood/Visitor, Photographer/30/Hanover Sq, London/Census
1891/William E Challis/Servant, Hay Carter/28/Berners Roothing, Essex/Census
1891/Richard Barnard/Servant, Hay Carter/21/Copthall Green, Essex/Census
1891/Jane Nottage/General Servant/17/Moreton, Essex/Census
1891/Thomas Bretton/Boarder, Carpenter/20/Chipping Ongar, Essex/Census

1894/William Henry Boyd/Cattle Dealer/../../Kelly's

1895/William Henry Boyd/Cattle Dealer/../../Kelly's

1899/James Galliven/../../../Kelly's

1901/Alice Dicker/Licensed Victualler, Widow/41/Thornham, Norfolk/Census ****
1901/Frederick Dicker/Son/12/Plaistow, Essex/Census
1901/Ethel Dicker/Daughter/9/Plaistow, Essex/Census
1901/Sidney Dicker/Son/6/Middlesex/Census
1901/Claude Dicker/Son/5/Middlesex/Census
1901/Harry Cloud/Ostler/40/Leicester/Census
1901/Florrie Norriss/General Servant/15/Middlesex/Census

1902/Mrs. Alice Dicker/../../../Kelly's

1906/Mrs. Alice Dicker/../../../Kelly's

1908/Arthur Woolger/../../../Kelly's

1910/Mrs. Maud Woolger/../../../Kelly's

1912/Mrs. Mary A. Bell/../../../Kelly's

1914/William Burton/../../../Kelly's

1917/William Burton/../../../Kelly's

1921 - 1949/Field/../../../Freehold

1922/Eustace Frank Field/../../../Kelly's

1925-6/Eustace Frank Field/../../../Kelly's

1929/Eustace Frank Field/../../../Kelly's

1933/Eustace Frank Field/../../../Kelly's

1937/Eustace Frank Field/../../../Kelly's

1950 - 1954/Mrs Field/../../../Freehold

1955 - 1965/H G Sawkins/../../../Freehold



* Provided by the Pubs, Inns and Taverns Index for England, 1801-1900

**** Kevan