Search London wiki and Pub wiki history sites
Kings Head, High Street, Chipping Ongar
A listing of historical public houses, Taverns, Inns, Beer Houses and Hotels in Essex. The Essex listing uses information from census, Trade Directories and History to add licensees, bar staff, Lodgers and Visitors.
Chipping Ongar index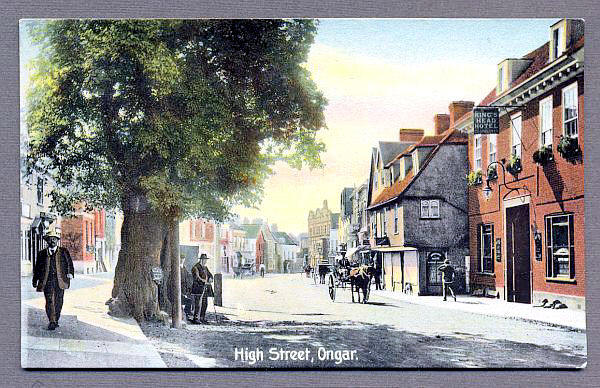 High Street, Ongar in 1911 - the Kings Head is clearly to be seen on the right
The square niche above the door of the pub (see picture) is said to have
held a bust of King Charles 1st, hastily removed when he lost his head.

Kindly provided by Colleen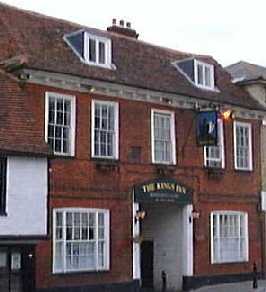 21st July 1999
Taken by Ian Rose. His Essex Churches web pages are here
The following entries are in this format:
Year/Publican or other Resident/Relationship to Head and or Occupation/Age/Where Born/Source.
1791/James Nicholls/Victualler/../../Universal British

1823-4/Daniel Rawlings/../../../Pigot's

1828-9/Daniel Rawlings/../../../Pigot's

1832-3/Daniel Rawlings/../../../Pigot's

1839/Elizabeth Rawlings/../../../Pigot's

1841/Elizabeth Rawlings/brewer/70/not born Essex/Census **
1841/William Gordon/male servant/40/not born Essex/Census **
1841/Harriet Gordon/35/Essex/Census **
1841/Mary Gordon/25/Essex/Census **
1841/Sarah Whitbread/female servant/20/Essex/Census **
1841/John Mardle/[lodger] labourer/45/Essex/Census **

1845/Mrs. Elizabeth Rawlings/../../../Post Office

1848/Elizabeth Rawlings/../../../White's

1851/Mrs. Elizabeth Rawlings/../../../Post Office

1851/Elizabeth Rawlings/widow, victualler/83/Thurlow, Suffolk/Census **
1851/William Gordon/nephew, assistant victualler/50/Aversham, Nottinghamshire/Census **
1851/Mary Gordon/niece/38/Elmdon, Essex/Census **
1851/George Gordon/visitor, draper/38/Aversham, Nottinghamshire/Census **
1851/Mary Ann Knight/house servant/20/Moreton, Essex/Census **

1855/Mrs E Rawlings/../../../Essex, Herts, Kent ...Post Office Directory ****

1862/James Barlow/Builder/../../Kelly's

1867/Mrs. Hannah Barlow/../../../Post Office

1870/Mrs. Hannah Barlow/../../../Kelly's

1871/Mrs. Hannah Barlow/../../../Post Office

1874/Mrs. Hannah Barlow/../../../Kelly's

1878/Mrs. Hannah Barlow/../../../Kelly's

1881/Henry E. Lamplough/Publican/38/Hornsea, York/Census
1881/Louisa Lamplough/Wife/30/Galleywood, Essex/Census
1881/Infant Lamplough/Daughter/1m/Ongar, Essex/Census
1881/Frances E. Newcomb/Visitor/20/Galleywood, Essex/Census
1881/Harriett Whitbread/Domestic Servant/20/Fyfield, Essex/Census

1882/Henry Edward Lamplough/../../../Kelly's

1886/Henry Edward Lamplough/../../../Kelly's

1890/Henry Edward Lamplough/../../../Kelly's

1891/Henry E Lamplough/Licensed Victualler/49/Hornsea, Yorkshire/Census ****
1891/Louisa Lamplough/Wife/39/Chelmsford, Essex/Census
1891/Ethel Lamplough/Daughter/16/Chipping Ongar, Essex/Census
1891/Henry E Lamplough/Son/7/Chipping Ongar, Essex/Census
1891/Frances E Newcombe/Sister in Law/26/Galleywood, Chelmsford, Essex/Census
1891/Alice Smith/Waitress/19/Dunmow, Essex/Census
1891/Edith Letch/General Servant/17/Blackmore, Essex/Census
1891/Charles Tuck/Ostler/51/Norwich, Norfolk/Census

1894/Henry Edward Lamplough/../../../Kelly's

1895/Henry Edward Lamplough/../../../Kelly's

1898/William E. Russell/../../../Kelly's

1899/William E. Russell/../../../Kelly's

1901/Thos Cunningham/Hotel Keeper/32/North Shields, Northumberland/Census ****
1901/Maria A Cunningham/Wife/30/Forest Gate, Essex/Census
1901/Florence Cunningham/Daughter/4/Forest Gate, Essex/Census
1901/Winifred A Cunningham/Daughter/3/Forest Gate, Essex/Census
1901/Dorothy M Cunningham/Daughter/6 months/Forest Gate, Essex/Census
1901/Catharine Martin/Siser in Law, Barmaid/26/Forest Gate, Essex/Census

1902/Charles William Green/../../../Kelly's

1906/Charles William Green/../../../Kelly's

1908/Charles William Green/../../../Kelly's

1910/Charles William Green/../../../Kelly's

1912/Charles William Green/../../../Kelly's

1914/Charles William Green/../../../Kelly's

1917/Charles William Green/../../../Kelly's

1922/Charles William Green/../../../Kelly's

1925-6/Charles William Green/../../../Kelly's

1929/Charles William Green/Proprietor/../../Kelly's

1933/Charles William Green/Proprietor/../../Kelly's

1937/Charles William Green/Proprietor/../../Kelly's



** Provided by John Mead

**** Kevan