Royal Hotel, Marine Parade East, Clacton-on-Sea
A listing of historical public houses, Taverns, Inns, Beer Houses and Hotels in Essex. The Essex listing uses information from census, Trade Directories and History to add licensees, bar staff, Lodgers and Visitors.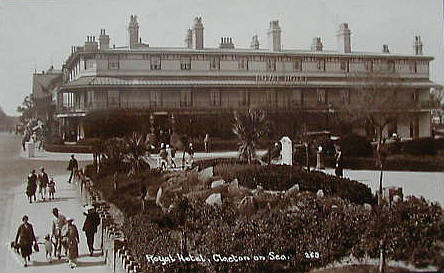 Royal Hotel, Clacton on Sea
Kindly provided by Colleen
Clacton on sea - Royal Hotel 1891
The following entries are in this format:
Year/Publican or other Resident/Relationship to Head and or Occupation/Age/Where Born/Source.
1874/Frederick Mann/../../../Kelly's

1878/Frederick Mann/../../../Kelly's

1881/Frederick Wallis/Hotel Proprietor/49/Hackney, Middlesex/Census
1881/Elizabeth Wallis/Wife/44/Ireland/Census
1881/Harriet Allen/Housemaid/22/Pimlico, Middlesex/Census
1881/Ada Ellis/Chambermaid/17/Great Clacton, Essex/Census
1881/Janet Hair/Barmaid/26/Chelmsford, Essex/Census
1881/Alfred Holgate/Waiter/25/Stratford, Essex/Census
1881/David Southgate/Boots/27/Langham Moor, Essex/Census
1881/Henry Dalasalle/Pot Boy/15/Stanaway, Essex/Census

1882/Frederick Wallis/Proprietor/../../Kelly's

1886/Frederick Wallis/Proprietor/../../Kelly's

1890/Frederick Wallis/Proprietor/../../Kelly's

1891/Elizabeth Wallis/Hotel Proprietor/58/Bandon, Cork, Ireland/Census
1891/Janet A. Hair/Book Keeper/34/Chelmsford, Essex/Census
1891/Edith M. Pellow/Assistant/24/Assingdon, Suffolk/Census
1891/James Kettle/Manager of Tap/50/Layer de la Haye, Essew/Census
1891/Mary A. Kettle/?/52/Colchester, Essex/Census
1891/? Balls/Waiter/34/Colchester, Essex/Census
1891/Elizabeth Guy/Housemaid/54/Tiddington, Oxford/Census
1891/Nellie Reeves/Chambermaid/38/Hadleigh, Suffolk/Census
1891/Helena Burnett/Chambermaid/30/Ipswich, Suffolk/Census
1891/Raymond Leggett/Head Boots/28/?, Suffolk/Census
1891/Maurice M. Stearn/Ostler/28/Great Clacton, Essex/Census
1891/Frederick J. Markham/Page/16/Penzance, Cornwall/Census
1891/George Morris/Under Barman/17/Kirby, Essex/Census
1891/Thomas H. Simpson/Scullery Lad/17/Colchester, Essex/Census

1894/Thomas Bolton/Manager/../../Kelly's

1895/Thomas Bolton/Manager/../../Kelly's

1898/Thomas Bolton/Manager/../../Kelly's

1899/Thomas Bolton/Manager/../../Kelly's

1902/Arthur George King/Manager/../../Kelly's

1906/Charles Frederick J. Barker/Manager/../../Kelly's

1908/Charles Frederick J. Barker/Manager/../../Kelly's

1910/Gulielmus Butterfield/Manager/../../Kelly's

1912/Charles Butcher/Manager/../../Kelly's

1914/Charles Butcher/Manager/../../Kelly's

1917/Charles Butcher/Manager/../../Kelly's

1922/Charles Butcher/Manager/../../Kelly's

1925/Charles Butcher/Manager/../../Kelly's

1929/Charles Butcher/Manager/../../Kelly's

1933/Mrs. E. Butcher/Manageress/../../Kelly's

1937/Mrs. E. Butcher/Manageress/../../Kelly's