Search my Pub history, pubwiki and London
King's Head, Balkerne Lane/Balkerne Hill, Colchester
In 1843, the owners of the Kings Head had part of the roman wall, outside, demolished in order to insert a new window overlooking the new railway station. This led to the pub being nicknamed the "Hole in the Wall". The nickname remained until 1963 when the pub was officially renamed the Hole in the Wall.
Colchester pub history index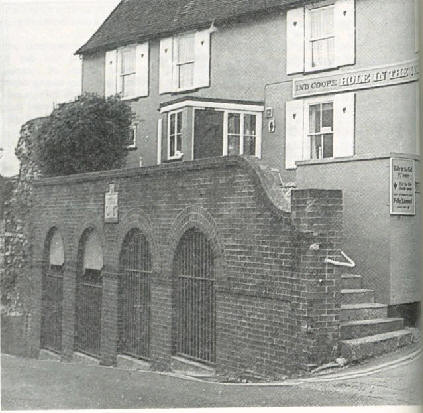 Note the Roman Wall as mentioned previously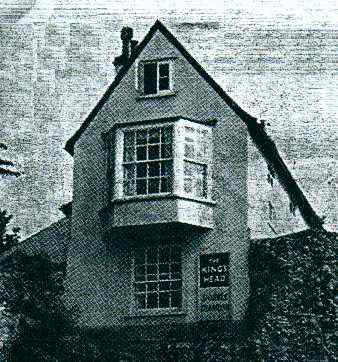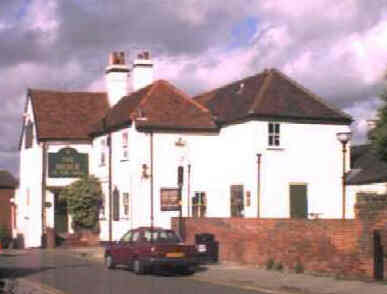 Early 1960's (Front)
18th September 1999 (Rear)
The following entries are in this format:
Year/Publican or other Resident/Relationship to Head and or Occupation/Age/Where Born/Source.
1777: Will of Daniel Manning - Devises to his son Daniel Manning, a copyhold cottage adjoining two closes of land whereon a brick-kiln formerly stood, in Wickham Bishops, now leased by Elizabeth Barnard for life at an annual rent of £2.; a freehold cottage and garden called Vicard Garden in St. Giles, Colchester, in the Occupation of John Niles at an annual rent of £10, to his friends John Pearson of layer de la Haye, and (Charles Hills of Colchester, baymaker, struck through) in trust to sell and settle the proceeds equally on Samuel his son and Elizabeth, his daughter at the age of 21 years, and in the meantime to apply the interest thereform to their education and welfare; in the event of one of them dying its portion shall pass to the other; or if both should die, the money shall sink into the residue of his personal estate; the capital messuage or inn called the Kings Head in Colchester, Wehrein the testator dwells, and two meadows in St. Mary at the Walls, Colchester, and all other his real and personal estate (incl. two shares in `The Norwich Machine by Colchester' ) to the said trustees (but Charles Hills struck thorugh to convert it all into money which they shall invest in securities (exepnses and debts having been paid), in trust for his said sons, Daniel, and Samuel, and daughter, Elizabeth until the age of 21 years, the interest meanwhile to be applied ti their education and welfare; in the event of any child dying its share shall be divided edqually among the survivors: or if all shall die, then the whole residue shall pass to the testator's brother, Joseph Manning and his nephews William and George Willis in equal shares. Appoints John Pearson and (Charles Hills struck through) the guardians of his children druing their minorities.

1822/J. Brown/../../../Pigot's*

1823-4/J. Brown/../../../Pigot's

1828-9/Joseph Brown/../../../Pigot's

1845/John Rumsey/../../../Post Office

1848/John Rumsey/../../../White's

1851/John Rumsey/../../../Post Office

1851/Susannah Rumsey/married, publican/51/Colchester, Essex/Census **
(Probably the wife of John Rumsey)

1855/J. Rumsey/../../../Kelly's*

1862/Mrs. Susannah Rumsey/../../../Kelly's

1867/Mrs. Susan Rumsey/../../../Post Office

1870/Mrs. Susannah Rumsey/../../../Kelly's

1871/Mrs. Susannah Rumsey/../../../Post Office

1874/Harry Chenery/../../../Kelly's

1878/Harry E. Chenery/../../../Kelly's

1881/George W. Smith/Licensed Victualler/45/Lexden, Essex/Census
1881/Martha Smith/Wife/46/Evedon, Lincoln/Census
1881/Agnes M. Smith/Daughter/9/Stanway, Essex/Census

1882/George William Smith/../../../Kelly's

1886/George William Smith/../../../Kelly's

1894/Frederick William Adams/../../../Kelly's

1895/Frederick William Adams/../../../Kelly's

1898/Richard Mortimer/../../../Kelly's

1899/Richard Mortimer/../../../Kelly's

1901/Richard Mortimer/Licensed Victualler/44/Stoke, Suffolk/Census ****
1901/Emma Mortimer/Wife/42/Colchester, Essex/Census
1901/Rose Mortimer/Daughter/20/Colchester, Essex/Census
1901/Daisy Mortimer/Daughter/19/Colchester, Essex/Census
1901/Richard Mortimer/Son, Steam Engine Fitter/17/Colchester, Essex/Census
1901/Bertie Mortimer/Son/13/Colchester, Essex/Census
1901/Emma Mortimer/Daughter/11/Colchester, Essex/Census

1902/Richard Mortimer/../../../Kelly's

1908/Mrs. Emma Mortimer/../../../Kelly's

1912/Mrs. Emma Mortimer/../../../Kelly's

1914/Mrs. Emma Mortimer/../../../Kelly's ****

1917/Mrs. Emma Mortimer/../../../Kelly's

1925/Leonard King Martin/../../../Kelly's

1933/George Western/../../../Kelly's

1937/George Western/../../../Kelly's ****



* Provided by the Pubs, Inns and Taverns Index for England, 1801-1900

** Provided by John Mead

**** Provided by Kevan