Search my Pub history, pubwiki and London
Waggon & Horses, 66 North Hill, Colchester
Colchester pub history index
The building has been extensively remodelled over time, so it is difficult to trace its history. Its appearance has changed considerably over the years.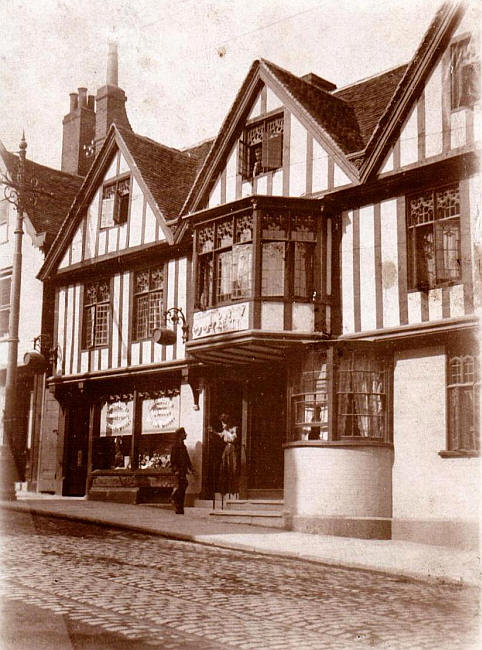 Waggon & Horses, North Hill, Colchester - circa 1880
Kindly provided by abdu'Rashid
The earliest photo (1880) shows an early to mid-Victorian facade reproducing the Jacobean style found in Colchester. The original building of course might be much older.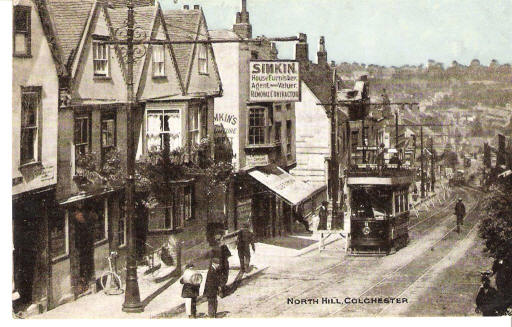 Waggon & Horses, North Hill - in 1907
Kindly donated by Colleen
This is how it would have looked when it was run by the Adamsons. By 1907 the facade had an Arts and Crafts sort of makeover, much plainer. The timber framing has been stuccoed over, and the elaborately carved casement windows have been replaced with up and down sashes. Note the trams and street lighting.
Waggon and Horses, Colchester 1960
By the 1960's you can see the whole facade has been altered; doors have been repositioned and one of the dormers in the roof has disappeared. This more radical remodelling was probably done in the 1940's by the Luftwaffe.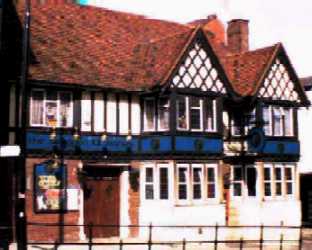 27th August 1999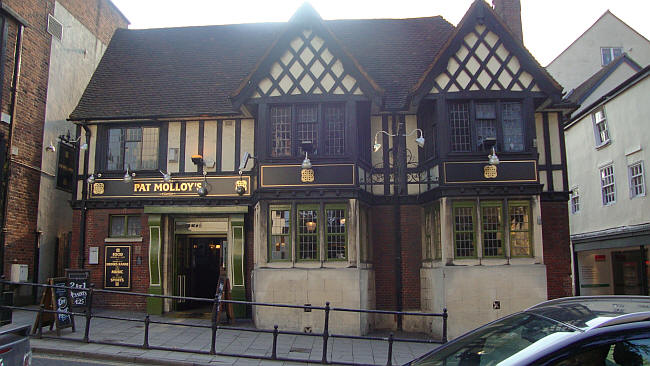 Waggon & Horses, North Hill, Colchester - Pat Molloys in 2013
Kindly provided by abdu'Rashid
The Wagon as it is today. This looks like the most serious damage. While the exterior has been somewhat restored to its original style, it has had its interior gutted and replaced with the ubiquitous cliché of the fake Irish Theme Pub. The poor old Wagon and Horses has suffered the indignity of being reinvented as 'Pat Molloy's', where you are invited in for the craic, a challenge if ever there was one. Well, it's good that it's still trading whatever the name, but it's lucky the staunchly protestant and loyalist Thomas and Cecilia Adamson aren't alive to see it!
Known Residents
The following entries are in this format:
Year/Publican or other Resident/Relationship to Head and or Occupation/Age/Where Born/Source.
1822/William Bond/../../../Pigot's*

1823-4/William Bond/../../../Pigot's

1828-9/George Knight/../../../Pigot's

1832-3/Thomas Ward/../../../Pigot's

1839/Jemima Godden/../../../Pigot's*

1845/James Jarman/../../../Post Office

1848/James Jarman/../../../White's

1851/Thomas Mansfield/../../../Post Office

1851/Edward Dubbins/innkeeper/28/Brighton, Suffolk/Census **
1851/Lydia Dubbins/wife/28/Lenham, Kent/Census **
1851/Edward Dubbins/son/03/London, Middlesex/Census **
1851/Mary Ann Williams/house servant/21/Bradwell, Essex/Census **
1851/Sarah Sawyer/nurse girl/19/Hatfield, Essex/Census **
1851/Daniel Parkes/ostler/34/Earls Colne, Essex/Census **
1851/John Miller/pot boy/16/Offton, Suffolk/Census **
1851/John King/visitor, mail contractor/31/Great Bentley, Essex/Census **
1851/George Barnes/visitor, mail contractor/29/London, Middlesex/Census **
(Note 'visitor' should be 'lodger' but the enumerator used the former!)

1852/T. Mansfield/../../../Kelly's*

1855/T. W. Watson/../../../Kelly's*

1862/Thomas Ward Watson/Coach Builder/../../Kelly's

1867/Thomas Ward Watson/Coach Builder/../../Post Office

1870/Thomas Ward Watson/../../../Kelly's

1871/Thomas Ward Watson/../../../Post Office

1874/Thomas Ward Watson/../../../Kelly's

1878/James Hobbs/../../../Kelly's

1881/Alfred J. Norman/Licensed Victualler/28/Blandford/Census
1881/Ellen Norman/Wife/24/Braintree, Essex/Census
1881/Ellen Edwards/Mother in Law/50/West Bergholt, Essex/Census
1881/Agnes Bates/Barmaid/19/Birmingham/Census
1881/Elizabeth Gear/Cook/23/Somerset/Census
1881/Harriet Gear/Housemaid/17/Boxted, Essex/Census
1881/Charles W. Fowler/Boots/16/Colchester, Essex/Census

1882/Alfred James Norman/../../../Kelly's

1886/Alfred James Norman/../../../Kelly's

1894/David Joseph Sheppard/../../../Kelly's

1895/E. K. Chamberlain/../../../Kelly's

1898/William Walsh/../../../Kelly's

1899/William Walsh/../../../Kelly's

Henry Parrott was manager of the George Hotel, Colchester in 1901 (census). ****

1902/Henry Parrott/../../../Kelly's

Thomas Adamson was a Sergeant Major in the Royal Inniskilling Fusiliers. He was stationed in Colchester Garrison at the time of the1901 census. He was discharged from the Army, probably in 1902 after 30 years service, and took over the licence at the Wagon and Horses from Henry Parrott. He died in 1910. ****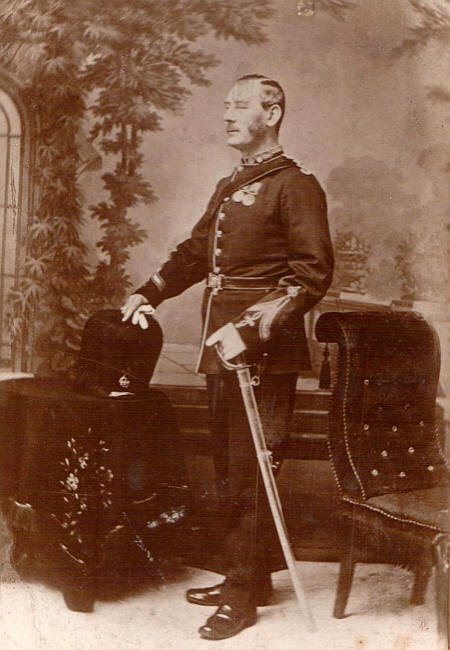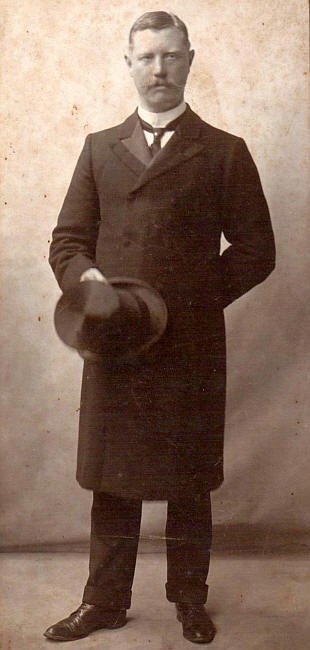 Sergeant Major Thomas Adamson about 1900 and again in 1903
Kindly provided by abdu'Rashid
His widow Cecilia took over the management of the Wagon, which was styled a 'Hotel'and was considered (according to family tradition) a very respectable establishment. It was a regular watering hole for the senior NCO's from the Garrison, so I imagine the 'other ranks'
steered clear. Three out of four of Tom and Cecilia's surviving daughters married serving Sergeant Majors. All of their sons in law were commissioned by 1914 and served in France and Belgium with distinction for the duration of 14-18 war. All survived. ****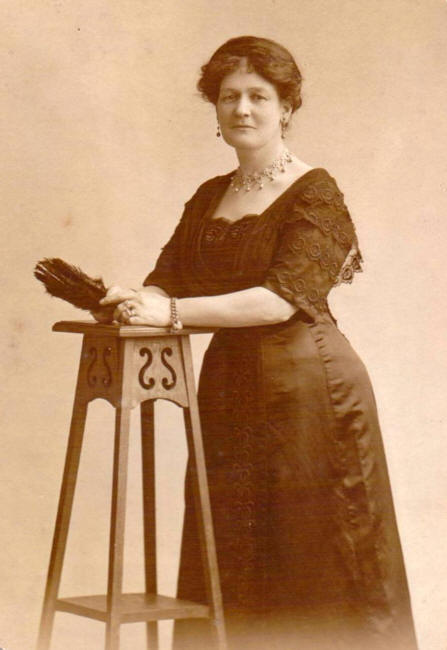 Cecilia Adamson about 1903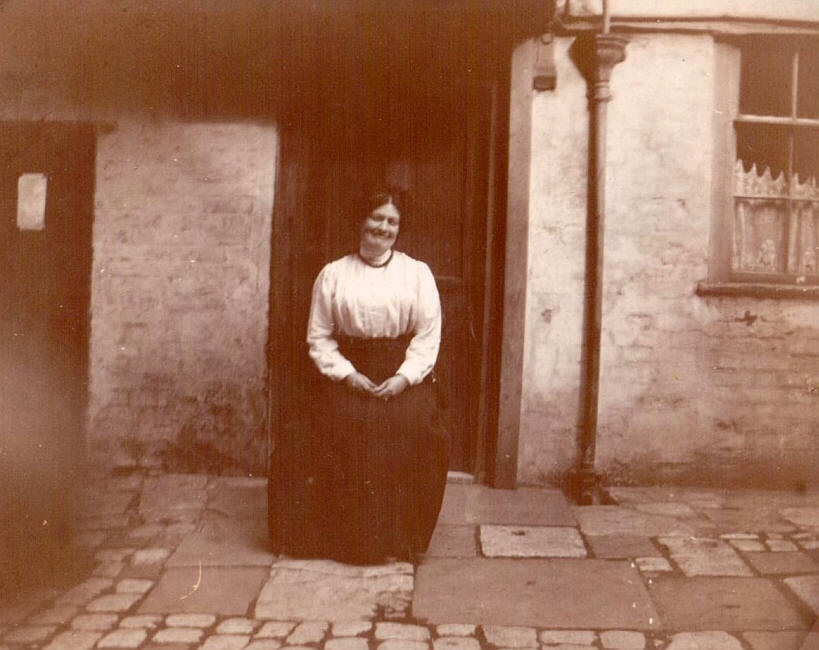 Cecilia Adamson in 1905 at the back of the Waggon & Horses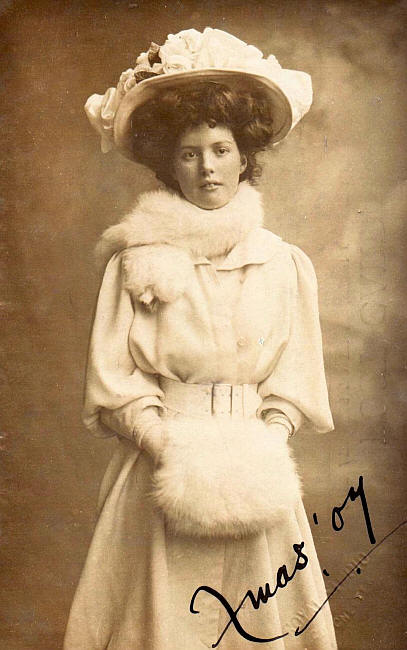 Edith Lilian Adamson at Christmas 1907
Kindly provided by abdu'Rashid


Their youngest son, Charles John, was actually born on the premises in 1905. Lilian, who had assisted in running the establishment for a time, travelled to India where her fiancé was stationed, and they were married in Lucknow in 1912. Her mother sold the business shortly afterwards. ***

1907/T. Adamson/../../../Benham's

1908/Thomas Adamson/../../../Kelly's

1911/Cecilia Adamson/Hotel Manageress, widow/46/Dublin/Census
1911/Edith Lilian/Daughter, Assistant/22/Armagh, Co Tyrone/Census
1911/Aileen Blanche/Daughter/18/Dover, Kent/Census
1911/Albert Hugh/Son/10/Colchester, Essex/Census
1911/Charls John/Son/5/Colchester, Essex/Census
1911/Elizabeth Alice/Servant/23/Dublin Town/Census
1911/Marjery Panter/Barmaid/20/Leicester/Census
1911/Frank Parry Dale/Boarder, Fishmonger/37/Christchurch, Hampshire/Census
1911/Arthur Clannon McGuirk/Boarder/24/New Orleans, America/Census
1911/James Frederick Goby/Boarder, Cab Driver/23/Harwich, Essex/Census

1912/Mrs. Cecilia Adamson/../../../Kelly's

1917/Arthur Reeve/../../../Kelly's

1925/Edwin Hill/../../../Kelly's

1933/Edwin Hill/../../../Kelly's

A considerable history of the Amey family exists at the Drury Hotel

1937/Charles Amey/../../../Black Eagle Journal ***

1939/Charles Thomas Amey/Licensee/../../Petty Sessions***


* Provided by the Pubs, Inns and Taverns Index for England, 1801-1900

** Provided by John Mead

*** Provided by Jill & Brian Fleming

**** Provided by abdu'Rashid