Search London wiki and Pub wiki history sites
Bull, Bull Street, Dagenham
A listing of historical public houses, Taverns, Inns, Beer Houses and Hotels in Essex. The Essex listing uses information from census, Trade Directories and History to add licensees, bar staff, Lodgers and Visitors.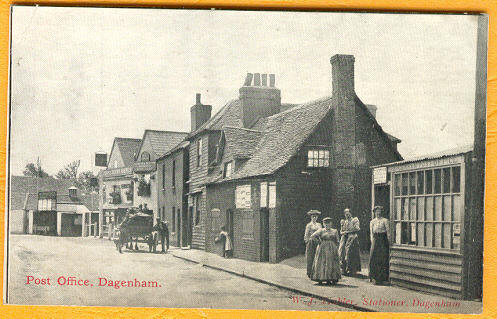 In the background is the Bull, Bull Street; now in Rainham Road South and the Post Office
Kindly provided by Colleen
This is the Bull in Rainham Road South, Dagenham (the road used to be known as Bull Street, just as Dagenham Village's other main street was called Crown Street after another pub, the Rose & Crown.) The same photo is on page 5 of Tony Clifford's "Dagenham pubs past and present". Tony writes that the first mention of the name "the Bull" was in 1726. The Bull has now been rebuilt and lies slightly to the south of the old site. ***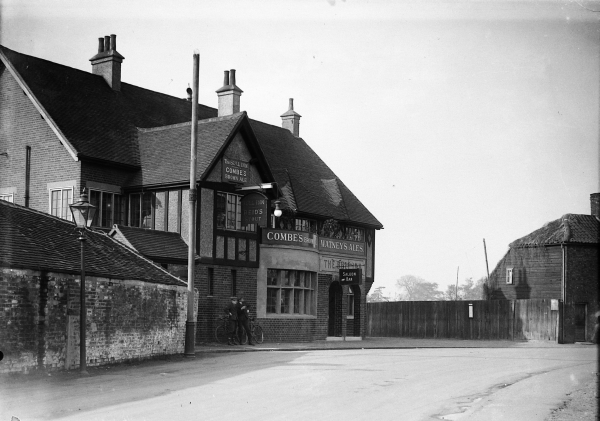 The Bull Inn, Dagenham - circa 1920
Kindly provided by Ken Jacobs
The following entries are in this format:
Year/Publican or other Resident/Relationship to Head and or Occupation/Age/Where Born/Source.
1826/George Kittle/../../../Pigot's

1828-9/George Kittle/../../../Pigot's

1832-3/George Kittle/../../../Pigot's

1839/George Kittle/../../../Pigot's

1840/George Kittle/../../../Pigot's*

1841/George Kittle/../../../Census*

1841/George Kittle/Publican/60/Essex/Census ****
1841/Elizabeth Kittle/../50/Essex/Census
1841/Sarah Kittle/../22/Essex/Census
1841/James Kittle/Letter Carrier/21/Essex/Census
1841/Charles Kittle/../17/Essex/Census
1841/Frederick Kittle/../15/Essex/Census

1845/George Kittle/Postmaster/../../Post Office

1848/George Kittle/../../../White's

1851/George Kittle/../../../Post Office

1851/George Kittle/victualler (widower)/70/Dagenham, Essex/Census **
1851/Sarah Kittle/daughter/34/Dagenham, Essex/Census **
1851/Charles Kittle/son, shoemaker/26/Dagenham, Essex/Census **
1851/Eliaza Westwood/house servant/24/Dagenham, Essex/Census **
1851/John Chapman/general servant/14/Dagenham, Essex/Census **
1851/George Benbow/lodger, ag lab/50/Dagenham, Essex/Census **

1852/G. Kittle/../../../Kelly's*

1855/G. Kittle/../../../Kelly's*

1860/Samuel Oliver Pulleyn/../../../Kelly's*

1861/Samuel Oliver Pulleyn/Victualler/45/Pentonville, Middx/Census ****
1861/Sarah Pulleyn/Wife/42/Dagenham, Essex/Census
1861/Walter Kittle/Nephew/14/Dagenham, Essex/Census
1861/George Shipton/Ostler/44/Dagenham, Essex/Census
1861/Mary A Edwards/Servant/22/Hornchurch, Essex/Census

1862/Samuel Oliver Pulleyn/../../../Kelly's

1865/Samuel Oliver Pulleyn/../../../Kelly's*

1870/William Bruton/../../../Kelly's

1871/William Bruton/../../../Post Office

1871/William Bruton/Licensed Victualler, Widow/35/Chiplindham, Wilts/Census ****
1871/J Demery Bruton/Gardener, Father/70/Dursley, Glos. /Census
1871/Mary Bruton/Mother/68/Dagenham, Essex/Census
1871/Maria S Gilman/Cousin, Bar Maid/24/Dagenham, Essex/Census

1874/William Bruton/../../../Kelly's

1876/William Bruton/../../../Kelly's*

1878/William Bruton/../../../Kelly's

1880/David W. Rodwell/../../../Kelly's*

1881/David W. Rodwell/Licensed Victualler/27/Lannington(?), Suffolk/Census
1881/Martha Rodwell/Wife/30/London, Middlesex/Census
1881/Martha Rodwell/Daughter/7/Hackney, Middlesex/Census
1881/Florine Rodwell/Daughter/2/Rainham, Essex/Census
1881/Bell Rodwell/Daughter/1/Dagenham, Essex/Census
1881/Lizzie Bacon/Visitor/14/London, Middlesex/Census
1881/John Bailey/Boarder, Agricultural Labourer & Potman/28/Suffolk/Census

1882/David William Rodwell/../../../Kelly's

1886/David William Rodwell/../../../Kelly's

1890/Henry Rodwell/../../../Kelly's

1891/Henry Rodwell/Licensed Victualler, single/27/Woodford, Essex/Census ****
1891/Alfred Rodwell/Brother, Barman/22/Woodford, Essex/Census
1891/Martha Smith/Niece, Domestic servant/17/Hackney Wick/Census
1891/Harriet? Rodwell/Niece/12/Rainham, Essex/Census
1891/William Scott/Servant, Groom/52/Barking, Essex/Census

1894/Henry Rodwell/../../../Kelly's

1895/Henry Rodwell/../../../Kelly's

1896/Henry Rodwell/../../../Petty Sessions ****

1898/Henry Rodwell/../../../Kelly's

1899/Henry Rodwell/../../../Kelly's

08/9/1900/Herbert Francis Cocks/../../../Petty Sessions ****

1901/Herbert Cocks/Inn Keeper/30/Mile End, London/Census ****
1901/Louisa Cocks/Wife/28/London/Census
1901/Herbert Cocks/Son/6/North Bow, London/Census
1901/Homer Vinton/Servant/18/Rainham, Essex/Census

1902/Herbert Francis Cocks/../../../Petty Sessions ****

1902/Herbert Cocks/../../../Kelly's

1906/Herbert Cocks/../../../Kelly's

1908/Herbert Cocks/../../../Kelly's

1910/Herbert Cocks/../../../Kelly's

1911/Louisa Victoria Cocks/Licence Holder (Widow)/37/St Johns Wood/Census *+
1911/Herbert Henry George Cocks/Son/16/Bow/Census
1911/Mary Ann Nunn/Visitor (Widow)/66/Mile End/Census
1911/Annie Wolney/Servant (Widow)/39/Erith, Kent/Census
1911/Albert Hemon/Barman/45/Ockham, Surrey/Census
1911/William Sapsford/Out Side Servant/66/Broad Oak, Hatfield, Essex/Census

02/7/1910/Louisa Victoria Cocks/../../../Petty Sessions ****

06/1/1912/James Alec Gowen/../../../Petty Sessions ****

1912/James H. Gowen/../../../Kelly's

1914/James H. Gowen/../../../Kelly's

16/12/1916/Sarah Elizabeth Davis/../../../Petty Sessions ****

1917/Mrs. Sarah Elizabeth Davis/../../../Kelly's

11/6/1921/Joseph Tyler/../../../Petty Sessions ****

1922/Thomas Tyler/Beer Retailer/../../Kelly's

1925-6/Joseph Tyler/Beer Retailer/../../Kelly's

1929/Joseph Tyler/../../../Kelly's

1933/Joseph Tyler/../../../Kelly's

1937/Mrs. Mary Tyler/../../../Kelly's




* Provided by the Pubs, Inns and Taverns Index for England, 1801-1900

*+ Provided by Ewan

** Provided by John Mead

*** Information kindly provided by Linda Rhodes at Barking & Dagenham Local studies

**** Provided By Kevan