Chequers, Broad Street/Ripple Road, Dagenham
Dagenham pub history index
A listing of historical public houses, Taverns, Inns, Beer Houses and Hotels in Essex. The Essex listing uses information from census, Trade Directories and History to add licensees, bar staff, Lodgers and Visitors.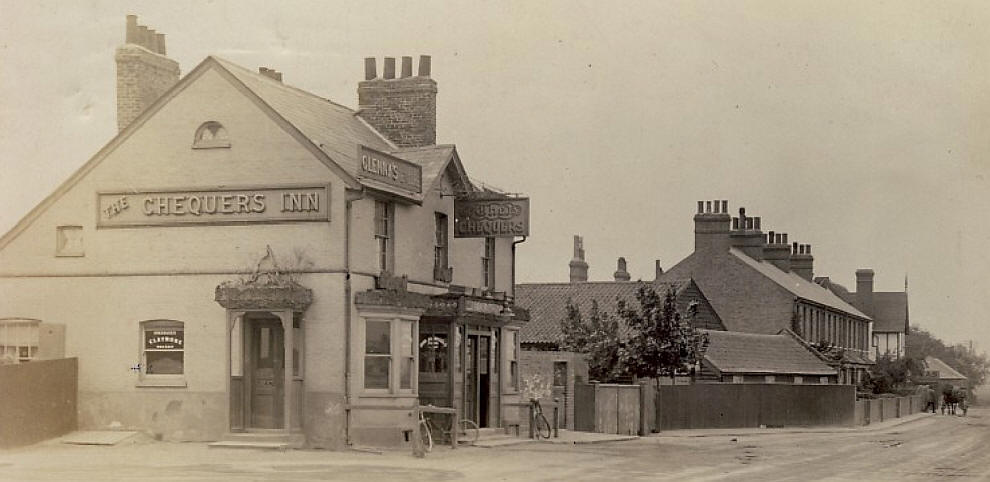 A fantastic picture of the Chequers Inn - the postcard was sent circa 1915 ?
Kindly supplied by Julian Gooding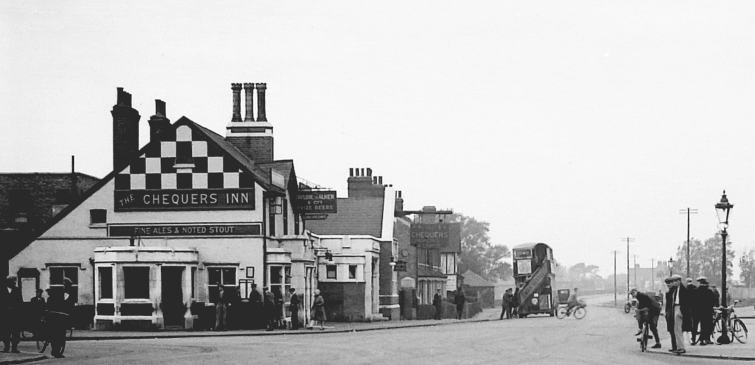 Chequers Inn, Broad Street / Ripple Road, Dagenham - circa 1920
Kindly provided by Ken Jacobs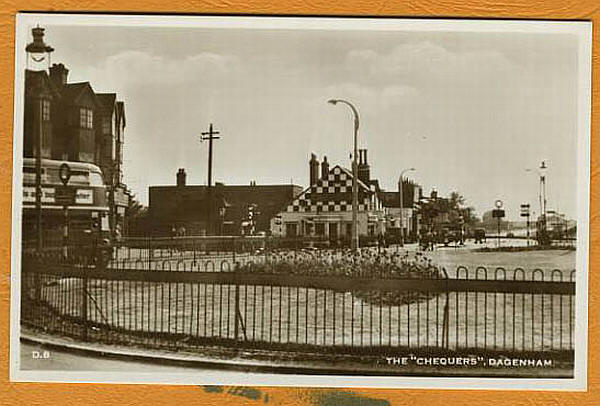 The Chequers, Dagenham
Kindly provided by Colleen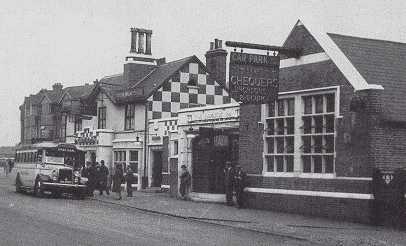 Taken from a Photograph supplied by The Department of Education, Arts & Libraries, London Borough of Barking & Dagenham
The following entries are in this format:
Year/Publican or other Resident/Relationship to Head and or Occupation/Age/Where Born/Source.
1826/Peter Clifft/../../../Pigot's

1828-9/Peter Clifft/../../../Pigot's

1839/Joseph Scales/../../../Pigot's

1840/Joseph Scales/../../../Pigot's*

1841/Joseph Scales/Publican/47/Essex/Census ****
1841/Ann Scales/../35/Essex/Census
1841/Susannah Scales/../35/Essex/Census
1841/Mary Scales/../25/Essex/Census
1841/Joseph Edwards/Traveller/37/Essex/Census
1841/Rose Gladwin/Female Servant/19/Essex/Census
1841/George Gardner/Male Servant/18/Essex/Census

1845/James Withers/../../../Post Office

1848/James Cox/../../../White's

1851/Isaac Wiseman/../../../Post Office
1851/Sarah Wiseman/../../../Post Office

1851/Sarah Wiseman/victualler/47/Dagenham, Essex/Census **
1851/Thomas Wiseman/ostler/20/Mucking, Essex/Census **
1851/Abbe Butterfield/house servant/20/Avely, Essex/Census **

1855/S. Pearcy/../../../Kelly's*

1862/Samuel Layzel Pearcy/../../../Kelly's

1867/Samuel Layzel Pearcy/../../../Post Office

1870/Samuel Layzel Pearcy/../../../Kelly's

1871/Samuel Layzel Pearcy/../../../Post Office

1871/Samuel Layzel Pearcy/Licensed Victualler/71/Dagenham, Essex/Census ****
1871/Sarah Pearcy/Wife/68/Dagenham, Essex/Census
1871/Emily Gardner/Domestic Servant/18/Dagenham, Essex/Census
1871/George Wood/Ostler/23/Romford, Essex/Census
1871/John Marshall/Boarder, Labourer at Factory/45/Coventry/Census
1871/Thomas Stubbing/Boarder, Labourer at Factory/22/Rotherhithe, Surrey/Census

1874/Charles Kittle/Farmer/../../Kelly's

1876/Charles Kittle/../../../Kelly's*

1878/Charles Kittle/../../../Kelly's

1880/Charles Kittle/../../../Kelly's*

1881/Frances Goodliffe/Licensed Victualler/55/Yeovil, Somerset/Census
1881/Eliza Scratchard/Granddaughter, Barmaid/23/Kennington Park, Surrey/Census
1881/Rosey Rolt/Granddaughter/9/Bermondsey, Surrey/Census
1881/James Smith/Potman & Ostler/26/ Norfolk/Census

1882/Mrs. Frances Gooliffe/../../../Kelly's

1885/Reuben Martin/../../../Kelly's*

1886/Arthur Henry Walesby/../../../Kelly's

1890/Henry Lucas/../../../Kelly's

1891/Henry Lucas/Licensed Victualler/46/Romford, Essex/Census ****
1891/Elizabeth Lucas/Wife/39/Merton, Surrey/Census
1891/Florence E Lucas/Daughter/13/Barking, Essex/Census
1891/Lilly Lucas/Daughter/2/Mitcham, Surrey/Census
1891/Mary Bowyer/Aunt/63/Harlow, Essex/Census
1891/Walter Gibbard/Ostler/36/Wennington, Essex/Census
1891/Mary A Riley/General Servant/21/Romford, Essex/Census
1891/Frederick Woollender/Boarderm, Builders Foreman/45/Bourn, Cambs./Census
1891/Harry Ruse/Boarder, Carpenter journeyman/23/Islington, London/Census

1894/Henry Lucas/../../../Kelly's

1895/Henry Lucas/../../../Kelly's

1896/Henry Lucas/../../../Petty Sessions ****

1898/Henry Lucas/../../../Kelly's

1899/Henry Lucas/../../../Kelly's

12/2/1900/Elizabeth Lucas/../../../Petty Sessions ****

1901/Elizabeth Lucas/Publican, Widow/49/Merton, Surrey/Census ****
1901/Florence E Lucas/Daughter/23/Barking, Essex/Census
1901/Lilly Lucas/Daughter/12/Mitcham, Surrey/Census
1901/William Tribble/Barman/21/Exeter, Devon/Census
1901/Walter Gibbard/Ostler/46/Wennington, Essex/Census

1902/Mrs. Elizabeth Lucas/../../../Kelly's

1902/William Morris/../../../Petty Sessions ****

1/7/1903/William Morris/../../../Petty Sessions ****

14/11/1903/Margaret Morris/../../../Petty Sessions ****

1906/Mrs. Margaret Morris/../../../Kelly's

29/9/1906/Frank Herbert Rowe/../../../Petty Sessions ****

1908/Frank Herbert Rowe/../../../Kelly's

1910/Frank Herbert Rowe/../../../Kelly's

1912/Frank Herbert Rowe/../../../Kelly's

1911/Frank H. Rowe/Licensed Victualler/52/Upminster, Essex/Census *+
1911/Annie Rowe/Wife/37/Gravesend, Kent/Census
1911/Annie Ealey Rowe/Daughter/4/Dagenham, Essex/Census
1911/Ethel Frances Rowe/Daughter/2/Dagenham, Essex/Census
1911/Frank Herbert Rodman/Son/10 months/Dagenham, Essex/Census
1911/Cecil Joseph Rodman/Bar Man/18/Reading/Census
1911/Harry Rowland Rodman/Boarder, Soldier/24/Tower of London/Census
1911/William H. Cutly/Bar Man/27/Upminster, Essex/Census
1911/Florence May Ealey/Domestic Servant/18/Dagenham, Essex/Census

06/4/1912/Robert Arthur Percy Oliver/../../../Petty Sessions ****

1914/Robert Oliver/../../../Kelly's

1917/Robert Oliver/../../../Kelly's

28/7/1917/Minnie Elizabeth Oliver/../../../Petty Sessions ****

24/9/1921/Vincent Henry Strong../../../Petty Sessions ****

1922/Charles John Strong/../../../Kelly's

21/3/1923/Victor Edward Edge/../../../Petty Sessions ****

1925-6/Victor Edward Edge/../../../Kelly's

13/6/1928/George Arthur Smith & Andrew Ward Murray/../../../Petty Sessions ****

1933/Smith & Murray/../../../Kelly's

1933/Smith & Murray/../../../Kelly's

1937/Smith & Murray/../../../Kelly's


* Provided by the Pubs, Inns and Taverns Index for England, 1801-1900

*+ Provided by Ewan

** Provided by John Mead

**** Provided by Kevan