Church Elm, Church Elm Lane & Heathway, Dagenham
Dagenham pub history index
The address is also given as Halbut Street in the directory entries from 1862-1878, and as Heathway in 1933. *
A listing of historical public houses, Taverns, Inns, Beer Houses and Hotels in Essex. The Essex listing uses information from census, Trade Directories and History to add licensees, bar staff, Lodgers and Visitors.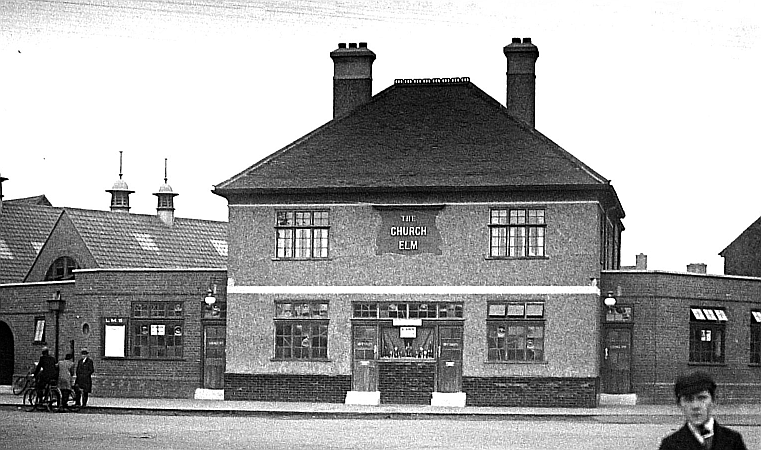 Church Elm, Church Elm Lane & Dagenham Heathway - circa 1920
Kindly provided by Ken Jacobs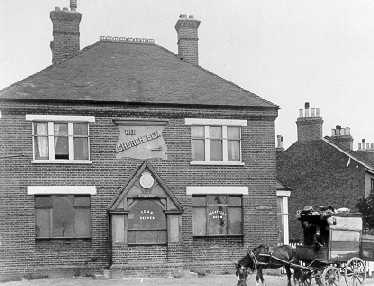 Taken from a Photograph supplied by The Department of Education, Arts & Libraries, London Borough of Barking & Dagenham
The following entries are in this format:
Year/Publican or other Resident/Relationship to Head and or Occupation/Age/Where Born/Source.
1848/Samuel Twyford/Beer Retailer/../../Whites Directory

1851/Samuel Twyford/beer retailer/../../Post Office Directory *

1851/Samuel Twyford/Beer Seller/45/Dagenham, Essex/Census
1851/Mary Twyford/Wife/45/Corringham, Essex/Census
1851/Mary Coolbear/Mother in law, Nurse, Widow/74/Basildon, Essex/Census

1855/Samuel Twyford/Beer Retailer/../../Whites Directory

1861/Alfred Waite/Beer Retailer/41/Dagenham, Essex/Census ****
1861/Mary Waite/Wife/65/Corringham, Essex/Census
1861/Henry Pus? Clyrrell/Boarder/11/Dagenham, Essex/Census

1862/Alfred Waite/beer retailer/../../Post Office Directory *

1871/John Rogers/beer retailer/../../Post Office Directory *

1871/John Rogers/Beershop Keeper/53/Dagenham, Essex/Census ****
1871/Sarah Rogers/Wife/47/Dagenham, Essex/Census

1874/John Rogers/beer retailer/../../Post Office Directory *

1878/John Rogers/beer retailer/../../Post Office Directory *

1881/John Rogers/Beershop Keeper/68/Dagenham, Essex, England/Census
1881/Sarah Rogers/Wife/69/Dagenham, Essex, England/Census

1891/Charles Sparrow/Publican/54/Great Thurlow, Suffolk/Census ****
1891/Emily Sparrow/Wife/50/Great Wratten, Suffolk/Census
1891/Henry Sparrow/Son/19/Hornchurch, Essex/Census
1891/George Dixon/Lodger, Baker/50/Bishops Stortford/Census
1891/Alfred Walsh/Lodger, Farm Labourer/36/New York, America/Census
1891/James Sparrow/Lodger, Widower/40/Great Thurlow, Suffolk/Census
1891/Thomas Cross/Lodger, Engine Driver/44/Bedfordshire/Census
1891/Sophia Cross/Lodger/44/Bedfordshire/Census

1895/Charles Sparrow/beer retailer/../../Kelly's Directory *

1899/Mrs Sparrow/beer retailer/../../Kelly's Directory *

1901/Emily Sparrow/Publican (Widow)/60/Eye, Suffolk/Census *
1901/Thomas Nash/Barmaid/29/Dunmow, Essex/Census
1901/Lily Simmons/Servant General/17/Barking, Essex/Census
1901/John Curtis/Lodger (Widower), Ordinary Agricultural Labourer/64/Billericay, Essex/Census
1901/Frederick Curtis/Lodger (Widower), Ordinary Agricultural Labourer/40/Billericay, Essex/Census
1901/James Sparrow/Lodger (Widower), Ordinary Agricultural Labourer/54/Ipswich, Suffolk/Census
1901/James Grimood/Lodger, Ordinary Agricultural Labourer/29/Orsett, Essex/Census

1902/Mrs Charles Sparrow/beer retailer/../../Kelly's Directory *
1902/Henry Sparrow/beer retailer/../../Kelly's Directory

1906/Charles Henry Sparrow/beer retailer/../../Kelly's Directory *

1908/Samuel James Savory/Beer Retailer/../../Kelly's

1910/Mrs. Ann Elizabeth Rhoda Savory/Beer Retailer/../../Kelly's

1911/Herbert Mead/Beerhouse Keeper/36/Wickford, Essex/Census *
1911/Anne Elizabeth Rhoda Mead/Wife/34/Old Ford/Census
1911/Ethel Mead/Daughter/11/Barking, Essex/Census
1911/William Savory/../11/East Ham, Essex/Census
1911/Earnest Savory/../9/East Ham, Essex/Census
1911/Lilian Gladys Bond/Servant/14/Ipswich, Suffolk/Census

1912/Mrs. Emily C. Band/Beer Retailer/../../Kelly's

1914/Mrs. Emily C. Band/Beer Retailer/../../Kelly's

1917/Alfred Barker/Beer Retailer/../../Kelly's

1922/Alfred Barker/Beer Retailer/../../Kelly's

1925-6/Mrs. Emily Barker/Beer Retailer/../../Kelly's

1929/Herbert Ernest Barker/Beer Retailer/../../Kelly's

Note: Premises not named prior to 1933

1933/Charles Albert Single/../../../Kelly's

1937/Samuel Robert Single/../../../Kelly's
1937/Charles Albert Single/../../../Kelly's



* Provided by Ewan

**** Provided by Kevan