Search London wiki and Pub wiki history sites
Railway, Shafter Road, Dagenham
Dagenham pub history index
More commonly listed as the Railway Hotel in early directories and census returns. *
A listing of historical public houses, Taverns, Inns, Beer Houses and Hotels in Essex. The Essex listing uses information from census, Trade Directories and History to add licensees, bar staff, Lodgers and Visitors.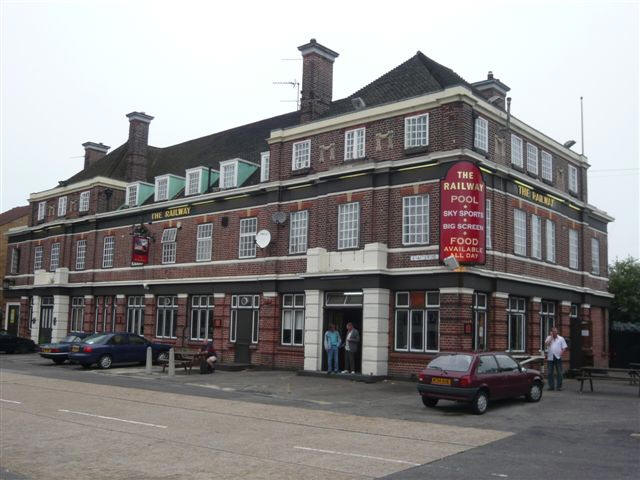 Railway, Shafter Road, Dagenham, Essex - in July 2008
Kindly provided by Stephen Harris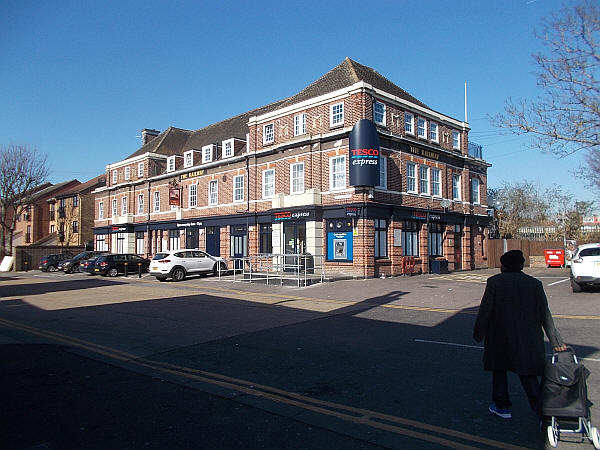 Railway, Dagenham East - in February 2019 (now a Tescos Express)
The following entries are in this format:
Year/Publican or other Resident/Relationship to Head and or Occupation/Age/Where Born/Source.
1890/Walter William Whistler/../../../Kelly's

1891/Walter William Whistler/Licensed Victualler/57/Shelford, Norfolk/Census ****
1891/Harriet Whistler/Wife/56/Shelford, Norfolk/Census
1891/Mary Maria Whistler/Daughter, single/33/Hardingham, Norfolk/Census
1891/Bertram George Whistler/Grandson/12/Southend, Essex/Census
1891/Emma Nicholls/General Servant/20/Shelford, Norfolk/Census
1891/Reaves Dean/Ostler, domestic servant/18/Purfleet?, Essex/Census

1894/Walter William Whistler/../../../Kelly's

1895/Walter William Whistler/../../../Kelly's

1895/Walter William Whistler/../../../Petty Sessions ****

1898/Walter William Whistler/../../../Kelly's

1899/Walter William Whistler/../../../Kelly's

1901/Walter William Whistler/Licensed Victualler/67/Shelford, Norfolk/Census ****
1901/Alice Hennican?/Barmaid/19/Leigh, Essex/Census
1901/Rose Smith/General Servant/20/Halstead, Essex/Census
1901/Frederick Hayward/Ostler, Groom/24/Sudbury, Suffolk/Census
1901/Henry Fife/Bar Waiter/16/Pitsea, Essex/Census

1902/Walter William Whistler/../../../Kelly's

1902/Walter William Whistler/../../../Petty Sessions ****

1906/Walter William Whistler/../../../Kelly's

1908/Walter William Whistler/../../../Kelly's

1910/Walter William Whistler/../../../Kelly's

1911/Walter William Whistler/Licensed Victualler/77/Thetford, Norfolk/Census *
1911/Eleanor Grace Whistler/Wife/38/Ashford, Kent/Census
1911/Grace Roaste/General Servant (Domestic)/18/Blackmore, Essex/Census
1911/Harry James Foakes/Ostler/41/Sudbury, Suffolk/Census

1912/Walter William Whistler/../../../Kelly's

1914/Walter William Whistler/../../../Kelly's

1917/Walter William Whistler/../../../Kelly's

24/7/1920/Eleanor Grace Whistler/../../../Petty Sessions ****

18/12/1920/Frank Percy Norris & Charles Thomas Pile/../../../Petty Sessions ****

1922/Norris & Pile/../../../Kelly's

10/11/1923/James Edward King/../../../Petty Sessions ****

1925-6/Norris & Pile/../../../Kelly's

1929/James Edward King/../../../Kelly's

1933/James Edward King/../../../Kelly's

19/7/1933/Frank Percy Norris & Charles Joseph Rudkin/../../../Petty Sessions ****

1937/Charles Joseph Rudkin/../../../Kelly's



* Provided by Ewan

**** Provided by Kevan