Search London wiki and Pub wiki history sites
Ship & Anchor, Wood Lane, Becontree Heath, Dagenham
Dagenham pub history index
The modern address is given as Wood Lane. The pub is named as the Plough in the 1871 census, and as simply the Ship in the 1891 census. It isn't named as the Ship and Anchor until the 1901 census. ** Closed in about 2013.
A listing of historical public houses, Taverns, Inns, Beer Houses and Hotels in Essex. The Essex listing uses information from census, Trade Directories and History to add licensees, bar staff, Lodgers and Visitors.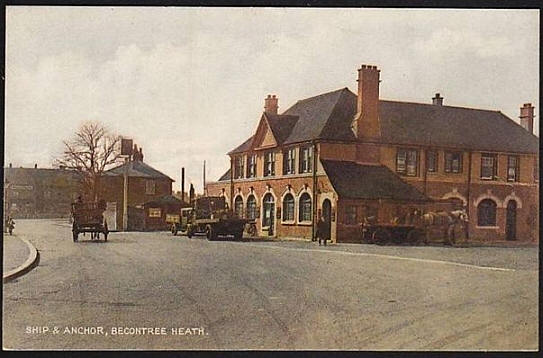 Ship & Anchor, Becontree Heath
Kindly provided by Colleen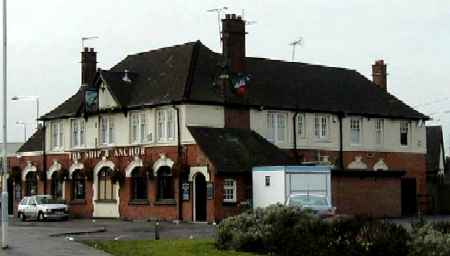 2003
Taken by Brian Woolley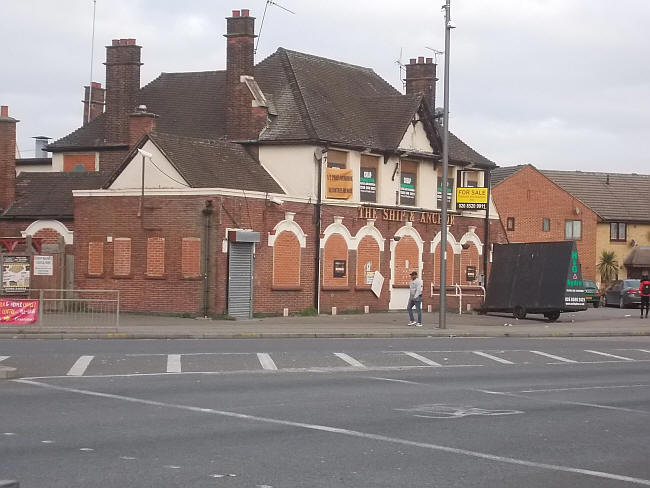 Ship & Anchor, Wood Lane, Becontree Heath, Dagenham - in 2019
The following entries are in this format:
Year/Publican or other Resident/Relationship to Head and or Occupation/Age/Where Born/Source.
1851/David Brown/Beer Shop Keeper/35/Romford, Essex/Census *
1851/Rebecca Brown/Wife/25/Hornchurch, Essex/Census
1851/Roseziner Brown/Son/1/Dagenham, Essex/Census

1861/David Brown/Beer House Keeper/47/Romford, Essex/Census
1861/Rebecca Brown/Wife/37/Hornchurch, Essex/Census
1861/Rosina Brown/Daughter11/Dagenham, Essex/Census
1861/Henry Brown/Son/8/Dagenham, Essex/Census
1861/Mary Brown/Daughter/5/Dagenham, Essex/Census
1861/Sarah Dredge/Domestic Servant/19/Hornchurch, Essex/Census
1861/John Salmon/Lodger, Ag Labourer/60/Suffolk/Census
1861/Peter Davine/Lodger, Ag Labourer/45/Topisfield, Essex/Census
1861/William Davine/Lodger, Ag Labourer/11/Topisfield, Essex/Census

1862/David Brown/beer retailer/../../Post Office Directory *

1867/David Brown/Beer Retailer/../../Post Office Directory

1871/David Brown/beer retailer/../../Post Office Directory *

1871/David Brown/Beer House Keeper/58/Romford, Essex/Census
1871/Rebecca Brown/Wife/48/Hornchurch, Essex/Census
1871/Rosina Brown/Daughter/21/Dagenham, Essex/Census
1871/Mary Brown/Daughter/15/Dagenham, Essex/Census
1871/William Brown/Son/11/Dagenham, Essex/Census
1871/James Ives/Lodger, Ag Labourer/61/East Ham, Essex/Census

09/1872/David Brown/Beer Retailer/../../Petty Sessions

1874/David Brown/beer retailer/../../Post Office Directory *

1878/Mrs Rebecca Brown/beer retailer/../../Post Office Directory *

1881/Rebecca Brown/Beer Retailer, Widow/58/Hornchurch, Essex/Census
1881/William Brown/Son/20/Dagenham, Essex/Census
1881/Rose Bales/Grand Daughter/5/Dagenham, Essex/Census
1881/Fanny Servant/General Servant/17/Barking, Essex/Census

12/7/1881/Rebecca Brown/Beer Retailer/../../Petty Sessions

1891/Rebecca Brown/Beer Retailer (Widow)/67/Hornchurch, Essex/Census *
1891/William Brown/Son, Beer House Manager/30/Dagenham, Essex/Census
1891/Rose Page/Niece, Barmaid/24/Dagenham, Essex/Census
1891/Joseph King/Potman/54/High Ongar, Essex/Census

09/7/1892/Samuel Perrin/Beer Retailer/../../Petty Sessions

1894/Samuel Perrin/Beer Retailer/../../Kelly's Directory

1895/Samuel Perrin/beer retailer/../../Kelly's Directory *

1899/Samuel Perrin/beer retailer/../../Kelly's Directory *

1901/Samuel Perrin/Beer House Keeper/37/Hornchurch, Essex/Census
1901/Elizabeth Perrin/Wife/41/Hornchurch, Essex/Census
1901/Elizabeth Perrin/Daughter/6/Dagenham, Essex/Census
1901/Samuel Perrin/Son/3/Dagenham, Essex/Census
1901/Emmi Perrin/Daughter/6 months/Dagenham, Essex/Census
1901/Charles/Brother, Barman/35/Romford, Essex/Census
1901/Mary Cope/Domestic Servant/17/Dagenham, Essex/Census

1902/Samuel Perrin/Beer Retailer/../../Kelly's Directory

1906/William Charles Miles/beer retailer/../../Kelly's Directory *

1911/Selina Alice Miles/Publican (Widow)/53/Dagenham, Essex/Census *
1911/Emily Elizabeth Miles/Daughter, Barmaid/19/Hornsey/Census
1911/Alice Jane Miles/Daughter, Assistant/17/Hornsey/Census
1911/Richard Miles/Son, Telephone Maker/15/Hornsey/Census
1911/George Miles/Son, Telephone Fitter/14/Hornsey/Census
1911/Frederick Miles/Son/12/Bowes Park/Census
1911/Nellie Miles/Daughter/11/Bowes Park/Census

1914/Mrs Selina A. Miles/beer retailer/../../Kelly's Directory *

1917/Mrs Selina A. Miles/beer retailer/../../Kelly's Directory *

1922/Mrs Selina A. Miles/beer retailer/../../Kelly's Directory *

1933/George Herring/Beer Retailer/../../Kelly's

1937/William Hollis/../../../Kelly's



* Provided by Ewan