Gun, Dedham
Dedham pub history index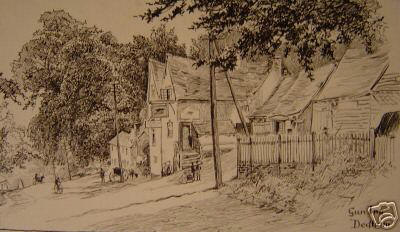 The Gun, Dedham
Kindly provided by Colleen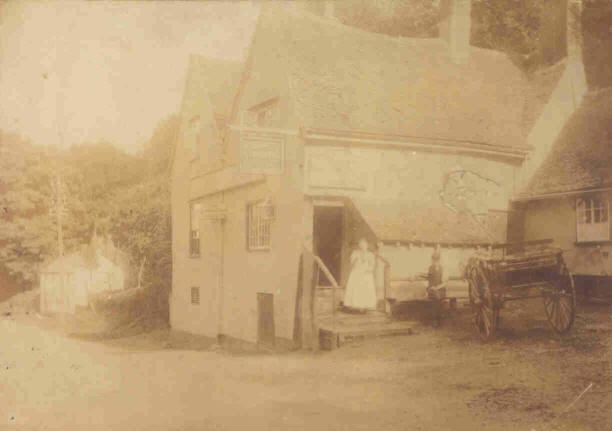 The Gun, Dedham, Essex taken sometime between 1890 and 1895.
The lady on the steps is my gg grandmother Elizabeth Ann Parnell (the then innkeeper - and listed as such on the 1891 census) and the chap sitting next to the horse and cart is my g grandfather Arthur Henry Parnell. Elizabeth's husband Henry William Parnell, a retired policeman, was the inn keeper in the late 1880's until he died of cancer in March 1890. ****
Known Residents
The following entries are in this format:
Year/Publican or other Resident/Relationship to Head and or Occupation/Age/Where Born/Source.
1791/William Weatherly/Victualler/../../Universal British

1832-3/John Read/../../../Pigot's

1839/William Burrows/../../../Pigot's

1840/William Burrows/../../../Pigot's*

1841/William Burrows/Publican/35/Essex/Census**
1841/Elizabeth Burrows/../40/Essex/Census**

1848/William Burrows/../../../White's

1851/William Burrows/../../../Post Office

1851/William Burrows/innkeeper/46/Stoke by Nayland, Suffolk/Census ***
1851/Elizabeth Burrows/wife/41/Tendring, Essex/Census***

1855/S. Askew/../../../Kelly's*

1861/Samuel Askew/Innkeeper/59/East Bergholt, Essex/Census**
1861/Sarah Askew/Wife/61/Ipswich, Essex/Census**

1862/Samuel Askew/../../../Kelly's

1867/Samuel Askew/../../../Post Office

1870/Robert Askew/../../../Kelly's

1871/Robert Askew/Inn Keeper/39/East bergholt, Suffolk/Census
1871/jane Askew/Wife/41/Hatchestone, Suffolk/Census
1871/James S Askew/Son/12/Dedham, Essex/Census
1871/Frederick W Askew/Son/10/Norwood, Surrey/Census
1871/Alfred H Askew/Son/8/Norwood, Surrey/Census
1871/Eva J W Askew/Daughter/6/Dedham, Essex/Census
1871/Edith A Askew/Daughter/3/Dedham, Essex/Census
1871/Ernest A Askew/Son/1/Dedham, Essex/Census

1871/Robert Askew/../../../Post Office

1874/Joseph Morgan/../../../Kelly's

1878/Joseph Morgan/../../../Kelly's

1881/Joseph Morgan/Innkeeper/33/Quorn, Leicester/Census
1881/Charlotte Morgan/Wife/44/Chiltom, Suffolk/Census

1882/Joseph Morgan/../../../Kelly's

1886/William Henry Wingrove/../../../Kelly's

1890/Mrs. Mary Parnell/../../../Kelly's

1891/Elizabeth A Parnell/Inn Keeper, Widow/52/Great Yarmouth, Norfolk/Census ****
1891/William E Downing/Son, Inn Keeper/26/Lowestoft, Suffolk/Census
1891/Arthur H Parnell/Son, General Labourer/18/Worlingworth, Suffolk/Census
1891/Horace G Parnell/Son/13/Worlingworth, Suffolk/Census
1891/Frank Higgings/Boarder,Gardener/26/Butleigh, Somerset/Census
1891/George Lester/Boarder, Coachman/34/Chelsworth, Suffolk/Census
1891/James Whitting/Boarder, Fence Fixer/36/Newport, Salop/Census

By 1901, Elizabeth Parnell is a retired publican, living with her son Arthur whom is now a police constable in Wetheringsett, Suffolk.

1894/Mrs. Mary Parnell/../../../Kelly's

1895/Mrs. Mary Parnell/../../../Kelly's

1895/Mrs. Mary Parnell/../../../Kelly's

1899/Mrs. Elizabeth Parnell/../../../Kelly's

1901/William Busby/Inn Keeper/44/Folksworth, Huntingdonshire/Census
1901/Sarah Busby/Wife/57/Bottesford, Leicestershire/Census
1901/Mable Busby/Daughter/17/Cosgrove, Northamptonshire/Census

1902/William Busby/../../../Kelly's

1906/William Busby/../../../Kelly's

1908/William Busby/../../../Kelly's

1910/William Busby/../../../Kelly's

1912/William Busby/../../../Kelly's

1914/William Busby/../../../Kelly's

1917/Mrs. Thirza Busby/../../../Kelly's

1925/Leonard Sterry/../../../Kelly's

1929/Leonard Sterry/../../../Kelly's

1933/Maurice Albert Sage/../../../Kelly's

1937/Maurice Albert Sage/../../../Kelly's



* Provided by the Pubs, Inns and Taverns Index for England, 1801-1900

** Provided by CG

*** Provided by John Mead

**** Provided by Steve Fayers