Blakesley Arms, 53 Station Road, Manor Park, East Ham E12
East Ham pub history index
Damaged and closed on the 20th February 1944, but reopened on the 25th May 1944. Damaged and closed again on the 24th July 1944 and again reopened on the 12th October 1944.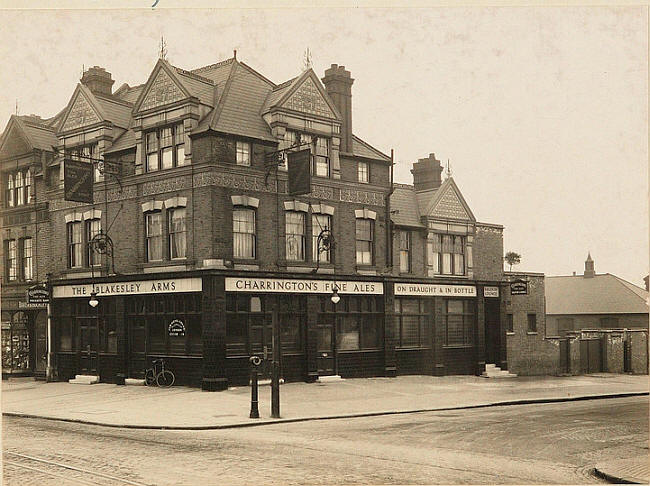 Blakesley Arms, 53 Station Road, Manor Park, East Ham E12 - in 1930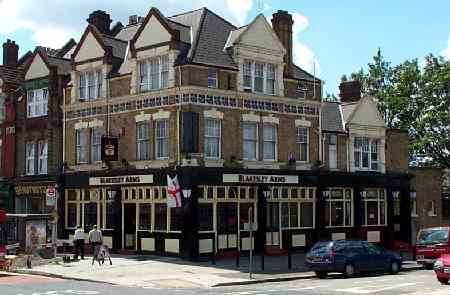 August 2002
Taken by Brian Berry
The following entries are in this format:
Year/Publican or other Resident/Relationship to Head and or Occupation/Age/Where Born/Source.
1894/Thomas Bettesworth/../../../Kelly's

1895/Thomas Bettesworth/../../../Kelly's Directory *

1896/Thomas Bettesworth/../../../Petty Sessions ****

1898/Thomas Bettesworth/../../../Kelly's

1899/Thomas Bettesworth/../../../Kelly's

13/3/1900/Henry Wells, John Malcott (exec of T Butterworth)/../../../Petty Sessions ****

13/10/1900/Joseph Hill/../../../Petty Sessions ****

1902/Joseph Hill/../../../Petty Sessions ****

1902/Joseph. Hill/../../../Kelly's ****

1906/Joseph Hill/../../../Kelly's Directory *

08/7/1905/Sarah Louisa Hill/../../../Petty Sessions ****

1908/Mrs. S. Hill/../../../Kelly's

1912/Mrs. Sarah Hill/../../../Kelly's

1914/Sydney Jonathan Tinner/../../../Kelly's Directory *

1917/Sydney Jonathon Tinner/../../../Kelly's

1924 - 1932/Tinner/../../../Freehold

1925/Sydney Jonathon Tinner/../../../Kelly's

1933 - 1939/H A Smith/../../../Freehold

1940 - 1962/G A Smith & Sons Ltd/../../../Freehold



* Provided by Ewan

**** Provided by Kevan