Horse & Groom, Southend Road, Eastwood
Now in Rochford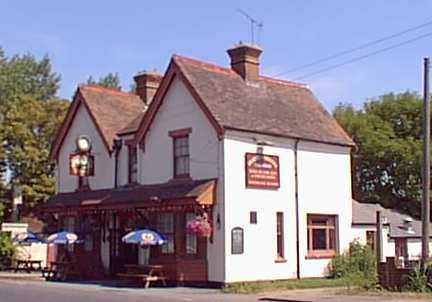 18th July 1999
Taken by Stephen Parker
The Horse & Groom once stood on the edge of the brook, beside the three arched Salt Bridge built in 1772. The bridge led from Rochford into Eastwood. The Horse & Groom, being on the other side of the bridge, was in the parish of Eastwood. Nevertheless, it played an important part in the life of Rochford. It was at the Horse & Groom that the bailiff of the Manor of Rochford Hall collected the rents from Eastwood parish. After the tithes had been collected, a grand meal of pigeon pie was enjoyed. The pigeons had been acquired by the old shepherd from the huge dovecote at the Hall and carried to the inn hidden in the pockets of his greatcoat.
Supplied by Mave Sipple
The following entries are in this format:
Year/Publican or other Resident/Relationship to Head and or Occupation/Age/Where Born/Source.
1811/William Watts/../../../Alehouse Recognizances*

1822/John Fairchild/../../../Pigot's**

1823-4/John Fairchild/../../../Pigot's

1828-9/Hugh Brady/../../../Pigot's

1832-3/John Freeman/../../../Pigot's

1839/William Sorrell/../../../Pigot's

1845/William Sorrell/../../../Post Office

1848/William Sorrell/../../../White's

1851/William Sorrell/../../../Post Office

1851/William Sorrell/innkeeper/50/Deptford, Kent/Census **
1851/Frances Sorrell/wife/43/Little Stambridge, Essex/Census **
1851/William Sorrell/son/08/Eastwood, Essex/Census **
1851/Samuel Sorrell/son/06/Steeple, Essex/Census **
1851/Frances Sorrell/daughter/03/Steeple, Essex/Census **
1851/Charlotte Pod/house servant/16/[Barling], Essex/Census **

1855/W. Sorrell/../../../Kelly's**

1861/William Sorrell/Inn Keeper/60/Deptford, Kent/Census
1861/Fanny Sorrell/Wife/53/Little Stambridge, Essex/Census
1861/Samuel Sorrell/Son, Butcher/17/Eastwood, Essex/Census
1861/Fanny Sorrell/Daughter, Barmaid/13/Eastwood, Essex/Census
1861/Sarah Wright/General Servant/18/Burnham, Essex/Census

1862/William Sorrell/../../../Kelly's

1867/William Sorrell/../../../Post Office

1870/Henry Mann/../../../Kelly's

1871/Henry Mann/../../../Post Office

1874/Henry Mann/../../../Kelly's

1878/William Oliver/../../../Kelly's

1881/Joseph Byatt/Licensed Victualler/31/Stebbing, Essex/Census
1881/Agnes E. Byatt/Wife/36/Great Dunmow, Essex/Census
1881/Jane Maria Byatt/Daughter/9/Stebbing, Essex/Census
1881/Gertrude A. Byatt/Daughter/8/Stebbing, Essex/Census
1881/Herbert F. Byatt/Son/6/Stebbing, Essex/Census
1881/Agnes Byatt/Daughter/1/Stebbing, Essex/Census
1881/Jane Claydon/Domestic Servant/15/Stebbing, Essex/Census

1882/Oliver James Woods/../../../Kelly's

1886/Oliver James Woods/../../../Kelly's

1890/Oliver James Woods/../../../Kelly's

1894/Oliver James Woods/../../../Kelly's

1895/Oliver James Woods/../../../Kelly's

1898/Oliver James Woods/../../../Kelly's

1899/Oliver James Woods/../../../Kelly's

1902/Oliver James Woods/../../../Kelly's

1906/Oliver James Woods/../../../Kelly's

1908/Oliver James Woods/../../../Kelly's

1910/Oliver James Woods/../../../Kelly's

1912/Oliver James Woods/../../../Kelly's

1914/Oliver James Woods/../../../Kelly's

1917/Christopher Carter/../../../Kelly's

1922/Frank Carter/../../../Kelly's

1925/Frank Carter/../../../Kelly's

1929/Mrs. Louisa B. Jennery/../../../Kelly's

1933/Charles J. Grimshaw/../../../Kelly's

1937/Leonard Arthur Gosling/../../../Kelly's

1988 - 90/G H Manser/../../../Watney Truman publicans list



* Provided by Glynis Morris

** Provided by the Pubs, Inns and Taverns Index for England, 1801-1900

** Provided by John Mead