Search London wiki and Pub wiki history sites
George & Dragon, 208 High street, Epping CM16
Dating from the 16th century, also known as the George. Renamed the Forest & Firkin in 1998. The licensee records are only listed until 1937, but it is still a Mitchells & Butlers Premium Country public house in 2017.
Epping pub history index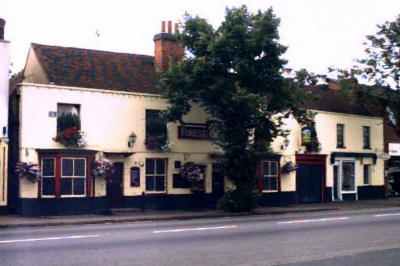 13th August 2000
Taken by Ken Rose.
The following entries are in this format:
Year/Publican or other Resident/Relationship to Head and or Occupation/Age/Where Born/Source.
1791/John Gray/Victualler/../../Universal British

1822/Bernard Thurgood/../../../Pigot's*

1823-4/Bernard Thurgood/../../../Pigot's

1828-9/Mary Thurgood/../../../Pigot's

1832-3/Mary Thurgood/../../../Pigot's

1839/Joseph Palmer/../../../Pigot's

1845/Joseph Palmer/../../../Post Office

1848/Thomas Hobbs/../../../White's

1851/Thomas Hobbs/../../../Post Office

1851/Thomas Hobbs/innkeeper/40/Hertford, Hertfordshire/Census **
1851/Mary Hobbs/wife/40/Sporle, Norfolk/Census
1851/Sarah Hobbs/daughter/14/Epping, Essex/Census
1851/Mary Hobbs/aughter/11/Epping, Essex/Census
1851/Thomas Hobbs/son/09/Epping, Essex/Census
1851/Charles Hobbs/son/08/Epping, Essex/Census
1851/Fanny Hobbs/daughter/03/Epping, Essex/Census
1851/Walter Hobbs/son/11m/Epping, Essex/Census
1851/James Gregory/ostler (widower)/64/Theydon Garnon, Essex/Census
1851/Robert Deane/lodger, farrier/53/West Smithfield, Middlesex/Census
1851/John Bird/lodger, cake man (hawker)/50/Moreton, Essex/Census

1855/Thomas Hobbs/../../../Kelly's*

1861/George Teece/Inn Keeper & painter/31/Epping, Essex/Census ****
1861/Ellen Teece/Wife/26/Westbury, Wilts/Census
1861/Henry G Teece/Son/7 months/Epping, Essex/Census
1861/William Hoe?/Groom/19/Theydon Garnon, Essex/Census
1861/Eliza Parker/Nurse/40/Epping, Essex/Census
1861/Sarah Couzens/House Servant/20/Lambourne, Essex/Census

1862/George Teece/../../../Kelly's

1867/George Teece/../../../Post Office

1870/George Teece/../../../Kelly's

1871/George Teece/../../../Post Office

1871/George Teece/Licensed Victualler/41/Epping, Essex/Census ****
1871/Elizabeth Teece/Wife/36/Westbury, Wilts/Census
1871/Henry Teece/Son/10/Epping, Essex/Census
1871/Edward Teece/Son/6/Epping, Essex/Census
1871/Frederick Teece/Son/5/Epping, Essex/Census
1871/Alice Teece/Daughter/3/Epping, Essex/Census
1871/Lucy Teece/Daughter/9 months/Epping, Essex/Census
1871/Ann Burdis/General Servant/18/Westbury, Wilts/Census
1871/William King/Ostler/21/Waltham, Essex/Census
1871/Charles Millward/Boarder, Plumber/25/Hendon, Essex/Census
1871/Joseph Wigg/Boarder, Carpenter/24/South Wold, Suffolk/Census
1871/Edward Beer/Boarder, Labourer (Excavator)/18/Dartford, Kent/Census

1874/George Teece/../../../Kelly's

1878/Thomas Miller/../../../Kelly's

1881/Elizabeth Love/Licensed Victualler/50/Westbury, Wiltshire/Census
1881/Henry Teece/Nephew, Barman/20/Epping, Essex/Census
1881/Edward Teece/Nephew/16/Epping, Essex/Census
1881/Frederick Teece/Nephew/15/Epping, Essex/Census
1881/Alice Teece/Niece/12/Epping, Essex/Census
1881/Louisa Teece/Niece/11/Epping, Essex/Census
1881/John Tarling/Ostler/20/Epping, Essex/Census

1882/Thomas Miller/../../../Kelly's

1886/Robert John Lee/../../../Kelly's

1890/Robert John Lee/../../../Kelly's

1894/Robert John Lee/../../../Kelly's

1895/Robert John Lee/../../../Kelly's

1898/Robert John Lee/../../../Kelly's

1899/Robert John Lee/../../../Kelly's

1901/Robert J Lee/Licensed Victualler/42/Romford, Essex/Census ****
1901/Harriet M Lee/Wife/43/St Georges, London/Census
1901/Mabel N Lee/Daughter/14/Epping, Essex/Census
1901/Edith K Lee/Daughter/13/Epping, Essex/Census
1901/Minnie G Lee/Daughter/11/Epping, Essex/Census
1901/Robert J Lee/Son/9/Epping, Essex/Census
1901/Susannah Taylor/Domestic Servant/19/Chel;msford, Essex/Census
1901/William J Wade/Ostler/26/Coopersale/Census

1902/Robert John Lee/../../../Kelly's

1906/Gaius Stubbings/../../../Kelly's

1908/Gaius Stubbings/../../../Kelly's

1910/Gaius Stubbings/../../../Kelly's

1912/Gaius Stubbings/../../../Kelly's

1914/Gaius Stubbings/../../../Kelly's

1917/Gaius Stubbings/../../../Kelly's

1922/Gaius Stubbings/../../../Kelly's

1925/Gaius Stubbings/../../../Kelly's

1929/Mrs. Emily Elizabeth Stubbings/../../../Kelly's

1933/Joseph Anthony Leo Porter/../../../Kelly's

1937/William H. Bird/../../../Kelly's



* Provided by the Pubs, Inns and Taverns Index for England,1801-1900

** Provided by John Mead

**** Provided by Kevan